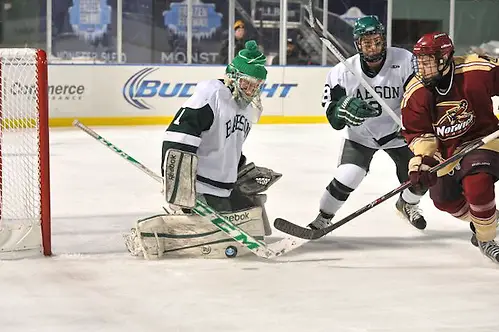 There were several marquee games across the country in the second week back from the holiday break as Babson-Norwich, Utica-Oswego and St. Scholastica-Wisconsin-River Falls were some of the games that people were keeping an eye on.
Here's how everything shook out last weekend.
ECAC East
No. 6 Babson and No. 5 Norwich had the stage to themselves on Thursday night at Fenway Park. The two teams didn't disappoint with Shane Gorman scoring the lone goal to give Norwich the 1-0 victory. Chris Czarnota only needed to make 21 saves for the shutout, while Jamie Murrary made 30 saves for Babson.
Massachusetts-Boston, the third team in the conference ranked in the USCHO.com Men's Division III Poll at No. 15, had the mild 4-2 upset over Norwich Friday night. Jeremy Finger had two goals for UMass-Boston, while Michael Kuhn and Peter MacIntyre also scored. Norwich picked goals from Travis Jenke and Gerard McEleney.
New England College scored victories over the two Maine schools in conference in Southern Maine and the University of New England.
ECAC Northeast
Johnson and Wales picked up two victories with a 4-0 victory over Massachusetts-Dartmouth and a 3-2 game over Williams in overtime.
Stefan Brucato and Eddie Patterson each scored two goals in the victory over UMass-Dartmouth, while Joey Ballmer made 25 saves for the shutout. Johnson and Wales relied on three different goal-scorers in the win over Williams. Patterson added his third of the weekend and Alex Porrier and Aaron Arm also scored. Ballmer picked up his second win of the weekend.
As for the rest of the conference, it was a tough nonconference weekend. Nichols went 1-1 after dropping a 4-1 decision to Hobart, but bounced back to a 9-4 victory over Morrisville.
ECAC West
Conference-leading Utica split the weekend by beating ECAC Northeast opponent Western New England 5-1 and dropping a 5-3 decision to Oswego.
Five different players scored for the Pioneers in the win over Western New England. Easton Powers had a goal and an assist, while Jon Gaffney, Lou Malvasi, Zac Lazzaro and Kevin Kirisits also scored. Mike Baird had two assists and Nick Therrien made 20 saves.
On Saturday, Ridge Garbutt had a goal and an assist in the loss to Oswego, while Adam Graff and Jordan Hobaica also scored.
Elmira also split the weekend, falling 5-4 on Friday night against Buffalo State. Michael Collins had two goals, while Eric Davis and Carter Shinkaruk also scored. In the 5-1 win on Saturday against Geneseo, Jarryd ten Vaanholt notched two goals with Shinkaruk, Brian Depp and Josh Burnell also scoring. Sal Magliocco made 35 saves in the win.
MASCAC
Westfield State has quietly moved up to the standings to be in a tie for first place. On Wednesday, it picked up an 8-1 victory over Becker. T.J. Powers had two goals, while Taylor Murphy, Jackson Leef and Dalton Jay each had a goal and assist. Tyler Prendergast, Jake Suvak and Maxime Richard also scored.
In a conference matchup between Framingham State, they came away with the 4-1 win. Murphy, Jay, Dan O'Connor and P.J. McCadden scored. Jonathan LoParco picked up the victory in goal. Brendan McCarron scored for Framingham State.
Salem State had the big game against UMass-Boston at the Frozen Fenway event where it fell 4-2 on Tuesday. On Saturday, they returned to conference play, defeating Plymouth State 3-2. Eric Defelice, Kyle Phelan and John Needham scored in the win. Chad Barthelmess and Mike Freitag scored for Plymouth State.
MIAC
St. Thomas picked up a 5-2 victory over Finlandia last Friday night. Thomas Williams had two goals, while Nick Nielson had a goal and assist. Connor McBride and Jordan Lovick also scored. Joe Morris made 17 saves. The Tommies followed up that effort with a 3-0 win over Wisconsin-Superior. Tyler Gubb had a goal and an assist, while Michael Dockery and Alex Nielstrom scored. Drew Fielding made 19 saves for the shutout
Concordia (Minn.) earned two points over the weekend with a 4-4 tie with Marian. Garrett Hendrickson had a hand in all four goals with a hat trick and an assist. Caleb Suderman had the game's tying goal.
Wisconsin-Stout defeated Concordia (Minn.) on Saturday, 5-4 in overtime. Hendrickson had a goal, while Jeremy Johnson netted a goal and an assist. Jordie Bancoft and Dan Hrabowych also scored in the losing effort.
NCHA
The newly-annointed No. 1 Adrian Bulldogs look to keep the top spot in the USCHO.com Poll as they went 1-0-1 this weekend.
They earned a 4-4 tie Friday night with St. Olaf. Jeremy Olinyk, Josh Cousineau, Shelby Gray and Brent Sauve scored for Adrian. Saturday against Gustavus Adolphus, they earned a 2-0 shutout win on the back of Scott Shackell's 33-save effort. Cousineau scored along with Kevin Balas.
St. Norbert went to overtime twice this weekend as the Green Knights defeated Wisconsin-River Falls 3-2 when Pijus Rulevicius picked up the game-winner with three seconds remaining in overtime. Brandon Hoogenboom and Chris Rial also scored.
SNC then settled for a 2-2 tie with Wisconsin-Stevens Point as Blake Thompson and Reid Campbell scored for the Green Knights.
NESCAC
Williams and Trinity also had the opportunity to play at Fenway Park on Tuesday. Williams doubled up Trinity 4-2 behind four goals in the final inning. George Hunkele scored twice and added two assists, while Craig Kitto had a goal and assist. Nick Anderson also scored.
For Trinity, Jackson Brewer and Sean Orlando scored.
Amherst traveled up to Maine and dropped both games to Colby and Bowdoin. Tyler Lingel scored twice for Colby in the 5-2 win over Amherst. Nick Lanza, Devin Albert, Ben Chwick also scored. Andrew Fenwick and Brandon Burke scored for Amherst.
Bowdoin came away with the 4-2 win over Amherst with Harry Matheson, Colin Downey, Connor Quinn and Matt Rubinoff all scoring. Aaron Deutsch and Andrew Kurlandski scored for Amerst.
SUNYAC
Plattsburgh continues to have a strong season as the Cardinals picked up a 4-3 win over Skidmore and a 6-1 win over Castleton. Michael Radisa, Dakota Mason, Anthony Calabrese, Barry Roytman all scored in the win over Skidmore, while Spencer Finney made 19 saves in the win. Alex Jensen had a hat trick against Castleton with Michael Cassidy, Graham Yeo and Michael Radisa also scoring.
Geneseo picked up a 7-2 victory over Franklin Pierce on Friday as seven players scored a goal. Nick Horrigan made 18 saves in the victory. Oswego also picked up a 5-3 win over Nazareth. Matt Galati had two goals in the victory.
WIAC
Wisconsin-River Falls, after falling 3-2 to St. Norbert on Friday, ended Saturday with a 3-3 tie with St. Scholastica. Willie Hess, Zach Schrotenboer and Jeff Bergh were the goal-scorers Saturday night. Tanner Milliron made 19 saves.
Wisconsin-Stevens Point defeated Lawrence 7-2 as Max Bobrow led the way with two goals. Kyle Brodie, Garrett Ladd, Kyle Heck, Nick D'Avolio and Kyle Sharkey also lit the lamp. Brandon Jaeger stopped 30 shots in the win.
Wisconsin-Eau Claire defeated Northland 5-0 and Lawrence 4-0