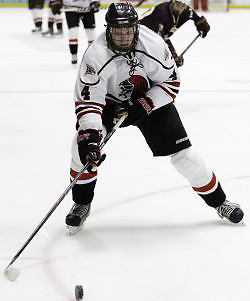 Jeff Burke is in the midst of another stellar season for Wisconsin-River Falls.
The senior defenseman and two-time All-WIAC honorable mention selection is tied for second on the team in points with 12. He has scored three goals and dished out nine assists for the No. 13 Falcons.
"Things are going well," Burke said. "I've definitely improved my speed this year and my hand-eye coordination has gotten better."
Burke has helped the Falcons fashion a 10-4-2 overall record and a 3-1 mark in the WIAC.
Yet, he knows the success of the team is a credit to everyone in the lineup.
"We trust in each other as teammates and we know that anyone is capable of stepping up," Burke said. "We complement each other on the ice and my teammates have a lot to do with how well I've been able to play."
Willie Hess is one of those players. He leads the team in goals with 10 and has dished out three assists as well. Blake Huppert has come through with six goals and six assists, while Zach Schrotenboer has tallied five goals and five assists.
Ryan Doner (three goals, seven assists), Christian George (two goals, eight assists) and Mitch Kontny (five goals, three assists) have also been key contributors.
Alec Hagaman (three goals, five assists), Taylor Burder (two goals, six assists) and Mike Williams (three goals, four assists) have also stepped up for the Falcons.
As for Burke, being one of those players who has been an all-league selection doesn't put any added pressure on his shoulders.
His stats will tell you as much.
Burke is on his way to having his best season from a statistical standpoint. He scored three goals and dished four assists as a freshman and tallied four goals and two assists as a sophomore. Last season, Burke tallied two goals and 10 assists.
"I actually don't feel any pressure," Burke said. "I think it helps me to play better because I know I'm going to be challenged on the ice."
River Falls will be challenged going forward, especially in a conference that features two other nationally-ranked teams in Wisconsin-Stevens Point (third) and defending national champion Wisconsin-Eau Claire (seventh).
"We have a really tough conference – there is no one you can overlook," Burke said. "You have to be ready to play your best every night and we feel like we have the skill to be successful. It's just a matter of being mentally ready to go every night."
Brick Wall: Eau Claire has been rock solid in goal lately and the Blugolds posted their fifth consecutive shutout on Saturday as they blanked nationally-ranked St. Thomas 2-0.
Tyler Green got credit for the win and has been the winning goalie in three of the shutouts. The shutout of the Tommies makes Eau Claire only the second team at any level of college hockey to have five straight shutouts. Lake Superior State did it in 1994.
Green made 39 saves in the win and has yet to allow a goal in 2014. Jay Deo has earned the other two shutout wins.
Chris Heineman and Jack Callahan both scored goals for the Blugolds, who are 11-3-1 overall.
Streak Ends: Stevens Point had its five-game unbeaten streak end on Saturday in a 2-1 loss to River Falls.
Lawrence Cornellier scored the lone goal for the Pointers, who fell to 13-2-1 overall and to 2-2 in the conference.
The Pointers did win the opener of the series on Friday, though, as Cornellier, Nick D'Avolio and Kyle Sharkey all scored goals in the 3-0 win.
Stevens Point was tough defending the power play as it turned away all eight of the Falcons' chances. Stevens Point held a 27-23 edge in shots and Brandon Jaeger made 23 saves for his third shutout of the season.