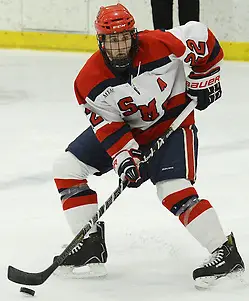 Maybe hope doesn't look too bright on the surface for the St. Mary's hockey team.
The Cardinals are just 6-8-1 overall and only 2-4-0 in the MIAC standings.
But head coach Bill Moore knows his team is far from being out of contention for a playoff berth and besides, the record of the Cardinals is a little deceiving.
St. Mary's has lost three games to nationally-ranked teams and has suffered a couple of tough one-goal losses.
"Our guys have played hard and I think we've done a good job of battling every week," Moore said. "But there is no doubt that we are a team with the potential to be a playoff team. It's just a matter of putting it all together. I feel like we are on the right path."
The Cardinals are coming off a split with Bethel this past weekend. St. Mary's won the opener 4-1, but fell 4-3 in the finale despite racking up 38 shots and limiting the Royals to 22.
It was one of those games the Cardinals let get away from them, but they refuse to hang their heads.
In fact, despite a tough stretch where St. Mary's has won only once in its last five games, the players have remained positive and focused.
"Our guys have remained upbeat and continue to work hard," Moore said. "They are confident and they know we can still make the playoffs if we play well."
Making it happen hinges on a few key improvements.
Moore wants to see his team get back to being effective in penalty kill situations and be more productive from a goal-scoring standpoint.
The Cardinals are cranking out 35 shots per game, but average only 2.3 goals per outing. Opponents are 16-of-75 on the power play against them.
"We need to be able to score more goals. We're getting a lot of shots off, but we aren't scoring enough off those shots," Moore said. "And our penalty kill has to get better. We were were doing a great job earlier in the year, but lately, we've given up too many goals in those situations. Special teams is so important to success in college hockey."
The Cardinals are led by Bob Marx and Bobby Thompson. Marx has scored six goals and four assists, while Thompson has tallied four goals and six assists.
Nick Albergo has come through with five goals and three assists and Martin Gruse has tallied three goals and four assists.
Christian Gaffy has spent most of the time in goal. In 10 games, he has allowed 25 goals and has racked up 253 saves. Phil Heinle has played in six games and has given up 14 goals. He has made 185 saves.
St. Mary's has five two-game weekends remaining in the regular season and the Cardinals will need to capitalize on the chances they will get to earn points and climb back into the playoff hunt. Heading into this week, they are only four points out of fifth place.
"The big thing for us is we have to be able to at least split every weekend and because we let one get away last week, we need to steal one somewhere and get a sweep," Moore said. "If we can play hard and create more scoring chances by getting more traffic in front of the net to score off rebounds or tipped pucks, we'll have a chance to be successful."
Dominant Weekend: Gustavus Adolphus surged into first place in the conference standings with a sweep of Augsburg.
The Gusties knocked off the Auggies 4-2 on Saturday to complete the perfect weekend and improve to 9-4-3 overall and to 6-1-1 in the MIAC.
Gustavus has a total of 20 points, putting it four points ahead of second-place St. Thomas.
Tyler Lapic, Corey Lievermann, Alex Gallen and Andy Pearson all scored goals for Gustavus, which racked up 35 shots and limited the Auggies to 25 shots.
John McLean earned the win and improved to 8-3-3 on the season. He made 23 saves, including 13 in the third period.
Gustavus won the opener of the series 3-1, which ended a three-game winless streak.
Johnnies Roll: St. John's capped a weekend sweep of Concordia (Minn.) on Saturday with a 2-1 win over the Cobbers.
The Johnnies improved to 10-6 overall and to 5-3 in the conference. They are in third place in the standings.
Andrew Commers and John Haeg both scored for the Johnnies, who stretched their win streak to five games. St. John's has yet to lose a game in 2014.
St. John's held a 36-31 edge in shots and turned away all six of Concordia's power-play opportunities. St. John's has denied the last 30 power-play opportunities opponents have had against them.
The Johnnies have won or tied in 29 of the last 34 meetings with the Cobbers and are 23-4-2 in their last 29 games against them.