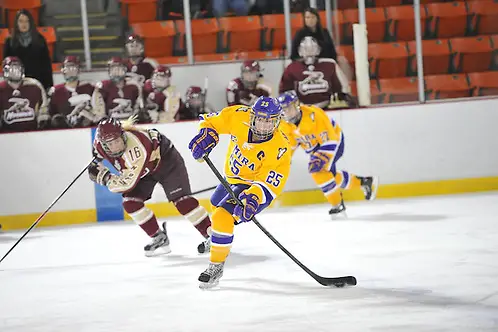 With two-thirds of the season completed, the inevitable question arises: Can the defending national champions reenact their victorious celebration from last spring?
With the arduous task clearly in sight, the resounding response from the Elmira camp is mutually optimistic.
"Although there is a lot of pressure in being the defending national champions, there are also some benefits that make us more prepared than we were last year going into playoffs," said senior captain Tanis Lamoureux. "Now that the majority of our team has been to the national tournament, we know what it takes to not only get there, but to win the whole thing. In the past, we had talked about what we would have to do to win, but nobody really knew for sure. Now that we have been there before, we can take the new players under our wings and guide them in a direction that is going to make our team successful."
Head coach Dean Jackson and Lamoureux are both in agreement that the current edition of the club will take on a somewhat different sheen in staring down the 2014 playoffs.
"At this point in the season, we are very aware of what lays ahead for us," Jackson said. "Our team is prepared for the stretch run. I would not say we are more prepared this year than last, but this year is much different. We're prepared for the weekends ahead because we have played in many different environments this season. To date, we have played 14 road games and three home games."
The quality play of Lamoureux and junior forward Ashley Ryan, both in the midst of putting up career-best seasons, has lent credence to the club that a repeat is possible. During the title run, Lamoureux finished with 27 points in 30 games. Heading into the week, the Canton, Mich., native has collected 23 points in 17 outings. Ryan's offensive output has increased dramatically as well; her 1.71 points per game average far exceeds her 1.03 number from a year ago. Both skaters have recently cracked the top 10 in career points for the program. Lamoureux has recorded nine points in her last seven games, while Ryan has 11 over the same period.
"The most positive surprise that I have seen on this team is how well players were able to step up and fill new roles after the class of 2013 had graduated," said Lamoureux in deciphering the contrasts from last season. "The seniors that left were some of the best players on our championship team, so after they left it was encouraging to see that many of our underclassmen and even some of the incoming freshmen were able to step up and fill those roles."
With his captain having been through the cacophony that surrounds the title game, Jackson is well aware of what an experienced Lamoureux brings to the Soaring Eagles postseason pursuits.
"She is in a very small category of elite players in the country, simply because she is a complete player," Jackson said. "She plays both sides of the puck and 200 feet of the ice, and produces in every situation and is extremely consistent. Tanis is reliable on the ice, in the classroom, and among her teammates and friends. That is why she was looked upon by her peers and coaching staff to lead our team this year as captain."
For Jackson, equipping his charges for another go is relatively clear-cut.
"Heading into the postseason, there are not many surprises, simply because there is familiarity among the programs," said Jackson, who has compiled a 37-8-2 record in his short tenure at Elmira. "Every coach will have their team prepared and inspired to win the big games and every team is capable of winning. In my mind, what it really comes down to is the consistent execution of team systems and the game plan, out-compete and battle your opponent and believe in each other. That is what you will see from teams during tournament time. It will be very exciting."
Lamoureux, for one, would expressly enjoy revisiting the podium for the second consecutive season.
"My experience has been more than amazing, especially after winning last year; my dream came true and I was able to experience it with some of my best friends (teammates)," she said.
Elmira will have the benefit of mixing it up on home ice for the next four games, taking on Buffalo State this weekend before hitting the iron in a two-game set with No. 1 Plattsburgh on Feb. 7-8.