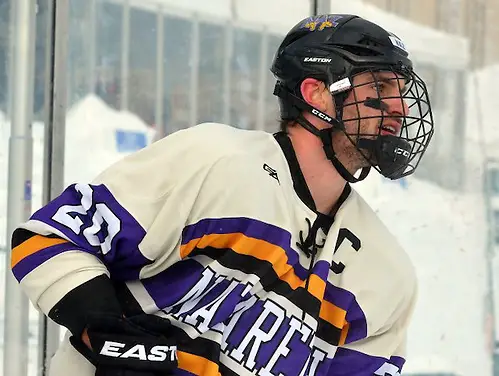 Who saw this coming?
Anybody? Anybody?
Sure ya did. Uh huh … right.
Even the most rabid fans of Nazareth didn't see it coming.
After all, the Golden Flyers, a program feeling all the growing pains of a second-year program, was still 0-for-the-season in ECAC West play, and 0-for-forever against nationally-ranked opponents.
Yet they pried both monkeys from their backs in one dizzying weekend (the one just past), by shocking league-leading No. 10 Utica in overtime (2-1) on Friday, followed by a 4-1 spanking of No. 14 Geneseo the following night.
The Eagles have known a precious few highs since last year's hatching, but nothing quite like this.
"No question," said Nazareth bench boss George Roll, "that those two wins against quality opponents are the best wins in the brief history of our program."
The box score will tell you what happened, that Scott Dawson's overtime tally finished off Utica, that goalie "Steady Eddie" Zdolshek played the game of his life in the face of a 46-shot Geneseo barrage.
But what the agate doesn't explain is how it happened.
That's best left to Roll.
"We have shown a resiliency that I have not seen in many teams who have lost as many games as we have in the past two years," Roll said. "It would have been easy for our guys to quit on the season with only one win at the break, but they have remained steadfast in their work ethic and commitment to the program. We played very well the first half, but had no wins to show for it. Now, finally, we learned how to win close games instead of finding ways to lose them."
The question now remains to be answered: what does Nazareth do for an encore?
With two games this weekend at Hobart, which trails league leaders Elmira by a single point, the answer may be soon in coming.
"Hobart is playing as good as anybody in our league presently," said Roll. "[It] will take the same type of effort we had this past weekend. Whether we win or lose, I do not see this team having a tough time getting prepared for this weekend."
Of course, foes will be looking past Nazareth anymore, either.
Wounded Warriors in Elmira
As if this weekend's two-game series that brings Utica into Elmira wasn't crucial enough.
The winner of said set could – depending on how Hobart fares with the giant killers from Nazareth – go to bed on Saturday as the ECAC West leaders.
Even so, the real winners on Saturday will be military veterans and their families who have fallen upon difficult times.
That night, Elmira will be hosting its third annual "Wounded Warrior Game," with proceeds from the sales of tickets, jerseys and other items being donated to the Wounded Warrior Project.
The WWP is a non-profit, non-partisan organization that provides support and tangible help to severely injured service members upon their return from Iraq, Afghanistan and elsewhere.
The Soaring Eagles, who will wear specially-designed camouflage jerseys for the game, took the cause to heart two years ago.
"Everybody in their lifetime has been touched by a vet," said Elmira coach Aaron Saul. "A brother, sister, father, mother. So many have defended our country for us to be free.
"We hope to raise a lot of money and give it back to the people who deserve it."
The game-worn camos will be available for purchase (price tag: $125) at the rink, as well as online (email to [email protected]), with sweatshirts ($20) and tees ($10) for sale, too.
"I think our fans here and the whole community are behind it," said Saul. "It's a great event to be part of.
"This is something that our guys like to do. It's a way of saying 'thank you for everything you do for our country.'"