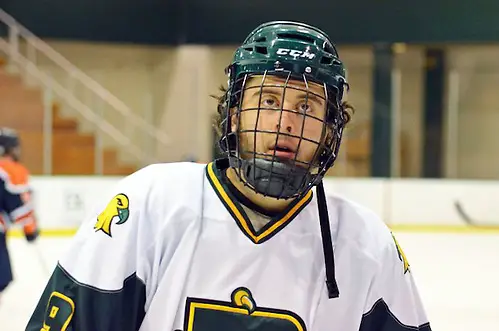 They consider the number 13 to be unlucky, but for roughly half the teams in the SUNYAC, to see that figure in the points column at season's end would suit them just fine.
Six teams make the SUNYAC tournament each season and for the past seven years (such was the sample size we settled upon), a team had to amass an average of 13 standings points in its 16 league contests to qualify.
So far, three teams (Plattsburgh, Buffalo State and Geneseo) have already surpassed that watermark and Oswego is just two points away.
Cortland sits in fifth with eight points and five more games to play. Although their playoff hopes are far from secure, the fate of the Red Dragons lies in their own clutches.
Which leaves four more teams – Fredonia, Brockport, Morrisville and Potsdam – to fight amongst themselves for the final postseason spot.
For each of the four, the feeling of urgency is almost palpable.
So much to do. So little time.
Just ask the coaches. They'll tell ya.
Fredonia (seven points, seven games remaining)
The Blue Devils will host Morrisville twice this weekend and can help themselves immensely by pocketing four points.
"This weekend is a two-part weekend for us, like most weekends [are]," said Fredonia coach Jeff Meredith. "Even though we are playing the same team both nights, it is two part because the only game we want and need right now is the Friday game that is right in front of us."
Meredith said that jumping on the Mustangs early is crucial.
"For us to be successful this Friday, we need a quick start," Meredith said. "In four of our last six games, we have scored first and that is Part 1 in a good recipe for success. I think the more often that we are in position to close games out, I think the better we are getting at it."
Five-on-five play is always important, but Meredith said that how his team functions while a man up or down that could make the real difference.
"Special teams continues to be important during this late part of the year," he said.
Last weekend the Devils faced the No. 3 and No. 8 power-play units in the nation and were able to be perfect. Morrisville comes into the game with a hot PP, so the Devils will have to work hard to continue their success.
Brockport (five points, eight to play)
The Golden Eagles will host last-place Potsdam, but also have first-place Plattsburgh to deal with.
Brockport coach Brian Dickinson said that his team is in a state of DEFCON 1.
"We're treating all eight of our remaining games as playoff games," he said. "Getting a split in Morrisville last weekend only puts more urgency on the remaining games. Fortunately, we have five of eight at home to finish the year, but that only means something if we play to our potential and win the games. Our sole focus right now is on Potsdam. Our league is so solid top to bottom that there are no off nights and if we don't compete to our potential every game, we run the risk of getting beat."
Although Brockport has gotten goals from several sources of late, Dickinson said that he is looking to his top scorers to shoulder the load down the stretch.
"We have been getting balanced scoring since we've returned from break, which is good, but we're really looking at guys like Shane Cavalieri to produce a little more. Shane was our leading goal-scorer last year and has been a little snake-bit, but seems to be coming out of it. No better time for him and the team. Chase Nieuwendyk is really starting to heat up and his entire line with Chris Cangro and Jake Taylor will be counted on to create offense."
Morrisville (five points, six to play)
You don't need to tell Mustangs coach Kevin Krogol what's at stake in this week's two-game set at Fredonia.
"We feel that this coming weekend is make or break for both teams," he said. "We know that for us to make a playoff spot, we likely need to have Fredonia behind us in the standings, as same goes for them. We know that this weekend is going to be a battle and for us to be successful we need to put together 120 minutes of hard work."
Krogol said that he'll be looking for optimum effort on every shift.
"As a unit, everyone needs to step up and put themselves in a playoff mind set right now," he said. "We need to go through the rest of the season with a "do or die" attitude and lay it all on the line."
Potsdam (two points, eight games left)
The Bears, who slipped into the final spot last year with 12 points, have a rough road ahead of them.
They do have five games remaining against the four teams directly ahead of them (including Friday at Brockport), but as Potsdam coach Chris Bernard admits, they have virtually no wiggle room to play with.
"Each and every game is of critical importance in the SUNYAC all throughout the season," Bernard said. "Points on the road are extremely difficult to get. We know that and therefore, we understand the type of effort and execution necessary."
Fredonia going pink
Fredonia, by the way, has earmarked Saturday's game with Morrisville as its annual "Pink the Rink" affair.
As in recent seasons, Fredonia players will wear pink jerseys and socks, which will then be auctioned off with proceeds to go to the American Cancer Society.
A new twist has been added, however.
The four on-ice officials assigned for Saturday will all wear black and pink striped shirts and bids will be taken on those, too.
To get on the bidding early, email Jeff Meredith at [email protected].