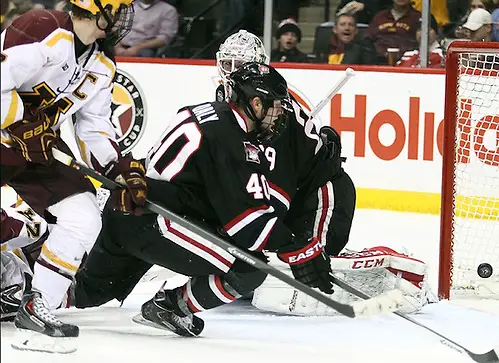 For 62 years, hockey fans in Massachusetts have eagerly awaited the playing of the Beanpot, which pits four Boston-area schools against each other. Though Minnesota has long been one of the traditional hockey hotbeds, the state didn't have an equivalent.
This year, the launching of the North Star College Cup, which featured Minnesota, Minnesota-Duluth, Minnesota State and St. Cloud State, may have changed that.
"For the first year of putting the event together, we thought it was a great success," said St. Cloud coach Bob Motzko. "Just around 15,000 people for the Minnesota games, and I think we all kind of feel that since all of us are in different leagues, and the proud tradition and history in this state, that this tournament has got a chance to be something very special.
"We thought it was great hockey. All four programs were playing great hockey, and I think the fans that showed up saw tremendous play. It has great Minnesota flavor from a media standpoint and the players and individuals from all the teams."
This weekend, the Huskies return to NCHC play with a series against Nebraska-Omaha. St. Cloud trails Denver and North Dakota by one point in the NCHC standings, but has two games in hand. The Huskies, who spent the first half of the season atop the league standings, are also being challenged in the standings by UNO and Western Michigan.
"They're a tremendously gifted offensive hockey team with some top-end players and upperclassmen that have led them over the years, like Ryan Walters and Josh Archibald, and it's really a weekend where we have to have discipline in not letting them have power plays, discipline in our systems, and discipline in our puck management," Motzko said of the series against the Mavericks. "We have to play our brand of hockey but be very disciplined at it to give us the best chance we can at the weekend."
One area that Motzko and his players will want to shore up is defense. At the end of the first half of the season, St. Cloud was one of the top five teams in team defense nationally.
In the second half, the Huskies have given up more than two goals in every game but one, even their wins, and the one game they held an opponent to two goals was a 2-1 loss to Western Michigan.
"Going into Christmas, we'd only given up 32 goals; in our last six games, we've given up 20 and that's a no-no," said Motzko. "We're obviously analyzing and going over the film and what we've been doing and we think we have a couple things really targeted that we have to get back on top of, and we think we are moving in a direction to get it solved.
"The big thing for us is we've done it before, so we're not trying to find something new. We're trying to get back to something we were doing before, and we just got off kilter at Christmas in a few areas and we just need to get some good habits going again in our defensive play and our penalty kill, our goaltending. We're still not going to hit the panic button, but obviously we have to really shore things up from a defensive standpoint to give us a better chance."
Motzko will also be focusing on the penalty kill, which ranks 51st nationally and is clicking at only a 77.5 percent success rate.
"The defense giving up goals, the penalty kill, that's all under the same umbrella," said Motzko. "We've been making some uncharacteristic mistakes. We'd only given up 10 goals on the penalty kill the whole first half, and I think now it's six maybe since Christmas. Those are things that can be corrected, along with the other defensive areas we had and some individual play that we're working toward getting better at."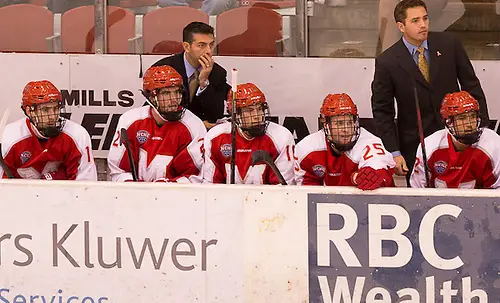 RedHawks regroup
It hasn't been a good start to the second half of the season for the Miami RedHawks. Truth be told, things have been off for coach Enrico Blasi's club since November.
In mid-November, the RedHawks hosted Wisconsin and split the two-game set, getting a 2-0 shutout on Friday night and losing 3-2 in the rematch Saturday. After that, Miami was swept by Nebraska-Omaha, mustered a tie and win at Bemidji State, and split with Denver, winning the second game to end the first half on a hopeful note.
There were, however, some signs of potential difficulty down that stretch, as Miami gave up 21 goals in those eight games.
The second half started with an exhibition loss to the U.S. Under-18 team; no cause for panic, but it probably raised some eyebrows. However, things didn't get better, as Miami then was swept at Western Michigan and got a tie/shootout win and loss against Nebraska-Omaha.
The RedHawks followed that up with a loss last Friday night to NCHC cellar-dweller Colorado College by a 4-1 score before rebounding for their first regulation win of the second half, a convincing 6-1 thrashing of the Tigers Saturday night.
Blasi said he thinks that his team has been the cause of its woes in the second half.
"I can't put a finger on it, other than we do a lot of things that are basically self-inflicted, and played some pretty good teams where you make mistakes and they'll make you pay, and that's what we did," said Blasi. "It's one of those things you have to go through, and hopefully we can get better."
Though Miami's offense, led by Riley Barber and Austin Czarnik, scores at over a three-goals-per-game clip, the defense averages nearly as many goals given up. Blasi points to this as one area the team needs to work on during its time off this week.
"I think we have to get better in a lot of areas," Blasi said. "Our puck management hasn't been very good, which leads to turnovers, which has cost us some big goals at big times in games. Our puck management, things we can control as far as our position, especially defensively, obviously needs to get better. A lot of things to work on, and hopefully we can get better here down the stretch."
While Blasi acknowledges that Barber and Czarnik have been prolific, the loss of Blake Coleman to injury in the Denver series has hurt the team's offensive production after those two.
It has also affected the power play, which has been one area of concern. Until the RedHawks erupted for four power-play goals against CC Saturday night, the power play was mired in a dismal 1-for-29 stretch.
"I think if you look in the last month, our power play hasn't been very effective, and when it's effective, our team is successful," said Blasi. "Special teams are a huge part of the game, and they have to be a difference."
Miami returns to action on Feb. 7-8 with a series at home against former CCHA rival Western Michigan. Blasi made it clear that he is expecting more from all his players during the stretch run.
"It's just one of those things where you have to strive to get better and that's what we're trying to do," said Blasi. "We're trying to teach the game and make sure everybody knows how hard it is to play at this level. We've got to continue to get better and play at a higher level."
No nights off
Denver and North Dakota, which battled to a series split last weekend in Denver, sit atop the league standings with 24 points each, though St. Cloud State, Nebraska-Omaha and Western Michigan each have two games in hand and could pass both teams this weekend, especially since each league win is worth three points.
It points to the overall competitiveness of the NCHC, something North Dakota coach Dave Hakstol commented on after Denver blanked UND 3-0 Saturday night, one night after UND had defeated the Pioneers 4-2.
"I think it's reflective of the entire league," Hakstol said of the split. "Every series that we have played has been exactly like this series: It's been a dogfight."
Denver coach Jim Montgomery said much the same about the split, and how important it was for Denver to rebound after losing Friday night.
"In the NCHC, you can't afford to be swept, and we found a way now to respond twice after being beat quite soundly by St. Cloud and North Dakota on Friday night," said Montgomery.
Both Denver and North Dakota are off this weekend, and return to league play on Feb. 7-8.
Players of the week
Offensive player of the week — Jonny Brodzinski, St. Cloud State: Brodzinski notched four points for the Huskies during the inaugural North Star College Cup. Against No. 1 Minnesota in the first game, he notched the only goal for his team during a 4-1 setback. In the third-place game on Saturday, Brodzinski torched Minnesota State for two goals and an assist in a 6-4 win and was named the first star of the game. Brodzinski leads St. Cloud in scoring with 14 goals and 11 assists.
Defensive player of the week — Matthew Caito, Miami: Caito helped right the ship for the RedHawks on Saturday, as Miami rebounded from a 4-1 defeat to beat Colorado College 6-1 on Saturday. On Friday, Caito helped the penalty kill go 3-for-3, and also got three shots on goal. In Saturday's win that broke a five-game winless streak, Caito notched an assist to tie the game in the first period and a goal on a power play in the second while helping Miami kill all five CC power plays.
Rookie of the week — Alex Iafallo, Minnesota-Duluth: Iafallo notched three points in the North Star College Cup, helping the Bulldogs get a runner-up finish in a shootout loss to Minnesota. On Friday against Minnesota State, he got two assists in the second period and scored the game-winning goal with 26.5 seconds left in overtime. Iafallo was named the game's first star. This is the third time this season that Iafallo has earned rookie of the week honors.
Goaltender of the week — Sam Brittain, Denver: Brittain earned his sixth goaltender of the week honor and won it for the second consecutive week for helping Denver get a split with North Dakota. He stopped a season-high 43 shots in Saturday's 3-0 shutout win and stopped 29 shots on Friday in a 4-2 loss. Brittain finished with a 2.08 GAA and .947 save percentage on the weekend, and his shutout was his fourth of the year, tying him for second nationally. Brittain has won 13 games this year.