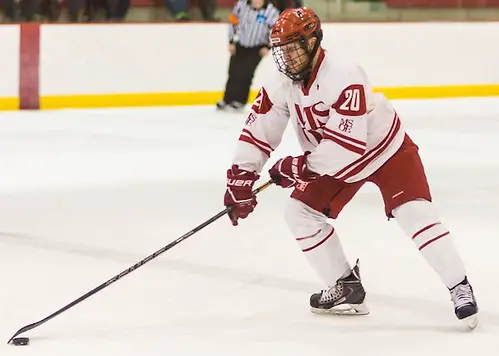 Heading into 2014, the Milwaukee School of Engineering had a surprisingly hopeful outlook to the second half the season.
The Raiders ended 2013 with a 1-10-0 record, plagued with injuries and sitting at the bottom of the NCHA standings.
Could it get any worse?
On Jan. 3, the Raiders were set to take on Norwich in the Northfield Savings Bank Holiday Tournament. The travel to Vermont was much like the horror stories felt by many teams traveling after the new year – cancelled flights, impromptu bus trips, lost luggage, you name it. In fact, the Raiders didn't know if they would take the ice for the opening game of the tournament, as their equipment didn't get to them until 5 p.m. Game time was set for 7:30.
MSOE dropped a 5-0 tilt to Norwich, making their bleak record drop to 1-11-0.
"We played Norwich with everything we had and we lost," said Raiders' coach Mark Ostapina.
The Raiders didn't throw in the towel, where some teams may have. The next night they battled and beat Plymouth State 3-1.
"We came back the next day [and] that's the mark of a team with character," said Ostapina. "We said 2014 was going to be better."
And that is just what happened.
Including the holiday tournament, the Raiders have posted a 5-3-1 record in 2014. They have swept conference opponents Lawrence and most recently, Finlandia, climbing to seventh in the NCHA standings.
With 13 freshmen and 10 sophomores, Ostapina is happy with his locker room, even with the circumstances of a losing season and an injured bench.
"The locker room was good," Ostapina said. "It's been one of those years. I call it the perfect storm year. We've got one of the toughest schedules and then I lost key players.
"We've had three games this year where we had zero healthy scratches. It's one of those things that we understood, fought through it, knew that things were going to get better as our young guys got more experience."
The Raiders have faced their share of adversity this season, namely the loss of two of their top returning players.
Leading returning goal-scorer Kevin LoGiudice scored 10 goals last season as a sophomore and fractured his tibula in the first shift of the first game this season.
Sophomore forward Cody Gonchar, who was the leading returning point-getter with nine goals and 16 assists last year, is out for the season after tearing his ACL, MCL and cartilage with an on-ice injury.
It's obvious that the Raiders aren't going to let a bad first half determine the rest of their season as they battle to make the playoffs.
"I'm very proud of them," said Ostapina. "We've had some great teams here at MSOE and this one is right up there with what they've endured."