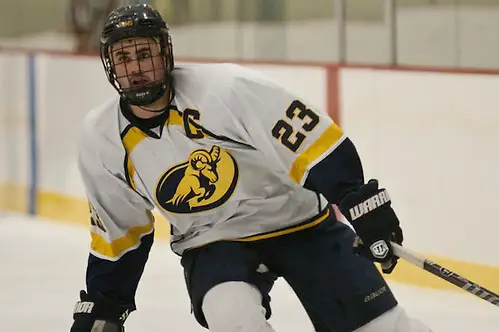 Suffolk needed a win against Becker in the final game of the 2012-13 season to get into the ECAC Northeast conference tournament.
The Rams earned a 2-2 tie against Becker and Johnson and Wales slipped into the final tournament spot.
Fast forward a year later and the Rams are sitting in that sixth and final ticket into the conference tournament. With four games remaining in the 2013-14 regular season, they look to build off last year's experience.
"We like the opportunity," Suffolk coach Chris Glionna said. "Last year, we had the same opportunity. Unfortunately, we failed in that. We had to win our last game, we ended up tying it . We had to wait to see if Becker could beat Johnson and Wales and they ended up not doing it."
Three of the four games remaining for Suffolk are against teams that are also fighting to play a few playoff games. They include games against Western New England on Thursday, Curry on Saturday and Becker next Wednesday. The Rams finish the season against Wentworth on Feb. 22.
Glionna hopes the experience this year's juniors and and sophomores had last season during the stretch run will help them this season.
"They are young," Glionna said of his roster as a whole. "They were also young last year, we played a lot of young kids last year. The majority of the team has some pretty good experience, especially the second time around being in a playoff hunt. That's going to be helpful to us and the core of the team played down the stretch for us last year. They are use to this pressure of every game is a must-win."
Last Tuesday, Suffolk beat Salve Regina 5-2 for its first win in over a month. Glionna said that was huge not only because two points were up grabs, but they have been knocking on the door in the last few weeks against teams like Johnson and Wales and Wentworth.
The team is also trying to get the lone two seniors on the team, captain Charlie McGinnis and defenseman Jon Stauffer, a chance of a few more games to finish out their college careers.
McGinnis, a forward from Hanover, Mass., is second in the team in scoring with eight goals and seven assists in 20 games this season. For his career, he has 35 goals and 35 assists in 80 games at Suffolk.
Stauffer, a Landsdale, Pa., product, is still looking for that first goal of the season, but has 10 assists in 20 games. In his four years at Suffolk, he has 13 goals and 37 assists over 93 games.
"That's our goal – we really want to provide them an opportunity at the playoffs," Glionna said. "They have been tremendous players for us for four years. They deserve to take a shot at an opportunity of winning the league and tournament. You can't do that if you don't get in."
The Rams haven't made the postseason the last three years.
Glionna said McGinnis and Stauffer are both great leaders, on and off the ice. With his job being a part-time position, Glionna said he relies on both players getting things done when he is not on campus.