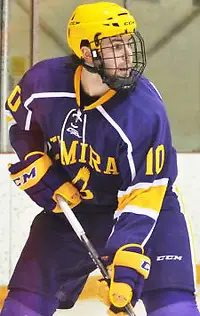 Winning on the road, especially while in a standings dogfight, can be just the sort of test that can define a team like, say, Elmira.
The Soaring Eagles began last weekend with a slim, one-point lead one point lead in the race for first place over both Utica and Hobart.
They had just one tilt on the schedule, Saturday at Hobart, and with Utica playing (and winning twice at home against last place Neumann), Elmira needed to grab those two road points to keep pace.
This, of course, is exactly what happened, thanks in large part to the clutch work of sophomore Jarryd ten Vaanholt.
Teams covet a quick start, particularly on the road, and it was "JTV" who gave the Soaring Eagles what they needed.
With the Soaring Eagles working on an early first period power play, ten Vaanholt connected to open the scoring.
Then with Elmira trailing 3-2 in the third, ten Vaanholt set up the game-tying tally, then jammed in the go-ahead goal (and eventual game-winner), the two goals coming just 15 seconds apart.
Nazareth rolling
It may be the picture of modesty, a 3-8-1 conference record, but for Nazareth, it represents a significant accomplishment.
Namely, escaping the ECAC West basement for the first time in the program's brief – not quite two full seasons – history.
As this space has noted before, the Golden Flyers, who have risen to fifth-place in the six-team loop, have been on an unprecedented tear of late. They've gone an impressive 5-1-1 overall in their last seven starts, a run that includes their first-ever conference wins (over Utica, Hobart, and in their last outing, Manhattanville).
The backbone of it all has been sophomore goalie Eddie Zdolshek, who leads all ECAC West goalies in minutes played (687:15).
The pride of Parma, Ohio, Zdolshek stopped 54 shots last weekend in his team's split with Manhattanville, earning him league goalie of the week honors.
Nazareth has three tilts remaining, at Utica followed by two at home against Neumann, and could be a very dangerous team for any higher ranked foe to deal with in the upcoming playoffs.
Boby helps Utica get back to first
While on the subject of game-winners, Utica freshman Luc Boby netted two of that ilk against Neumann (his second and third of the season), and three goals altogether, as the Pioneers regained first place in the ECAC West by a point over Elmira.
Boby had plenty of help, too, as senior forward Trever Hertz, Utica's leading scorer, recorded three points (goal, two assists) and is now just two points shy of the 100-point mark for his career.
Nick Therrien, the Pioneers' senior netminder, joined the fun with a pair of victories. Therrien now has 43 victories, four off the six-year-old school mark currently held by Adam Dekker.
Utica recruit can be a bit Moody
Player signings for next year are beginning to pick up again as teams look to replace their departing seniors.
Among the latest to commit is forward Adam Moody, who will head to Utica.
Moody, who hails from Aurora, Ont., is currently playing for the Cowichan Valley Capitals in the British Columbia Hockey League.