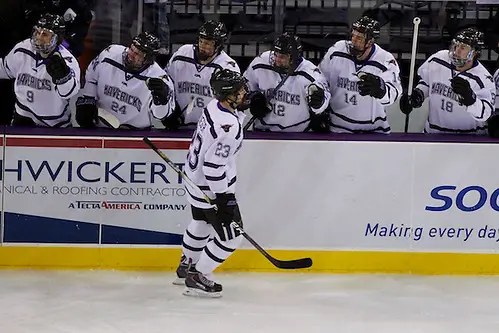 There's an old adage in college hockey — especially in conferences such as the WCHA in which teams play two-game series every weekend:
Sweep at home, split on the road.
That's easier said than done, of course, but for the WCHA's top two teams, they're about as close as they can get to doing the former.
"With any league and with any sport you talk about the need to protect your home and the need to do well at home," said Minnesota State coach Mike Hastings, whose team is 11-1 at the Verizon Wireless Center, including nine wins in a row there.
That .917 winning percentage is tops not only in the conference but also in the country. First-place Ferris State, which leads Minnesota State by two points in the league standings (with two games in hand), ranks third in the nation with a 10-1-1 mark (.875).
"I think that's why you've seen the change to the PairWise criteria [giving additional weight to road victories]," Hastings said. "More often than not, there is home-ice advantage, and you better take advantage of that."
Here's a look at the WCHA's best home records this season and how many of each team's remaining games will be played on home ice:
| Team | Home record | Home games remaining |
| --- | --- | --- |
| Minnesota State | 11-1-0 | 4/6 |
| Ferris State | 10-1-1 | 4/8 |
| Alaska-Anchorage | 10-3-1 | 2/6 |
| Michigan Tech | 7-3-3 | 3/6 |
| Bowling Green | 8-5-2 | 2/6 |
| Northern Michigan | 6-4-1 | 5/8 |
| Alaska | 7-5-2 | 4/6 |
| Lake Superior State | 7-7-0 | 2/8 |
| Bemidji State | 3-8-4 | 4/6 |
| Alabama-Huntsville | 0-11-1 | 4/8 |
Ferris State is 9-0-1 in WCHA play at home, with the lone blemish being a tie against Bowling Green on Nov. 15. The Falcons also have been the only team to score a win in Mankato.
"Our arena is a very difficult rink for opposing teams to play in because obviously we draw really good crowds," Ferris State coach Bob Daniels said. "We've sold out about every game so far. We've sold out our student section, which is a very vociferous group. We've sold out for upwards of 50 games in a row.
"When you combine the large number of students that are at the rink with the low ceiling we have in the arena, it's one loud rink to play in. It has a feeling because the fans are right up on the ice, it feels like they're almost on the ice with you."
Minnesota State has been drawing well, too, averaging 3,564 — with, over the last four games, jam-packed student sections in the arena's horseshoe and an average attendance of 3,972 in series sweeps over Ferris State and Bemidji State.
"You're seeing a commitment from the community, the university and the students, and that's a huge part of that," Hastings said. "Without that, it would be a building with no atmosphere, no matter how we're playing."
The Verizon Wireless Center underwent an offseason facelift, most notably getting MSU-esque purple seats to replace the old red and blue chairs that occupied the building for 18 years. The Mavericks also are practicing in the building more than ever before, and plans are in the works for the team to move there permanently.
"It makes it even more like home," Hastings said. "We've got some branding here that we didn't have before."
Alaska-Anchorage's transformation under first-year coach Matt Thomas is largely due to its own home dominance. Its 10-3-1 record at Sullivan Arena, which includes the Seawolves' first-ever sweep of Minnesota State on Jan. 10-11, is the best in the program's Division I era and ranks 11th in the nation.
"At home we feel confident," Thomas said. "We had some early success here, and that allowed us to build off it."
The Seawolves are in a tie for fourth place and that final home-ice playoff spot but have just two home games remaining in the regular season. Those games will take place this weekend against the team they're tied with, Bowling Green.
"We talked about making this place a place other teams flat out don't want to play," Thomas said.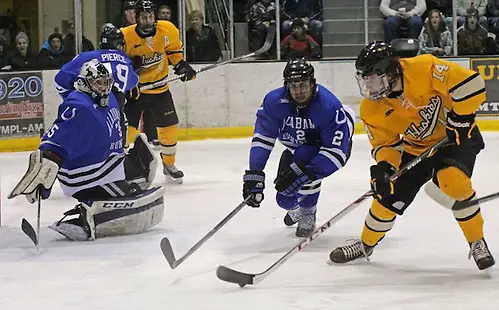 Huskies getting hotter
Michigan Tech continued its climb up the WCHA standings last weekend, moving into third place following a Winter Carnival sweep of Alabama-Huntsville in Houghton.
Two weeks ago at this time, the Huskies were stuck in a three-way tie for seventh place and in danger of missing the postseason after splitting at home against Ferris State. Since that split, the Huskies have won four straight, starting with a sweep at Bowling Green.
With six games left in their regular season, Tech controls its postseason fate in the race for home ice in the first round of the WCHA playoffs.
"I thought the Bowling Green weekend could be a turning point for our season," Tech coach Mel Pearson said Saturday. "We went down there against a very good team who hadn't lost very often at home and found a way to win two tough games against a good team. I think our confidence is up, but at the same time, we have to keep our feet on the ground. Just one tough weekend and you can fall a couple places back. We're in control of our destiny now."
For Tech, the 24 goals scored the past two weekends may be as important as the four wins it's strung together. The Huskies scored five each night against the Falcons and 14 against the Chargers, with 10 coming on Saturday.
Tech junior Blake Pietila, the Winter Carnival MVP who said his girlfriend banned him from kissing the Winter Carnival queen, has five goals in the last four games. Junior forward David Johnstone and sophomore forward Malcolm Gould each have four goals, while senior forward Jacob Johnstone and junior forward Tanner Kero each have three goals.
Before the four-game win streak, the Huskies were averaging just 2.11 goals per league game, good for ninth. Now, Tech is fifth, averaging 2.82 goals per league game.
"As much as you work on it and stress it, some nights they're just not going to go in for you," Pearson said. "There's probably games that we had better chances than we did tonight. It's just one of those nights where everything seemed to go in."
Around the WCHA
• Bowling Green sophomore defenseman Ralfs Freibergs suited up for Latvia on Wednesday in a 1-0 Group C preliminary round loss to Switzerland at the Winter Olympics in Sochi, Russia, but he didn't see any playing time. Latvia suited up eight defenseman and Freibergs was one of three Latvians to never leave the bench. Latvia plays the Czech Republic next at 3 a.m. EST on Friday.
• After playing each other four times a year — twice in Marquette and twice in Sault Ste. Marie — for 14 straight seasons, Northern Michigan and Lake Superior State play only two games against each other this year in the WCHA, coming Friday and Saturday in Marquette. It's the first time since the 1995-96 season, when NMU and LSSU played each other only once, that the Wildcats will not play in Sault Ste. Marie. Eighth-place Northern Michigan sits one point ahead of ninth-place Lake Superior State in the WCHA standings. Northern needs at least a tie to stay out of ninth place, while a split would force at least a two-way tie between the Lakers and Alaska for eighth, or a possible a three-way tie that includes Bemidji State for seventh if the Beavers are swept at home by Ferris State.
• During its idle weekend last Friday and Saturday, the Alaska Nanooks participated in Hockey Week in Fairbanks. Events included floor hockey with Special Olympics, reading days at numerous schools and Wear Your Jersey to School Day at North Pole Elementary School, where freshman Jared Linnell once attended.
• Minnesota State's Matt Leitner and Jean-Paul LaFontaine both have moved into the top 10 of the Mavericks' Division I-era scoring list. The Mavericks moved up to Division I in 1995. Leitner is seventh with 107 career points. LaFontaine is 10th with 99.
• Alabama-Huntsville matched a season high when it scored four goals on Saturday at Michigan Tech. Unfortunately for the Chargers, they surrendered 10 goals, which also matched a season high. The game's 14 combined goals were a record in the program's modern era.
• Rob Gunderson picked up the win in goal for Alaska-Anchorage on Saturday night at Lake Superior State. He started, snapping a 10-game streak for Chris Kamal. It was Gunderson's first start since Dec. 7. His last win came on Dec. 6. Kamal went 6-3-1 during his streak.
• Bemidji State's John Parker, a sophomore transfer from Maine, made his debut with the Beavers on Saturday night at Minnesota State. Parker's last appearance in a college game was in an NCAA Midwest Regional loss to Minnesota-Duluth on March 24, 2012. Parker had three goals and four assists in 33 games for Maine in 2011-12 but was injured and then dismissed from the team for team rules violations the following year. He finished last season playing junior hockey for the Jersey Hitmen of the EJHL.
• This week's WCHA players of the week were Michigan Tech forward Blake Pietila (offensive), Ferris State goalie CJ Motte (defensive) and Minnesota State defenseman Sean Flanagan (rookie).