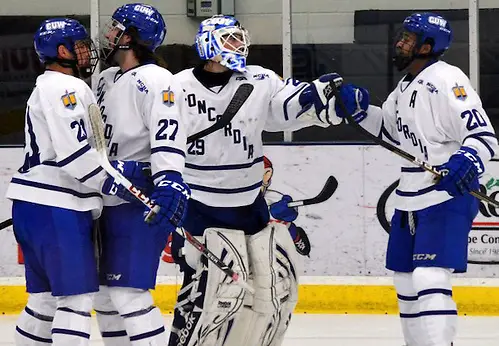 Going into the last weekend of play, much has been left undecided in the NCHA.
The regular-season title is on the line as the top-ranked team in the country, St. Norbert, is one point in front of number two-ranked Adrian.
Teams in the middle of the pack are fighting for a home-ice spot in the quarterfinals, while teams towards the bottom of the standings are fighting for just a spot.
What we do know is that St. Norbert and Adrian have clinched home ice for the quarterfinals. St. Norbert has won the NCHA regular-season title for the last four consecutive seasons.
The Bulldogs will look to earn its seventh consecutive conference championship. The Bulldogs captured the MCHA title each season from its induction to Division III hockey in the 2007-08 season.
St. Norbert is taking on Northland this weekend, a team that is sitting ninth in the standings. Northland needs to get two points from this weekend and losses from the Milwaukee School of Engineering and Lawrence to jump as high as seventh to end the regular season.
Adrian will take on Lake Forest, sitting in third with 22 points. The Foresters are guaranteed home ice for the quarterfinals.
St. Scholastica's fate is uncertain going into the last weekend of action. The Saints can finish as high as the three seed going into playoffs, but also slip as slow as fifth. They can secure home ice with two points this weekend.
Now getting to the middle of the pack, where situations get more complex.
Right now, Marian is in the fifth spot with 19 points and the Sabres can finish as high as third and as low as sixth. A third seed going into playoffs can happen contingent on Lake Forest being swept.
Concordia (Wis.) can secure a sixth seed by taking one point from this weekend's series against MSOE. The Falcons will make a postseason appearance for the first time since the 2008-09 season and it will be a road game. It has been a historic season for the Falcons as their 80 goals thus far this season mark a program record.
MSOE has not yet clinched a spot in the postseason. It will be the first time since coach Mark Ostapina took the job behind the bench in 2001-02 that the Raiders will finish below a fourth-place spot.
Lawrence has also not secured a spot in the playoffs, but can with one point out of their series with Lawrence and a Northland loss.
Finlandia is not a contender for the conference playoffs this season.