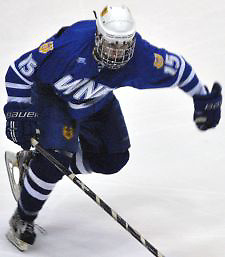 Western New England still has a conference tournament berth on its mind.
Right now, the Golden Bears sit 4-7-0 in the ECAC Northeast standings, tied with Curry for the sixth and final tournament berth. They are 10-12 overall on the season.
To secure a conference playoff spot, WNE will have to win its final two games, which are on the road against Nichols on Saturday and Becker on Tuesday. The Golden Bears are just 1-8-0 on the road this season.
Despite that fact, Western New England coach Greg Heffernan is happy to still be in the mix of things in the final week of the regular season.
"There's no secret that we have struggled a little bit on the road this year," Heffernan said. "We have had an up and down season and hopefully at this point, with a really good win against a solid Suffolk team [last Monday], that victory at home will put us in a good position to go on the road to win a couple of games."
The Golden Bears know they have most likely have played their last game at home this season, as they would be the visitors if they do get to the conference tournament.
In the first meeting with Nichols, WNE lost 6-2 on Jan. 30 and Becker gave them a tough test in the third game of the season on Nov. 9 with the Golden Bears earning a 5-4 victory in overtime.
The key to playing Nichols is staying out of the penalty box with the Bison power play at a 24 percent clip this season.
As for Becker, don't let the Hawks' 2-16-3 record fool you.
"They are certainly not out of the mix," Heffernan said of Becker. "They aren't out of the mix at all. They have some games that can put them back in the hunt. We know for a fact, just because they haven't had tremendous success in the win column, they are capable of beating anyone. We are aware of that and won't take them lightly."
Heffernan said he and the rest of the coaching staff are going to prepare their players as best they can, keeping them loose in the final few games.
Having ten seniors and ten juniors on the team helps in a situation like this, according to Heffernan.
"That's an advantage we have because I think our guys have been there and I think they know what we need to do to have success," Heffernan added. "Really at this point of the year, I think it's about preparing them the best as we can as a coaching staff and allow our guys to be successful."
But can the veterans held the Golden Bears win on the road when it matters the most? That remains to be seen.