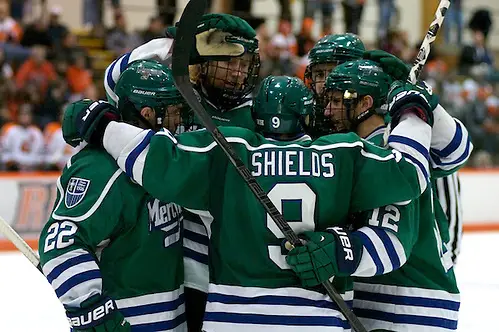 Tuesday Morning Quarterback looks at the big events and big issues in Division I men's college hockey.
Todd: We're coming up to the final weekend of the regular season for the three Eastern conferences, and while the champions and top seeds have been decided in those leagues (Union in ECAC Hockey and Mercyhurst in Atlantic Hockey last weekend joined Hockey East champ Boston College) there's a lot of intrigue going into these final games.
Can Yale earn a first-round bye in the ECAC? Which Atlantic Hockey team in a tight bunch in the standings will have to play next weekend? Can Maine hold onto quarterfinal home ice and avoid a dreaded road trip? Pretty exciting stuff ahead, wouldn't you say?
Jim: I have to say, I've always loved when regular season league titles come down to the final weekend, but I do feel that some of the more interesting races in the standings get lost. The fact is, in these three conferences, the playoff races are pretty unreal.
Let's take a look at Hockey East: Four teams could finish second (Massachusetts-Lowell, Northeastern, Maine and New Hampshire) yet none of the four has home ice locked up and Maine and UNH still aren't guaranteed to avoid a first-round game at this point.
Going back to the league champions, one thing that was pretty surprising to me was that this is Mercyhurst's first regular season title since joining Atlantic Hockey. The last time the Lakers won a title was the final year of the MAAC, when they also made the school's second NCAA Division I tournament appearance as well. The Lakers are always in the mix but haven't reached the top for more than a decade.
Todd: Atlantic Hockey was pretty bad in nonconference games (but, again, it plays most of them on the road so there's a disadvantage to start with), but the Lakers are one of the teams that shook off the nonleague troubles and did what they had to do against AHA teams. It helps to have a goaltender who's in the top 10 nationally in save percentage like the Lakers do in junior Jimmy Sarjeant.
In ECAC Hockey, Colgate leapfrogged Quinnipiac into second place and guaranteed itself of a first-round bye with its road win over the Bobcats on Saturday. Not too bad for a team that finished 11th in the standings last season.
Jim: I remember talking to Colgate coach Don Vaughan after his team won the Mariucci Classic, and he felt that tournament would increase his team's confidence. I guess he was right. Since the break, Colgate is 9-2-3 and has beaten Ferris State, Vermont, Clarkson, Cornell and Quinnipiac and earned ties against Minnesota and Union. Not a bad second-half resume, solid enough to be tied for 11th in the current edition of the PairWise Rankings.
Todd: Speaking of the PairWise, we're under a month until Selection Sunday, and defending national champion Yale is in the 18th position. Of more immediate concern for the Bulldogs, they're sitting in fifth in the ECAC Hockey standings with home games against Cleary Cup champion Union and Rensselaer left to play and two points to make up on fourth-place Cornell. The Big Red close with home games against Dartmouth and Harvard, the league's 10th- and 11th-place teams, respectively. The Bulldogs may not get a first-round playoff bye, but they can do themselves worlds of PairWise good with a win against Union on Friday.
I mentioned Maine at the top, and the Black Bears are in position to host a quarterfinal series. It seems like that would almost be a must for them, considering their road record this season is 1-10-3. But Providence goes to Orono this weekend tied for fifth place, just one point behind the Black Bears. How critical are those two games for both Hockey East and PairWise seeding?
Jim: For both Providence and Maine, this becomes a huge series given the fact that Providence is 16th in the PairWise and Maine is 17th. If either team gets swept, it easily could be in position to play a single game in the playoffs. Lose all three of those and your season is done, which would be quite a shocker to either Maine or Providence, teams that have been in decent position for NCAA tournament bids for much of the season.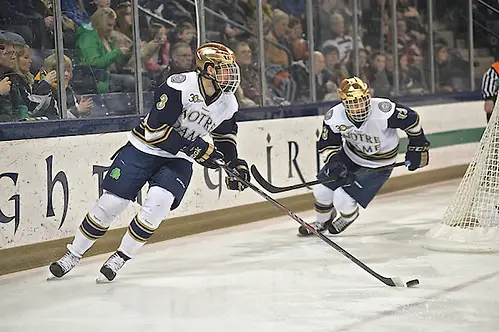 Two other teams that are on a slippery slope if hoping to make the tournament are Michigan and Notre Dame. The Irish's struggles in Hockey East are well documented, though the last two weekends have been strong. For Michigan, there are many games you can point to as damaging to its PairWise position, but two losses to Penn State — the only two Big Ten wins for the Nittany Lions — have put Michigan on the NCAA bubble.
Todd: Michigan can't afford much more in the loss column, and coach Red Berenson sent a message to his players last Saturday by benching some regulars after the overtime loss to the Nittany Lions the night before. We'll see if that carries through the next few weeks.
The NCHC has one of the coming weekend's biggest series, and perhaps the biggest series the young league has ever had (I know — not much to compare it with yet) when the teams locked in a first-place tie, North Dakota and St. Cloud State, square off in Minnesota. UND holds the tiebreaker on the strength of more conference wins, so it can wrap up the top seed for the NCHC playoffs with a pair of non-shootout wins.
Ferris State can wrap up the WCHA's MacNaughton Cup with a pair of wins at Alaska, regardless of how second-place Minnesota State fares at Lake Superior State. It's also worth keeping an eye on the Bowling Green-Northern Michigan series as the teams try to avoid joining Alabama-Huntsville on the sidelines for the postseason.
What else should we look for in the East this week?
Jim: Well, in addition to the Providence-Maine series in Hockey East, Lowell traveling to Vermont for two should have some big impact in the standings and PairWise.
In Atlantic Hockey, Bentley will play a home-and-home series with American International, looking to recover from two losses vs. Sacred Heart and hoping to sew up second place.
And finally, in the ECAC, Quinnipiac has the always-difficult trip to St. Lawrence and Clarkson after losing two last weekend, while Colgate gets to host Harvard and Dartmouth looking to clinch second place as well.