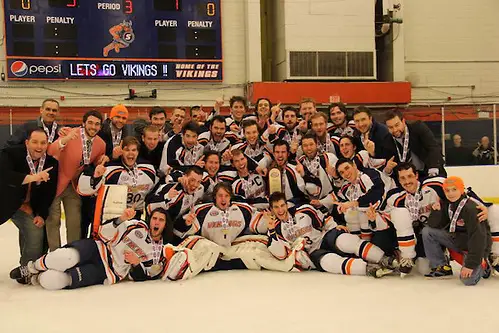 It's shaping up to be a homecoming of sorts for Salem State coach Bill O'Neill on Wednesday.
Before taking the reins with the Vikings, he was an assistant coach with Norwich in the 1980 season under former Massachusetts coach Don "Toot" Cahoon, who was the head coach for Norwich in 1980.
Now 34 years later, O'Neill returns to Northfield, Vt., on Wednesday in the first round of the NCAA tournament, now in his seventh NCAA tournament appearance as the Vikings' coach, to play Norwich.
The last time these two teams met was in the 2008-09 regular season with the Cadets coming out on top 6-3.
This is the Vikings' first appearance in the NCAA tournament since 1995, where they lost in a three-game series in the quarterfinal round to Fredonia.
In the early 1990s, Salem State was a powerhouse, going to the NCAA tournament four straight years from 1992-95 and advancing to the Frozen Four in 1992 and 1994, falling in the national semifinals in both years.
Last Saturday, sophomore forward Chris Mastropietro had a hat trick and an assist in the 5-1 victory over Plymouth State in the MASCAC championship game to earn the automatic berth into the tournament.
In goal, Ryan Sutliffe is riding a four-game winning streak and has allowed just five goals in that stretch.