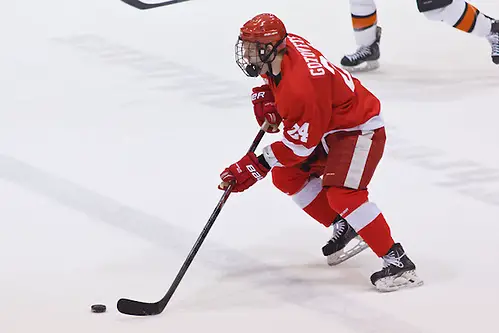 Playoff bye weeks are nothing new for Mike Schafer or his Cornell Big Red. ECAC Hockey dangled the week-off carrot in 13 of Schafer's 19 seasons behind Lynah's bench; out of those 13 years with a bye on the line, Cornell missed the week off just twice (2007-08, 2012-13).
In other words, Schafer knows as well as anyone what the week off is worth, and how best to utilize it.
ECAC Hockey playoffs
See the tournament bracket and get links to schedules and stories at ECAC Hockey Playoff Central.
"At this time of year, it allows you to rejuvenate your legs a little bit, get some pop back in your step, and get ready for the playoffs," he said simply.
One thing the Red do not have to worry about this week is recovery time: The 2013-14 campaign has been a remarkably healthy one in Ithaca, to such an extent that Schafer's six starting defensemen have combined to miss just a single game all season.
"I think we've been a little bit healthy back there," Schafer understated. "I think that if you look at it, we've been unfortunate that if we've had any injury at any point in time, it's been to a centerman. [Junior Cole] Bardreau missed some time and [senior Dustin] Mowrey's missed some time, and other than that, yeah, I think we've done OK for ourselves as far as staying healthy."
The aforementioned centers missed six and five games, respectively, from Cornell's 28 contests played thus far. Fortunately for the Red, their calling-card defense has been fit as the proverbial fiddle: Senior Kirill Gotovets — 28 games. Junior Joakim Ryan — 28 games. Junior Jacob MacDonald — 28 games. Sophomore Reece Willcox — 28 games. Freshman Clint Lewis — 28 games. Freshman Patrick McCarron — 27 games.
Oh yeah, senior goalie Andy Iles appeared in 27 games, too, playing more than 95 percent of Cornell's minutes. Only two netminders in the country have played a larger proportion of their team's minutes. (Quinnipiac's Michael Garteig is one of them, playing just over 98 percent of the Bobcats' total game minutes; Rensselaer's Scott Diebold is just behind Iles at 93.8 percent.)
"He's had a great senior year," Schafer said of Iles. "He's been very, very patient in the net; he plays his best hockey when he's fully under control. He makes great movements, and he's such a great thinker of the game that he gets to spots and by the time you shoot, he's usually there. He's done a great job, and I definitely think that as a senior, he's playing his best hockey."
All in all, such durability across the blue line (and goal line) accelerated the development and cohesion of Cornell's rear guard to the tune of a top-10 team defense.
"I think that last year we had a lot of guys in and out of the lineup because of injuries, and I think that any team — if you look around the league — any team that has any kind of sustained success … they're in very similar situations (health-wise)," Schafer said.
"You look at Quinnipiac or Union or Colgate, and a lot of those teams are, as I said, in very similar situations, in that they didn't lose guys for extended periods of time. When that happens, the chemistry will continue, you won't get guys running into and out of positions here and there, and it makes for much easier development of your team."
Cornell's first opponent of the postseason is guided by Schafer's longtime assistant, Casey Jones. While the coaches may be beyond merely familiar with each other's tendencies and philosophies, Schafer doesn't believe the series will be anything but a hard-fought set between evenly matched teams.
"Casey's got his own spin," Schafer said. "He's definitely the kind of coach that has his beliefs and knows what he wants to get accomplished, and I think that's what makes him a good head coach. He's done a tremendous job in the short time he's been at Clarkson.
"They've got really good balance in all their forward lines. They've got good size on their defense; they make it difficult to get to the front of the net, make it difficult to get second chances. They were on a roll there for a while, then they lost [senior center Ben] Sexton — he was out for a few weeks — and now they've got him back, so they're a well-balanced hockey team. They'll be close games. They've played close games all year long, so it's going to be tough, strong, physical playoff hockey."
Regardless of the series' length or outcome, the loser will be unlikely to make the NCAA tournament. Cornell is on the bubble at No. 13 in the PairWise Rankings, while Clarkson is well beyond the cutoff line at 24th.
As such, Schafer feels there is little point in examining the nuances of the PairWise until Selection Sunday.
"I have no idea. I never look at the PairWise until the selection committee," Schafer said. "I don't really pay attention. People love to look at the PairWise. … [All I know is] if you're close, you're gonna have to win."
Saints are back above the clouds
It's been a sinusoidal season for St. Lawrence, what with three legitimate unbeaten streaks and a major midseason slump. Once they worked through the January jitters though, things picked up right quick with a 7-4-1 run from Jan. 31 through last weekend's first-round sweep of Brown.
"We've got a lot of new faces in our lineup," Greg Carvel said in starting to explaining this season.
Early in the year, he said, "we were allowing a ton of goals, but we made some adjustments … and have beaten some good teams."
Notable road wins include Ferris State, North Dakota and Quinnipiac; the Saints downed Northeastern and Union in Canton, as well. The wins haven't outweighed enough of the losses to boost the Saints into an at-large position in the PairWise, but Carvel is less concerned with that than he is with his team's effort and consistency this week.
"All year long, I knew that this team has good depth," he said. "Justin Baker and Greg Carey are a couple of high-end seniors, and they carried us through the first half of the season. Lately, though, we've been successful because of our depth."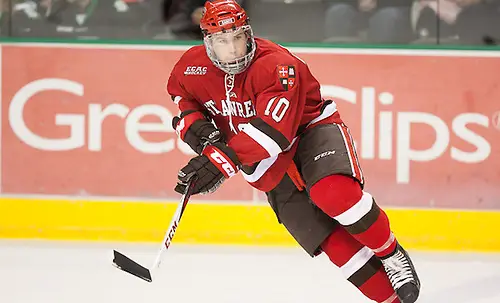 Between the Baker-Carey show and the depth production, however, lay a nine-game winless skid (0-8-1) in which the team was outscored 41-24. Team defensive numbers took a nosedive, as did the team's cumulative save percentage.
Carvel knew it was soul-searching time.
In the last third of the season, "we've realized what our identity is," he said.
The biggest issue midseason was clearly the defense, and that includes No. 1 goaltender Matt Weninger's play.
"[Weninger] was facing more high-end chances, and that may have led to a loss in confidence, and it just kinda snowballed," Carvel said. "As a staff, we knew we had to make major changes, and that doesn't happen overnight."
Since that midwinter readjustment, Carvel said that the team's commitment to defense has been much better, as have Weninger's numbers.
Better defense "has made our goalie look a lot better," he said. "Matt looks like a real confident goaltender right now."
Like Cornell above, St. Lawrence essentially managed to sidestep the injury bug. In fact, among the Saints' top nine forwards, only one — sophomore Sean McGovern — missed a game (though he sat for 17).
"Credit to our hockey-only strength and conditioning guy," said Carvel.
Dedicated hockey attaché Mike Elberty leads the team in not only basic strength and warmup routines, but yoga as well. Per Carvel, thanks to Elberty's guidance the Saints did not suffer a single significant conditioning or flexibility-related injury (e.g. hip flexors or pulled muscles) this season.
As for quarterfinal opponent Colgate, Carvel is impressed with what he called their "pace."
"They can really tic-tac-toe it around," he said.
Despite the Saints' lower seed, visitor status, and 0-2 record against Colgate this season, Carvel said that he does not see his squad as anything less than a legitimate challenger to the second-seed Raiders.
"There is no reason why we should be the underdog," he said. "We're in a much better spot than when we played them the last two times."
Injury report: A season in review
A bit of research on ECAC injuries, conducted before last Sunday's Game 3s in Troy and Potsdam:
Methodology
Since teams, coaches, administrators and the lot are broadly prohibited from discussing students' health, specific injury reports are tough to come across in college athletics … especially in non-squeakball, non-pigskin events where reportage is distinctly less voracious.
But I wanted to try anyway.
I was — am — curious about how many man-games each team in ECAC Hockey lost due to injury this year, but I don't have access to injury reports. So, I had to stretch a bit, make some presumptions and do the best I could. Some of these presumptions are definitely wrong, I know, but bear with me.
First, I looked at the starting lineups for each team in its initial NCAA-sanctioned, Division I games this season under the it's-the-best-I've-got justification that of any moment all year, that one would offer the healthiest rosters league-wide. Sure, the lineups may have been rough and unproven, but I had to make a compromise: Proven lineup or healthy roster? I made my choice.
I then checked each opening-night player against his games missed for the season. Admittedly, a player can miss games as a scratch, but I have no way of knowing one reason from the other apart from piecemeal knowledge, but I'm banking on the odds that each team is as likely as the next to scratch an opening-night player at one point or another. This is a flaw, but as with the rest, I have no easy or obvious alternative.
Finally, I totaled the games missed by each team's opening-night lineup and divided that total by the number of team games played. For example, Colgate's lineup on Oct. 5 against Ferris State ended up sitting out 49 games this year; out of 34 team games played, the Raiders average losing a league-best 1.44 man-games of injury per game played. (Put in a more surreal sense, Colgate was without 1.44 players each game.)
Flaws
• I did not include goaltending injuries, even though there were injured goalies this year. I simply don't know how many there were, or for how long.
• I can't tell games missed due to injury from games missed as healthy scratches or transfers. I'm just hoping it evens out across the 12 teams, so that the results are at least comparable, if not accurate.
• As noted, the lineup on opening night is not necessarily the best or the healthiest (Princeton, among others, had guys on the shelf as the season opened), but since there is no single game or time of year at which a lineup is perfected, I'm banking on opening night as the league-wide healthiest game of the year.
Compensation
Before jumping to the team breakdown, let me also note that I compensated for the various holes and faults in my breakdown by figuring out how many players appeared in at least 90 percent of their respective teams' games. That, too, is included in the breakdown below … listed from healthiest, to not, as best I can approximate.
Team breakdown
• Colgate, as noted, lost the fewest man-games per game due to injury (1.44). The Raiders' top three forward lines combined to miss only eight games, and 16 — think about that, 16 out of 18 skaters — played in at least 31 games.
• Brown had the second-fewest man-games lost per game (1.55), but actually finished with the fewest raw man-games lost overall (48). Brown's lineups were fairly consistent as well, relative to the rest of the league: Thirteen Bears players skated in at least 28 games.
• St. Lawrence's 1.69 man-games/game ranks third. If you skipped the SLU write-up above, the pertinent nugget here is that only one of the Saints' top nine forwards (Sean McGovern) missed any action at all, and only seven of the team's 18 starting skaters had to sit at any point this year. Two-thirds (12) of SLU's skaters played 33 games or more.
• Cornell lost 54 man-games this season for whichever reason, for a fourth-place 1.93 man-games/game. As stated, the Big Red's six defensemen missed a combined one game (Patrick McCarron). As for lineup consistency, the Red skated the same 14 players almost all year long; only four spots each game were ever in doubt.
• Yale beat the average with 1.97 man-games/game lost, and a full dozen Bulldogs skated in 28 games or more.
• Clarkson marked a big jump from the five "healthiest" teams, losing 101 games to injury and/or scratch for a 2.66 man-games/game mark. The Knights feature 10 players who have played at least 90 percent of their 38-game schedule.
• Union does not boast one of the most consistent lineups in the league, surprisingly: With 96 man-games lost (2.82 per game), only 11 Dutchmen players skated in at least 31 games. Just imagine what the Dutch could have done with a full roster every night.
• Harvard sat four players for double-digit contests and lost nearly three players per game (2.94). In all, 13 players from the Crimson's opening-game lineup sat a game or more; only nine Crimson players played 90 percent of the season's games.
• Quinnipiac, like Union, could have done so much more with just a little more luck. With the defection of Peter Quenneville factored in, the Bobcats were down 109 man-games this season (3.03/game). Fortunately, the Wonder Twins of Connor and Kellen Jones didn't miss a beat — or a game. Thirteen Bobcats players appeared in at least 33 games.
• Princeton suffered mightily at injury's heavy hand, but the Tigers' 3.06 man-games/game lost were not the worst in the league. The eight 90-percenters, however, are the fewest in the ECAC this year.
• Rensselaer is 11th in injuries, losing 114 man-games overall and 3.17 players per game, if you want to look at it that way. To be fair, four players combined for 85 of those games, so this could be one of those situations where an early-season player was a rest-of-the-season scratch … but I can't tell an injury from a healthy scratch, so here we are. A dozen Engineers saw 33 games' action or better.
• And the big loser is … Dartmouth. The Big Green's opening-night lineup against Princeton ultimately suffered 117 games lost, divided among 17 of those 18 players. By season's end, 10 Big Green skaters played in the arbitrary 28 games.