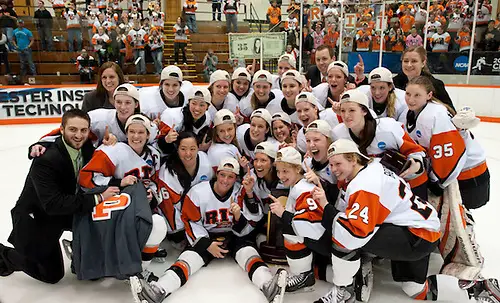 Arlan: Last week, we were speculating on what game or conference might produce an upset, and we had trouble settling on any. We should have known that they were lurking, especially with the way the season has unfolded. The lower seeds took exactly half of the dozen games played over the weekend, including knocking off the top seed in three finals.
In terms of greatest historical significance, I'd rank RIT taking the CHA Championship in just its second year in D-I at the top. Thanks to 62 saves from Ali Binnington, the Tigers were able to outlast Mercyhurst, 2-1, in two overtimes. RIT's 4-1 win over Robert Morris was also an upset by seed, but while the Tigers end on a seven-game winning streak, the Colonials were just 4-5-1 in their final 10 games. The result in the final didn't change the national picture, because the CHA didn't have an automatic bid and Mercyhurst made the NCAA tournament anyway. RIT's win over RMU did play a role, by ensuring that the Colonials would land below the Lakers for the seventh spot in the rankings that proved to be the lowest at-large spot.
I'll have more on RIT in my column this week, but what did you think of how the CHA played out?
Candace: I was mildly surprised that RIT beat Robert Morris, but that wasn't too surprising given that the Colonials had really struggled down the stretch. I don't know if they froze when success was in their grasp or what, but it certainly seems from the outside looking in to be a choke job. Credit to RIT, the Tigers played a strong game and took it to Robert Morris to win that game.
That they were able to follow up one upset with an even bigger one is what is surprising. Typically when an underdog pulls off the big win, it fades in the next one. It's rare for a team to follow up one success with another. Perhaps RIT's experience winning the NCAA D-III title two years ago helped the Tigers; half of the team was on that championship squad and knew what it took to come up with their best play under pressure. Still, Mercyhurst had plenty of offensive threats, and the Tigers kept them in check and scored the big win in double overtime. As you said, the CHA doesn't get an autobid this year, but it will next season, and that could alter the national picture even more going forward.
While the lower seeds did win half the games, as you stated, I don't know if the other wins are that surprising. Cornell may have finally gotten its goaltending situation straightened out, judging by Lauren Slebodnick's play, so the Big Red beating Clarkson isn't a shock. North Dakota beating Wisconsin wasn't too big a surprise either; we knew that UND had the skaters to win if they could all get back on one page after the Olympic absence. That leaves Hockey East, where even the Boston University win over Boston College isn't a huge shock; beating your arch-rival five times in a year is virtually unheard of.
What stood out for you?
Arlan: BU taking its third straight Hockey East championship was the most significant because it changed the composition of the NCAA field. Other upsets shuffled the order of teams and where they were seeded into the bracket, but the Terriers were able to win the requisite three consecutive games to claim a tournament spot. They did so with a steady diet of 3-2 victories. Against Northeastern, BU scored all of its goals in the middle period. In the final versus BC, the third period proved decisive in a come-from-behind win as it was in round one with Providence. In the games at Hyannis, BU got goals from Maddie Elia and Rebecca Russo both days. That is vital if it is going to extend its postseason, because its offense can't be limited to Sarah Lefort and Louise Warren. They also needed Kerrin Sperry to make 40 saves a game, but she was in that neighborhood last season as well.
The other side of that story is BC dropping from a possible home-ice position to sixth. The Eagles always seem to make their path a little tougher than it has to be. They've reached the Frozen Four in four prior seasons without ever being seeded higher than fourth. Over the weekend, they got goals from complementary players, including a Saturday hat trick by Kate Leary, but big guns like Haley Skarupa, Andie Anastos, and Emily Field went silent.
We've seen this from the Eagles before, although I thought that they may have turned a corner when they finally were able to lock down a regular-season title for the first time. I get that it is hard to beat a team five times without a loss, but BC was the class of the league and I thought they'd prove as much in the tourney, having gone 15-1-1 in 2014. This certainly looked like the year to record a double in that conference. Oh well, onward and upward. The Eagles have rebounded from a disappointing league tourney to reach the Frozen Four the last couple of years, so perhaps they will do so again.
Whether they wound up with an advantageous draw or not is challenging to conclude because the balance of power in the ECAC changes nearly every week. Is a date with Clarkson in Potsdam and the winner of Mercyhurst at Cornell on deck a favorable road for BC?
Candace: I think it could be, yes. In its last three NCAA appearances, BC has gone in as the fourth seed and gone out to the top seed in the Frozen Four semifinals. Two of those were very close losses, none more than last year, when the Eagles gave Minnesota the fight of its life, holding a third-period lead before falling in overtime. It was certainly a more interesting game than the finals, when Minnesota routinely dispatched Boston University.
BC split with Cornell in Ithaca back in November, back when the Eagles were probably at their worst point of the season. I think BC also stacks up well against Clarkson and Mercyhurst, especially if the former is still without Erin Ambrose, who was hurt in the ECAC semifinals against Quinnipiac and didn't play in the final against Cornell. Wisconsin and Minnesota I think would have been tougher for BC.
I don't know that the Eagles will get past Clarkson in the first round. The Golden Knights are a solid team, with a lot of offensive weapons and a tough goalie. That should be a barn-burner of a game. However, if they were to get past Clarkson, I think the Eagles have a better shot of making the final than they would have if they'd beaten Wisconsin and then had to go up against Minnesota.
Speaking of the WCHA entrants, I was surprised that the Badgers had an offensive outage against North Dakota in the WCHA tournament. Minnesota meanwhile, kept rolling. What is your take on the Badgers, and can anyone stop the Minnesota juggernaut?
Arlan: A number of theories could explain why Wisconsin has scored only twice over its last 180 minutes of hockey, both coming in the third game versus Minnesota State to decide the teams' WCHA quarterfinal. The Badgers boast the country's second-best power play, converting 24 percent of the time, but had a grand total of 10 seconds worth of power-play opportunity in its last two games combined. It's not uncommon to see referees become more conservative with their penalty calls in the postseason, but calling nothing on either team until a Mavericks player was sent off with 10 seconds to go and just a pair of coincidental minors versus UND was a bit extreme.
The Badgers haven't generated a lot of offense against top competition. They played nine games versus Minnesota and North Dakota and scored a total of 11 goals. UW scored three times against Minnesota, and two came on the power play. In the five games with UND, the Badgers were shut out twice. When they won by a 3-1 score in Grand Forks, all of the goals were scored on special teams. Even in the 4-1 win for the Badgers in Madison, one goal was short-handed and one was into an empty net. Overall in those nine games, UW scored only four regular five-on-five goals. So while overall the Wisconsin offense has been a success this season, ranking sixth in scoring and providing enough timely goals to win 27 times, it isn't quite a machine. I expect that will change starting next year, but for this NCAA tournament, it will likely need to score some gritty goals. The Badgers did have some prime chances against North Dakota, so a three- or four-goal output could be just around the corner.
As for the Gophers, yes, they can be stopped. The temptation is to want to compare them to their team from last year, and in some ways, they are more vulnerable defensively. Last March, the coaches didn't have to worry. no matter what defensemen were on the ice, where this year's blue line is more dependent on its returners in Baylee Gillanders, Rachel Ramsey, and Milica McMillen to play well. Mostly, they do. Gillanders has been the steadiest, and Ramsey and McMillen have the talent to take over a game. When one or two of those veterans struggles, as was the case for the first 40 minutes against Minnesota-Duluth on Friday, then the Gophers get out of whack. They've survived such wobbles for the most part because the forwards help out so much, particularly with their back pressure. There hasn't been a ton of conversation about Amanda Leveille in her first year as the starter in goal, but she seems to rise to the occasion when her teammates are the most shaky. At the other end, the offense is more diverse than it was a year ago; 11 different players have had multi-goal games, so you don't know who will be the hero on any given day. Hannah Brandt was held to a single point in Bemidji, but Dani Cameranesi had a pair of points in each game.
After the WCHA championship game, Brian Idalski voiced some frustration with the selection process. Not that he thought his team should be in under the current rules; he realizes that they have too many losses and needed to win the WCHA tourney. But he pointed out that UND has beaten Minnesota and is .500 against two other top-four teams in Clarkson and Wisconsin. However, the current system doesn't seem equipped to reward such achievement. Idalski's comment was that he'd rather play a weaker schedule, because that is how a team makes the tournament. BU's automatic qualification answered some of the questions for the committee, but do you feel that the right set of eight teams emerged?
Candace: I'd have to say yes. I understand Idalski's frustration, but at the same time, much like Robert Morris, North Dakota controlled its own fate and wobbled when it counted, going 0-4-1 down the stretch in the regular season. Admittedly, the team was without several top players during that stretch who were off at the Olympics, but UND got swept by seventh-place Minnesota State and fifth-place Ohio State over its last four games. Take away those four losses and UND is not only in, it probably is fifth or sixth.
Robert Morris had the same thing happen. The Colonials were in like flint after getting a tie and win against Quinnipiac and splitting with Mercyhurst in January, which backed up a sweep of St. Lawrence, a win over Ohio State, and a split with Boston University. However, the Colonials then faded, splitting three of their last four series and getting bounced by RIT, so RMU is on the outside looking in.
Ultimately, the selection process rewards consistency. Boston College overall had a very good year, getting four wins against Boston University, a tie with Harvard, and a split with Cornell, but it was sixth in the PairWise because of wobbles in losses to Syracuse, Quinnipiac and Princeton. Take those away and BC is probably top three.
You can't just get up to play the good teams; you have to demonstrate consistency all year long. UND is a dangerous team, and plays in likely the toughest conference, but it had a few losses that hurt its chances in the end, and I don't think you can just base a selection on a couple of strong outings.
We haven't really addressed the Cornell win in the ECAC tournament. The Big Red were very inconsistent in the second half, but seemed to get it together at the end. On the other hand, they gave up four goals to a Harvard team that has struggled to score all year. They now face Mercyhurst, which they tied and beat back in January. Can the Lakers reverse that result?
Arlan: Ah, Cornell. There is so little separation between the teams that sit second through sixth that just about anything can happen when they play each other. Luckily for the Big Red, they get a team that finished outside of that group in Mercyhurst.
It's hard to remember that Cornell was still unbeaten after taking the first game from Boston College at the end of November. Lauren Slebodnick was injured the next day as the Eagles inflicted the first loss, and the Big Red haven't quite been the same since. They have been very up and down defensively, but they were definitely up on Sunday in shutting out Clarkson. There seems to be a big difference from the floor to the ceiling in terms of their performance, but I could say that about a number of other teams like BC and Harvard as well. The Big Red have offensive might that others lack with Jillian Saulnier supported by Jessica Campbell and Emily Fulton. The depth of talent on their blue line is likely second to none with Alyssa Gagliardi, Hayleigh Cudmore, and Cass Poudrier leading the way. Goaltending remains a bit of a question mark. Is Slebodnick healthy now? Are her pedestrian numbers a product of playing injured? Mediocre as her save percentage and goals-against average may be, Slebodnick has only lost once, so she would appear to give Cornell its best chance at success.
And if Cornell is vulnerable, can Mercyhurst take advantage? After starting 7-5-2, the Lakers finished at a 16-3-2 pace, which is much more what we've come to expect from them. Even with that success, there were some warning signs in the final three games, where the Lakers were 1-1-1. They scored just five goals in three games versus Lindenwood, Syracuse, and RIT. None of those teams have a fraction of the offense that Mercyhurst will see from Cornell; I suppose the counterargument is that they all have better goaltending. Mike Sisti's offense is going to need to be clicking on Saturday, because just as it did two months ago, Cornell is going to be able to score on the Lakers. I see Cornell as a clear favorite, but I thought so a year ago, and that didn't do the Big Red any good when Jenna Dingeldein scored in OT to advance her team to the Frozen Four. Cornell must remember that outcome and should come out determined to put the game away much sooner. So, Cornell will advance. Definitely. Unless, they don't.
What of Harvard? Like Clarkson, the Crimson were dealing with a damaging injury with Mary Parker out. Goaltending and defense has been their strength, but it failed them against Cornell. Can they rediscover their formula in time for Saturday?
Candace: It's likely Harvard's only chance at success. Ironically, it's also their opponent's best chance. Both Wisconsin and Harvard have relied on excellent defense and goaltending to win games. You've already pointed out that while Wisconsin is in the top six nationally scoring, there are a lot of mitigating factors to those numbers. Harvard is eighth nationally in scoring, and while Miye D'Oench has come on and averages 1.15 points a game, and Hillary Crowe averages 1.03 points a game, neither is a player who can bust a game open like Hannah Brandt or Jillian Saulnier. Harvard's power play also struggles, ranking 23rd nationally at a success rate of 14.04 percent.
Wisconsin meanwhile, has the second best penalty kill at a 92.5 success rate, so Harvard's power play likely won't affect the outcome. What might is the matchup of Wisconsin's second-ranked power play (23.97 percent) against Harvard's fourth-best penalty kill (92 percent). You pointed out that a lot of Wisconsin's goals come on the power play, if Harvard shuts it down, we could see a lot of overtimes and scoreless play.
We've looked at three of the four quarterfinal matchups so far. How about the fourth? Can Boston University avenge itself against Minnesota? I don't remember an occasion where last year's championship game was a rematch in the quarterfinals.
Arlan: We've had different sorts of rematches, but not that one exactly. Harvard and Minnesota met in the final in 2004 and 2005. Wisconsin and UMD played a semi in 2009 after a final in 2008. We've had teams meet again in a quarterfinal two years after squaring off in a final.
BU's season has some similarities to that of two years ago. In both, they were coming off a championship game appearance and lost important players to injury early in the year. This year, it was Shannon Doyle and Kayla Tutino; then it was Jenelle Kohanchuk and Marie-Philip Poulin. The big difference is that Poulin returned in 2012, and no cavalry is on the horizon now. Both squads hit an extended rough patch that necessitated a Hockey East Championship in order to reach the NCAAs. I think that's about where the parallels end.
Much less was expected of the Terriers coming into this season, so at this point, they have to be playing with house money to a certain extent. Undoubtedly, seniors like Warren, Sperry, and Kaleigh Fratkin don't see it that way. This is their last run at an NCAA title. To have a chance, they'll have to stay out of the penalty box for starters. An early penalty had them playing from behind most of the way last year, and the Gophers' power play is converting at a higher rate than it did in setting an NCAA record in 2013. The Terriers are the sixth-most penalized team, but I don't think they can give Minnesota five or six power play opportunities and win. Any officiating crew that lets a lot go should work to BU's advantage. I do think that BU is better prepared for what it will face on Saturday than a team like Quinnipiac or Robert Morris would have been. NCAA experience is valuable, and while Minnesota can match that experience, at least the Terriers aren't at a disadvantage; most of them have played in the arena, and they've faced the Gophers.
Fans view the BC at Clarkson game as close to even. Wisconsin is a little more of a favorite, but I expect the first goal to be of greater importance than usual in a game where both figure to have difficulty scoring. If the seeds hold up, we'd have an all-ECAC semifinal on one side of the bracket and two WCHA teams on the other. I think we'll see at least one road team advance, and I expect the ECAC to have a better day than a year ago when all three of the league's teams fell in the quarters. Do you have any different observations concerning the Frozen Four participants?
Candace: Not really. I think it's likely that both Minnesota and Wisconsin advance and square off yet again, and that the Gophers will win that matchup to advance to a third straight championship game. The other side is a little trickier, and I'm not sure who will face each other. It would be interesting on the one hand if we had an ECAC title rematch between Clarkson and Cornell, but I think a BC-Mercyhurst or BC-Cornell match is interesting and could just as likely happen. I think there's a little more volatility on that half, and I'm not sure who will advance to face Minnesota, and likely get beat again.
Of course, if either Cornell or Clarkson are the Gophers' opponent, we would have a matchup of Kazmaier trio finalists. The final three were announced last week, and they are Brandt, Saulnier, and Clarkson's Jamie Lee Rattray. All have had outstanding seasons. Did anything surprise you about those being the final three, and who would you choose of those candidates for the Patty Kazmaier Award?
Arlan: Nothing was a big surprise in terms of the final three. When we last discussed it, I had Kelly Babstock rather than Saulnier in my trio, but there really isn't that much separation between many of the candidates. It isn't like last year, where Amanda Kessel was nearly 20 points ahead of her closest pursuer in the points race. Just as many of the teams have been comparable all year, the same could be said of the Kazmaier candidates. I'm really not a good person to ask about who I would pick, because I've seen Saulnier play in person one time; I've never had the opportunity to see Rattray live. I'd seen Brandt more than those two combined while she was a junior in high school, and she had a hat trick every time. So I really can't compare them in terms of my own perceptions and do the comparison justice. I have a similar problem off ice. I've interviewed Brandt many times, and she's very down to earth and humble. I was able to speak with Rattray on the phone once, and as advertised, she came across as a very fun person that teammates would love. All I know of Saulnier is what I've seen in video clips of interviews, but I'm sure she's cut from a similar cloth. The statistics are there for anyone to form their own impression, so I'll just say that in my mind, the committee can't go wrong at this point.
The award has favored upperclassmen — no freshman or sophomore has ever won. So I'd expect that the one senior remaining has an edge for that reason if no other. So I'll say Rattray is the person I most expect to be the ultimate winner. She would be an excellent choice, as would either Saulnier or Brandt, should the voting take a different route.