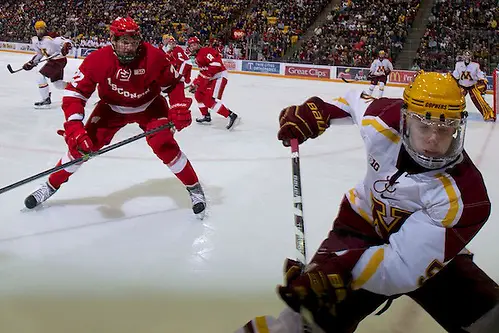 Heading into the last week of the regular season, we don't know who will win the inaugural Big Ten title and four of six playoff seeds aren't set in stone.
Here's what we do know:
• Minnesota has clinched a first-round bye in the Big Ten tournament and can clinch the No. 1 seed and the regular season title with one win or shootout win against Michigan.
• Wisconsin is five points behind the Gophers and will be cheering for Michigan this weekend. The Badgers' slim shot of overtaking Minnesota can play out if they sweep Michigan State and the Gophers get swept by Michigan. If Minnesota ties and loses a shootout against the Wolverines and loses the other game of the series while the Badgers sweep, Minnesota and Wisconsin would both end the season with 43 points (Wisconsin would win the tiebreaker for the No. 1 seed based on a higher number of conference wins).
• Michigan is set in third place. Ohio State is six points behind the Wolverines, but Michigan would win the first tiebreaker with a higher number of conference wins.
• Ohio State is in fourth place and is two points ahead of Michigan State. If you look at quality of their opponents this weekend it would seem that the Buckeyes have a good chance of coming away with enough points from their series against Penn State to stay ahead of the Spartans.
• Penn State has seven conference points and will be the No. 6 seed in St. Paul.
Just to assure that I haven't confused anybody, check out the standings with two conference games (six possible points) remaining for each team.
Wisconsin looks to continue late-season road success
With their sweep of Penn State last weekend, the No. 5 Badgers accomplished something they hadn't done this season: win consecutive games on the road.
Though last weekend's contests were against conference cellar-dweller Penn State, the wins didn't come easy. The Badgers (21-9-2, 12-5-1 Big Ten) defeated the Nittany Lions 4-2 on Friday and 3-2 in overtime on Saturday.
"On Friday night, we had a tremendous start, got a lead and played well through that game," coach Mike Eaves said during Wisconsin's weekly news conference on Monday. "On Saturday we didn't get off to the start we wanted. As a matter of fact, we were on the other end of the spectrum. But we did score and kind of settled ourselves down a little bit, and [goaltender] Joel Rumpel gave us a chance to get our feet underneath us and solve that riddle."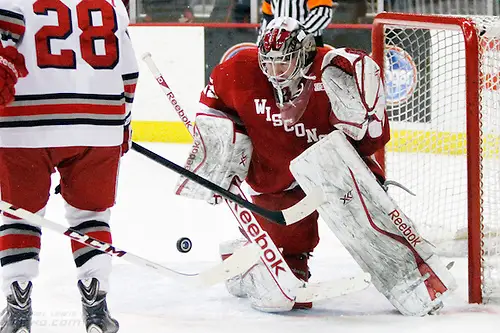 Since coming back from an injury near the beginning of the season, Rumpel has solved a lot of riddles for the Badgers. He has an 18-4-1 record, 1.83 GAA and .938 save percentage, which is second in the nation.
This weekend, the Badgers will finish their season with two games at Munn Ice Arena against Michigan State. Despite owning a 17-2-1 record at the Kohl Center this season, Eaves said he didn't mind closing the season out with four road games.
"We look at it as the fact that we get to go on the road and play," he said. "We're going to play on the road when it comes to the Big Ten tournament, when it comes to the regional, when it comes to, hopefully, the Frozen Four.
"We've used the term 'dress rehearsal' before to get in that mind-set. So, yes, we look at it as a positive."
Eaves also stressed the importance of leaving East Lansing on a wave of momentum into the postseason. He said that the coaches would like to see continued improvement and more secondary scoring.
"We think our second, third, and fourth lines can still contribute more, and that's what we're trying to do this weekend and even going to the Big Ten Tournament," Eaves said. "Every weekend we're going to try to get better, so we're looking at those type of things that we can get from our kids."
Michigan out for revenge and momentum against Minnesota
The last time the No. 1 Gophers (24-4-6, 13-2-3 Big Ten) and No. 13 Wolverines faced each other, Minnesota came away with two decisive victories. This weekend, the two will face off again at Yost Ice Arena.
After one period of last Saturday's game against Michigan State, it appeared that the Wolverines might be riding a three-game winning streak when they met the Gophers. However, Michigan State rattled off four straight goals after trailing 3-0 to knock off Michigan 4-3.
Though this weekend's games don't mean much to Michigan in terms of where it will finish in the Big Ten, coach Red Berenson said that Saturday's loss puts some more pressure on the Wolverines headed into the final weekend.
"Absolutely, but it's all about us," Berenson said after Saturday's game. "Tonight, you give the other team credit but we gave away that game. You have the lead in the third period, that's your game to win or to lose."
The pressure is also there for No. 13 Michigan (17-11-4, 9-7-2 Big Ten) to perform against the Gophers and at the Big Ten tournament to help their chances of making a return to the NCAA tournament.
The Wolverines were absent from the tournament last year after making it the previous 22 seasons.
"That would have been a big win for us with the Big Ten standings and the national tournament rankings," Michigan senior forward Luke Moffatt said after Saturday's game. "Dropping that one is tough for us and we've got to have a big weekend next week against Minnesota."
Michigan enters the weekend tied at No. 14 in the PairWise Rankings. Before the split with Michigan State, last week's USCHO Bracketology Blog predicted the Wolverines as the 12th team in the tournament.
Three stars
First star — Wisconsin senior forward Mark Zengerle: Zengerle netted two goals and added four assists during Wisconsin's sweep of Penn State last weekend. He recorded a point in all of Wisconsin's four goals on Friday night and had the game-winning overtime goal on Saturday. Zengerle has a conference-leading 27 assists this season. This is his first weekly award.
Second star — Wisconsin sophomore forward Nic Kerdiles: Kerdiles also had two goals and four assists in the Badgers' sweep of the Nittany Lions. He had a goal and three assists on Friday and added one more of each on Saturday. This is Kerdiles' second weekly honor of the season.
Third star — Minnesota sophomore defenseman Mike Reilly: Reilly had four assists in the Gophers' win and tie against Ohio State. He leads all conference defensemen with eight goals, 20 assists and 28 points this season and ranks in the top 10 nationally in those three categories. This is his first weekly award of the season.
Big Ten in the poll
Here's how the Big Ten teams stand in this week's USCHO.com Division I Men's Poll.
No. 1 Minnesota (Last week — No. 1)
No. 5 Wisconsin (LW — 5)
No. 13 Michigan (LW — 12)
This week's matchups
Minnesota at Michigan (Friday and Saturday, Yost Ice Arena)
Wisconsin at Michigan State (Friday and Saturday, Munn Ice Arena)
Ohio State at Penn State (Friday and Saturday, Pegula Ice Arena)