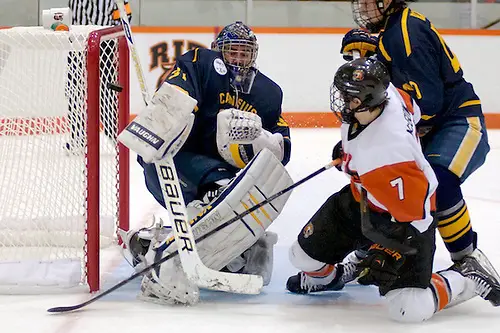 The postseason brings out the best in some players, and Canisius goaltender Tony Capobianco is an example of a guy that saves his best for last.
The senior is 8-0 in Atlantic Hockey postseason play, with a 1.50 GAA and a .961 save percentage in those eight contests. The Golden Griffins rode Capobianco's hot hand from a seventh seed all the way to the AHA championship and NCAA tournament last season, and are looking to repeat the magic, seeded seventh again this time around.
Atlantic Hockey playoffs
See the tournament bracket and get links to schedules and stories at Atlantic Hockey Playoff Central.
Last weekend in an opening-round playoff series with Sacred Heart, Capobianco was perfect, stopping all 58 shots he faced in a
3-0
,
5-0
sweep of the Pioneers.
One of the 27 saves he made on Friday was a record breaker: his 2,830th career save, a school record. The shutout was also record-breaking, his seventh, tops at the school.
All Capobianco did for an encore was pitch another shutout the following evening.
"I've been building up to this," he said. "I was inconsistent early, but I've been staying with it and working hard in practice. Coach [Dave] Smith gave me the opportunity to get more games and develop the right habits that I think I got away from over the summer."
The senior has split netminding duties three of his four seasons, including the first two when he was paired with Dan Morrison, the previous record holder for career saves at Canisius.
It's no surprise that last season was Capobianco's finest statistically (.929 save percentage; 2.40 GAA) when he was the main man, seeing action in 41 games.
"It's easier to get in a groove when you know you're the guy, playing both games on a weekend and knowing it's your ball to roll with it," said Capobianco.
"I struggled early and I think that hurt my confidence when I knew I was letting in shots that I should have been saving. It makes it harder for the team."
But the Mississauga, Ontario, native looks to have regained the postseason form that saw him make a league-record 245 saves in the 2012-13 playoffs. And despite an up-and-down senior season, he's been able to rewrite the record books.
"I really didn't think about [the record] until a few games ago," said Capobianco. "I guess there was a little pressure when I got close. I remember watching Dan Morrison break the record [Capobianco's sophomore season] and how he did it making a great diving save. That was pretty cool."
And now the record is Capobianco's, and all the more important, achieved in a playoff sweep against a potent Sacred Heart offense, pushing the Griffs into the quarterfinals.
"We knew [Sacred Heart] had been averaging four goals a game over the past few weeks and I was probably going to see a lot of shots," he said. "They're an aggressive team that can score some goals. But we played good team defense."
Now the Golden Griffins face another high-powered offense in second-seeded Bentley.
"Their power play is pretty good and they have a lot of talent on offense," said Capobianco. "As a senior I've seen most of [the Bentley players] a bunch of times, and I know their style, which is aggressive and looking for odd-man-rush opportunities."
Winning a playoff series on the road has been next-to-impossible in Atlantic Hockey. It's happened only three times in league history, and Canisius pulled it off twice: The Griffs defeated host Mercyhurst in the quarterfinals in 2010 and took out Air Force last season behind a 96-save performance by Capobianco over two games.
"The difference was Capobianco," Air Force coach Frank Serratore said at the time. "He was great."
"That was a great weekend," said Capobianco. "After winning that first game and knowing there was at least one more game if we won the next night."
Now's another chance for the Canisius senior class to play another weekend and try to get back to Rochester and repeat.
"All of the seniors, we've been good friends since coming in as freshmen, all of us not knowing what to expect," Capobianco said. "It's been great for Kyle [Gibbons] to be chasing records. Ben Danford, he's played every game since he's been here. Pat Sullivan on the first line and Ryan Bohrer, our captain. Taylor Law came back from shoulder surgery and had a great year.
"We've had our ups and down, but we've stuck together."
The quarterfinals are here
Four teams moved on to face the top four seeds in the quarterfinal round. Breaking down each series:
No. 8 Holy Cross (14-20-3) at No. 1 Mercyhurst (19-12-7)
How they got here: The Crusaders captured a home first-round series against Rochester Institute of Technology in dramatic fashion, winning 3-2 in overtime in the third and deciding game. Mercyhurst won its first regular season title and enters the postseason as the No. 1 seed.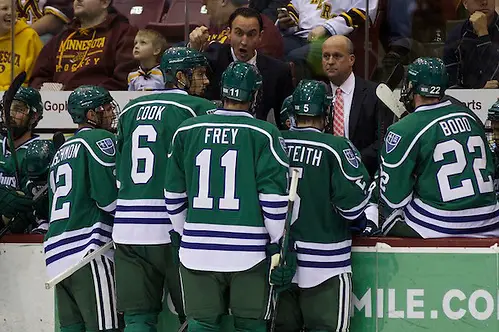 Outlook: This is the third consecutive season that the Lakers and Crusaders have met in the quarterfinal round. Mercyhurst won the two previous series, in 2012 on home ice and last season at Holy Cross, becoming only the third team in league history to win a road playoff series. The Lakers swept Holy Cross in Worcester earlier this season.
No. 7 Canisius (14-19-3) at No. 2 Bentley (18-12-4)
How they got here: Canisius shut down Sacred Heart 3-0 and 5-0 to complete the sweep and advance to the quarterfinals for the second year in a row. Bentley recorded its highest finish ever in conference play.
Outlook: This series features the top two active career scorers in the league (Bentley's Brett Gensler is the all-time leading AHA scorer with 159 points; Kyle Gibbons ranks fourth in school history with 126) as well as two top goaltenders in Tony Capobianco and Branden Komm, who have 208 career appearances between them. Both teams are in the top half of the league in offense, defense, power play and penalty kill.
No. 6 Niagara (13-18-5) at No. 3 Air Force (20-12-4)
How they got here: Niagara got back to its winning ways at Dwyer Arena last weekend, sweeping American International 1-0 in double overtime and 4-2 in a first-round series. Rookie goaltender Jackson Teichroeb stopped 62 of 64 shots on the weekend. Air Force clinched a first-round bye on the final day of the regular season.
Outlook: Air Force won two of three meetings with the Purple Eagles this season, and holds an 8-3-1 advantage since Niagara joined Atlantic Hockey in 2010. The Falcons have never played a road playoff series in seven years in the league, and had won all six until falling to Canisius last season. Niagara is looking to make it to Rochester for the third straight time.
No. 5 Robert Morris (15-17-5) at No. 4 Connecticut (18-12-4)
How they got here: Robert Morris was stretched to three games by Army but came from behind in the deciding game to win 3-1. The Huskies' fourth-place finish equaled their best ever in Atlantic Hockey (UConn also finished fourth last season and in 2006-07).
Outlook: This could be the swan song for the Huskies, who will leave Atlantic Hockey for Hockey East next season. They'll look to get to Rochester for the third time in four years. Robert Morris lost starting goaltender Terry Shafer to a lower body injury on Sunday, and at this point it's unclear if we'll see him back in net, or freshman Dalton Izyk, who won the deciding game against Army in relief. The teams split their only meetings this season, also at UConn. The all-time series between the two teams is deadlocked at 5-5.
USCHO weekly awards
I differ with the league on one selection this week:
Players of the week — Scott Jacklin (Robert Morris), Cody Freeman (Canisius), Shayne Stockton (Holy Cross): The league went with Jacklin, who had three goals and two assists in three games against Army. But I'm adding Freeman (three goals, one assist) and Stockton (three goals, one assist).
Goalie of the week — Tony Capobianco (Canisius): Back-to-back shutouts make this an easy choice.
Rookie of the week — Jackson Teichroeb (Niagara): Teichroeb stopped 62 of 64 shots he faced to lead the Purple Eagles to a sweep of American International.
Not goodbye … farewell
RIT played its final game at Ritter Arena on March 1, and longtime PA announcer Rocky Perrotta (IMHO the best PA guy in college hockey) closed the ceremonies with, "Not goodbye, but farewell." I rather liked that.
This is my last column of the season. My fellow AHA correspondent Dan Rubin gets the honor of writing the last AHA column of 2013-14 for USCHO (although next week you will see my picks, along with Dan's, for the various all-star teams and individual awards). Dan's been a great addition and we've developed a fast friendship this season.
This has been my eighth season covering the league, and like the previous seven, I'm grateful to my editor, for several years Todd Milewski, who cleans up my messes, and is always kind to my mistakes.
Thanks as well to my fellow radio broadcasters, Ed Trefzger, Scott Biggar and Nick Phelan. I enjoyed listening to all the broadcasters throughout the league, each a unique voice.
I appreciate the 12 coaches and numerous players who spend time answering my questions, and to the sports information directors for all that they do. Hockey season is a long one, full of 12-hour days for these men and women.
My family has always supported my many hours holed up with my laptop as well as countless road trips over the last 20-plus years covering the sport I love. Thanks. I love you more.
And finally, thanks to you, dear reader, for paying attention. I'll see some of you soon, in Rochester for the championships, or maybe Philly, hopefully with an AHA team for me to cover. But for now, farewell.