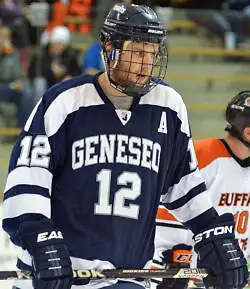 Vulcan? Who's that?
Can he unleash a blazing slapper from the point on the power play?
Perhaps not.
Nor can he prevent the SUNYAC's two entries in the NCAA tournament – No. 8 Oswego and No. 9 Geneseo – from firing up their Frozen Four hopes.
Despite the threat of the winter storm named for the mythical master of fire, both teams were set to host first-round games on Wednesday.
Oswego (20-6-2) was set to entertain No. 14 Bowdoin (17-8-2), while the Knights (21-6-2) prepared for a visit from unranked Nichols (18-6-3).
Perhaps its a sign of how strong the SUNYAC is, that two of its teams made it into the NCAA field of 11, while other conferences (we're looking at you, ECAC West) were left out in the cold.
And an argument could have been made for a third SUNYACer, Plattsburgh, which spent all but a few weeks ranked nationally in USCHO's top five, but stumbled in the conference tournament.
Certainly for Oswego, a trip to the NCAAs has been an annual rite.
The Lakers are making their fifth consecutive appearance, the last two having ended as national Frozen Four runner-ups.
This year was supposed to have been a rebuilding year for the freshman-laden Lakers, but as they say, it's not how you start, but how you finish.
And Oswego, which wound up seeded third in the conference, toppled higher seeds Plattsburgh and Geneseo to get to this point.
Dead ahead is a date with Bowdoin, which was the NESCAC's fifth seed, but managed to haul down three higher seeds to win the conference title.
As for Genny, earning a spot in the NCAAs is simply the next step in what has already been a halcyon year.
The Ice Knights outlasted both Plattsburgh and Oswego to take its first-ever regular-season title.
And although they fell at home, 7-6, to the Lakers in the SUNYAC title game, Geneseo had enough sway with the selectors to make it to the NCAAs for the fourth time in school history and the first time since 2007.
Nichols, the Knights' first-round opponent, has even less big-stage experience, just one previous showing, that coming in 2009.
The Bison feature a young, but talented group of forwards that could give Geneseo's strong defense a tough test.
Sophomores Sean Fleming and Tyler Beasley and junior Brett Jackson are all among the NESCAC's top five scorers.
SUNYAC names All-Conference Teams
The SUNYAC All-Conference teams were announced this week and as far as the first team goes, experience is the by-word.
Five of the elite half-dozen are upperclassmen, with four seniors – including player of the year Zachary Vit – who were plucked from four different teams.
Those chosen were forwards Vit (Geneseo), Chris Cangro (Brockport, Sr.) and Alex Jensen (Plattsburgh, Jr.), d-men Chris Luker (Brockport, So.) and Barry Roytman (Plattsburgh, Sr.) and senior goalie Kevin Carr (Buffalo State).
Three from Oswego (defensemen Nick Rivait and Bobby Gertsakis and forward Matt Galati) made the second team, as did forwards Dan Turgeon (Buff St.) and Stephen Collins (Geneseo) and goalie Mathieu Cadieux (Plattsburgh).
Third teamers are forwards Nick Zappia (Cortland), Justin Scharfe (Geneseo) and Mike Arnold (Potsdam), blueliners Ben Kramer (Buff St.) and Jack Caradonna (Geneseo) and goalie Nick Horrigan (Geneseo).
Galati was named the SUNYAC's rookie of the year, while Geneseo bench boss Chris Schultz was named coach of the year for the second year in a row (and third overall).
Pro contracts call SUNYAC studs
As college careers end, some pro careers begin.
Among the SUNYAC departees who have inked pro tryout contracts are Cortland defenseman Stephen Nardi (Knoxville, SPHL) and Carr (Peoria, SPHL).