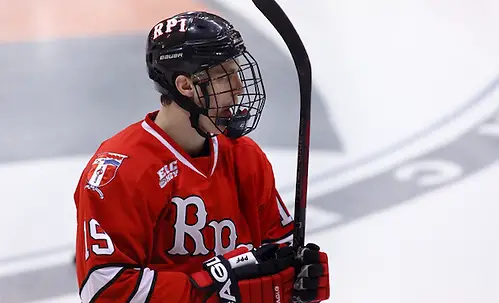 Rensselaer sophomore forward Mike Zalewski has signed a free agent NHL contract with the Vancouver Canucks.
Zalewski will join the Canucks on their current road trip, which goes through Washington, Florida and Tampa Bay.
"It is a bittersweet time for me and my family," said Zalewski in a statement. "Being at RPI the last two years has been a terrific experience in which I have developed a great deal as a player, in particular as a power forward. I have my coaches and teammates to thank for helping me grow into the player I am today. I am very excited for this opportunity with such a first-class organization like Vancouver. It has been a lifelong dream of mine to play in the NHL and the Canucks are providing that chance."
"We are thrilled to see Mike earn his lifelong dream of signing an NHL contract going directly from RPI to the NHL," added RPI coach Seth Appert. "His work ethic has helped him develop into a power forward in his two years at RPI. He is a great teammate and will be missed, but we are excited to watch him with the Vancouver Canucks."
In 35 games this season, Zalewski scored nine goals with 17 assists for 26 points.
In 71 career games at RPI, Zalewski tallied 21 goals and 26 assists for 47 points.
Zalewski is the second RPI forward this week to leave school early after Ryan Haggerty signed with the New York Rangers on March 12.