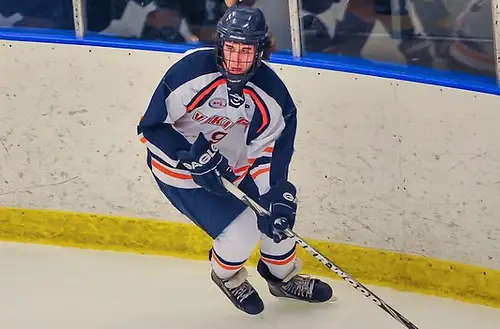 Salem State's season came to an abrupt end last Wednesday night.
Norwich stormed past the Vikings in the first round of the NCAA tournament 8-2 as there was a Nor'easter going on outside Kreitzberg Arena in Northfield, Vt.
It was a bitter defeat to a fine season Salem State put together in 2013-14. The Vikings were easily the most consistent team in the MASCAC from start to finish on their way to the conference championship.
In a conference where there wasn't a lot of separation from top to bottom, Salem State took care of business at home, winning 12 of 14 games on home ice and one of the two games they didn't win was a tie.
Eric Defelice finished his fine three-year career with Vikings leading the team with 27 points, including 12 goals. The senior who started his career with Manahattanville will be missed, but a couple of freshmen this season look to replace his production next season.
Alex Minter, a forward out of Peabody, Mass., and the Boston Jr. Rangers program, put up 11 goals and 14 assists in his first year, while John Needham was third in team points with eight goals and 11 assists.
Indeed, the future looks bright.
In addition to Defelice, the Vikings are just losing four other seniors. Goaltender Ryan Sutliffe, after a couple of no-decisions early in the season, found a grove in the middle of the season. When his team needed him the most down the stretch when the standings were tight, he put them on his back, winning his last four games before the NCAA tournament exit.
Kyle Phelan was another key component to Salem State's run this season, scoring five goals and 14 assists. He finished his career with 75 points in a Salem sweater. Mark MacDonald added 12 points this season and only went to the box three times – he only visited the sin bin 20 times over his career with the Vikings. T.J. Hermans appeared in just seven games this year, recording two assists.
The best of the rest…
Plymouth State — The MASCAC runners-up had a slow start to the season, but they got on a roll in the second half. Zach Sarig carried them in the first half, while freshman forward Ian McGilvrey and sophomore goaltender Gordon Ceasar, who transferred from Utica, both were the key to team success in the second half.
Westfield State — The Owls had a high-powered offense with Vince Perreault, Jackson Leef, Dalton Jay and T.J. Powers each having 20 or more points this season. Out of that group, Perreault is the lone senior, so expect Westfield State to be dangerous again next season.
Framingham State — The Rams had a great season after a couple seasons where they were in the bottom half of the standings. Ryan McDonald, Brendon McCarron, Daniel Miressi and Eric Ward all registered 20 or more points. Framingham State will have to replace Miressi, Ward and six other seniors next year.
Fitchburg State — Boy, if there's a team to keep an eye on for next season, it's the Falcons. Their top 12 scorers this year were underclassmen. All three of their goalies this year are juniors. Shawn Bradley is the lone senior on the club, In 26 games, he had two goals and five assists from the blue line.
Worcester State — The Lancers took steps forward this season as they were competitive from start to finish with a young squad and only three seniors on the roster in Curtis Martin, Derek Serbon and Jordan Roberts. They will need to find more offense next season as they scored only 56 goals this year.
Massachusetts-Dartmouth — It wasn't the season the Corsairs were hoping for as they finished in last place. A hearty congratulations to them, though, for their 30 years of at least making the conference tournament which came to an end and that shouldn't go unnoticed. Shaun Walters and Mike Restuccia each had 24 points in the MASCAC, which was tied for second in conference scoring.