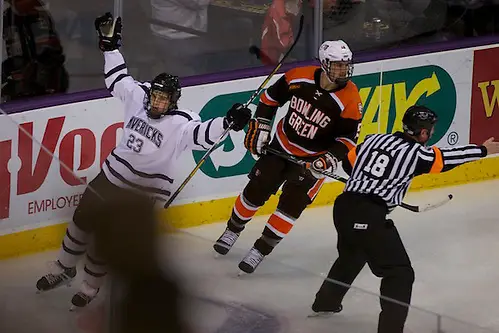 The word of the day Tuesday during the WCHA Final Five conference call was "grind."
From outgoing commissioner Bruce McLeod, to WCHA coach of the year Bob Daniels of MacNaughton Cup champion Ferris State, to the man whose team fell a point short of sharing the regular season title — Minnesota State's Mike Hastings — "grind" was one of the first words that popped in their minds Tuesday when asked to sum up their season.
WCHA playoffs
See the tournament bracket and get links to schedules and stories at WCHA Playoff Central.
"I thought the season as in the previous years was an absolute grind for everybody and you had to fight for every point that you got," Hastings said.
"The grind the WCHA was this season was no different than any other time. Anybody that walks out of this tournament is going to be battle tested and prepared to go and do some damage in the national tournament."
The grind of the WCHA's regular season and opening playoff round may have been the same for Hastings, who served as an assistant in the WCHA for five seasons before heading the Mavericks the past two, but the look of the 2014 WCHA Final Five is like no other.
After a 13-year run at the Xcel Energy Center in St. Paul, Minn., and 15 consecutive years in the Twin Cities, the league's semifinals and final move to Van Andel Arena in Grand Rapids, Mich. On Friday, No. 2 Minnesota State meets No. 4 Bowling Green at 2 p.m. EDT, followed by No. 1 Ferris State vs. No. 6 Alaska-Anchorage at 7 p.m.
The winner of the Broadmoor Trophy will be decided at 7 p.m. EDT on Saturday.
"I'll tell you what. It's kind of like a nightmare," Alaska-Anchorage first-year coach Matt Thomas said about the path to the Broadmoor Trophy. "To sit there and say we have to go through Ferris, Minnesota State and BG, oh boy. That's a tall task."
The Seawolves just woke up from a nightmare, too, according to Thomas, having to win three of five games against archrival Alaska in Fairbanks — two games to close the regular season and three playoff games — to go from last in the league in 2012-13 to semifinalists.
Before that, UAA ground out seven wins in 12 games (7-3-2) between Jan. 3 and Feb. 15 to put itself in playoff position.
"Every weekend truly mattered for every team," Thomas said. "Nobody had a weekend where they could have an off weekend. Getting swept was devastating."
The Bulldogs got swept at Alaska the second-to-last weekend of the regular season, requiring a pair of 2-1 wins over Lake Superior State to clinch the MacNaughton Cup and knock the Lakers out of the playoffs.
Then, just when things looked easy in Game 1 against Bemidji State — a 8-0 win — the Bulldogs needed a second overtime to complete the first-round sweep.
Bowling Green went winless in February and endured a six-game winless streak (0-5-1) before winning its final three games to secure a playoff series at home that resulted in a sweep of Michigan Tech.
Minnesota State won eight straight games following a 5-2 loss at Northern Michigan on Jan. 31 to catch the Bulldogs in the standings, only to tie on the final night of the regular season at home against Tech to miss out on a share of the MacNaughton Cup by a point.
A pair of one-goal wins over Northern Michigan got the Mavericks to Grand Rapids.
"I kind of hope that nobody else is noticing, because whoever are the teams that progress, anybody that gets Ferris State, better have their chin strap buckled," Hastings said. "If Ferris State isn't the one that wins it and somebody else gets an AQ [automatic qualifier], you're going to have to earn your lease against anybody that comes out of this league."
NCAA ambitions
Three of the four teams in the Final Five know where they stand for the national tournament.
Ferris State, ranked fourth in the PairWise Rankings, is a lock to make the NCAA field. Alaska-Anchorage and Bowling Green know their only chance to keep playing will be with the automatic bid that comes with winning the Broadmoor Trophy.
Minnesota State? The Mavericks' situation is trickier.
Ranked 12th entering the weekend, Minnesota State likely needs to win Friday's semifinal game, if not the whole thing. Otherwise, some help — a lot of it — will be needed from other games in other conferences.
Hastings said his team's approach is no different than it was in the regular season.
"At this time of year, it's win and move on or lose and be done," he said. "We have to control what we can control and worry about what we can worry about."
WCHA playoff capsules
Minnesota State vs. Bowling Green
The Mavericks are back in the Final Five for the second time in a row but have never won a game in four trips to the event.
Going back to the CCHA era, the Falcons have won first-round playoff series four years in a row and are in the league semifinals for the second time in three years.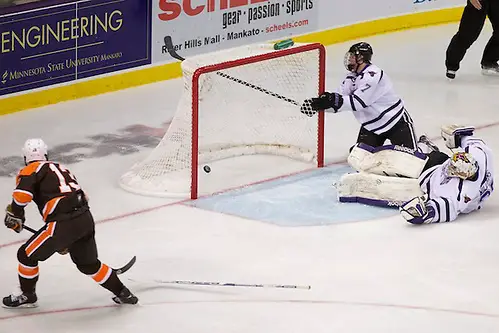 Minnesota State and Bowling Green played four times in a three-week span in November, splitting each series. Three of the games were decided in overtime.
About the Mavericks
Record: 24-13-1
Top scorers: Matt Leitner (11-30–41), Jean-Paul LaFontaine (20-19–39), Johnny McInnis (20-16–36)
Top defensemen: Zach Palmquist (4-19–23), Sean Flanagan (6-9–15)
Top goalie: Cole Huggins (17-7-1, .919 save percentage, 2.01 GAA)
X-factor: Forward Bryce Gervais has 10 of his 15 goals in the Mavericks' last 13 games.
How they got here: Minnesota State, which is on an 11-game unbeaten streak (10-0-1), swept Northern Michigan in the first round, winning 3-2 and then 5-4 in overtime on a Zach Stepan goal.
Quotable: "Honestly, we weren't looking at chasing Ferris State. We were just trying to get better." — coach Mike Hastings on the Mavericks' late-season winning streak and chance to win the MacNaughton Cup on the final night of the regular season.
About the Falcons
Record: 18-14-6
Top scorers: Dan DeSalvo (7-25–32), Bryce Williamson (12-16–28), Mark Cooper (14-10–24), Ben Murphy (13-8–21)
Top defenseman: Ralfs Freibergs (3-19–22)
Top goalie: Tommy Burke (14-6-6, .912, 2.41)
X-factor: Ryan Carpenter missed the Falcons' first 24 games with injuries but has 16 points, including eight goals, in 14 games since returning on Jan. 10.
How they got here: Bowling Green swept Michigan Tech in the opening round, winning 2-1 and 5-2 while allowing just one even-strength goal past Burke.
Quotable: "We didn't have one guy mentioned for all-league. It had to be done by committee, and I'm really proud of that committee." — coach Chris Bergeron on his team getting shut out of the WCHA awards.
Ferris State vs. Alaska-Anchorage
The Bulldogs will try to pull off the MacNaughton-Broadmoor double, last accomplished by North Dakota in 2011. This is their fifth trip to a conference semifinal, with the last appearance being 2010.
The Seawolves are making their third trip to the Final Five. They last went in 2011 and got their lone win at the event in 2004.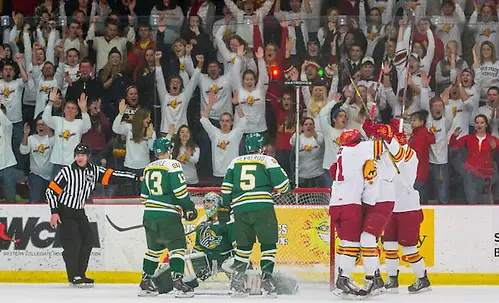 Ferris State and Anchorage met Feb. 21-22 in Big Rapids, with Ferris State sweeping 4-2 and 5-3.
About the Bulldogs
Record: 27-9-3
Top scorers: Garrett Thompson (15-15–30), Justin Buzzeo (13-17–30), Cory Kane (13-14-27)
Top defensemen: Scott Czarnowczan (6-18–24), Jason Binkley (3-20–23)
Top goalie: CJ Motte (26-7-4, .928, 2.19)
X-factor: Half of the roster was part of the Bulldogs' run to the national championship game in 2012.
How they got here: The Bulldogs rolled past Bemidji State 8-0 in the first game of their first-round series but, the next night, needed Czarnowczan's double-overtime goal to win 3-2 and advance.
Quotable: "We came home and didn't press the panic button." — coach Bob Daniels on bouncing back from two losses at Alaska Feb. 28-March 1. The Bulldogs have won four straight since then.
About the Seawolves
Record: 18-15-4
Top scorers: Matt Bailey (20-18–38), Scott Allen (17-14–31), Jordan Kwas (13-18–31), Blake Tatchell (7-24–31)
Top defenseman: Austin Coldwell (5-12–17)
Top goalies: Rob Gunderson (10-7-2, .906, 2.45), Chris Kamal (6-6-1, .894, 2.75)
X-factor: The Seawolves started the season 1-6-1 away from Anchorage but since Jan. 3 are 6-6-1 on the road.
How they got here: Playing rival Alaska for the fifth time in a row, the Seawolves won Game 3 5-4 on Brad Duwe's late-third-period goal. The teams split the first two games, with Anchorage overcoming a 3-2 overtime loss with a 2-1 win.
Quotable: "It's filled the tank up." — coach Matt Thomas when asked what his team had left in the tank after a three-game playoff series.