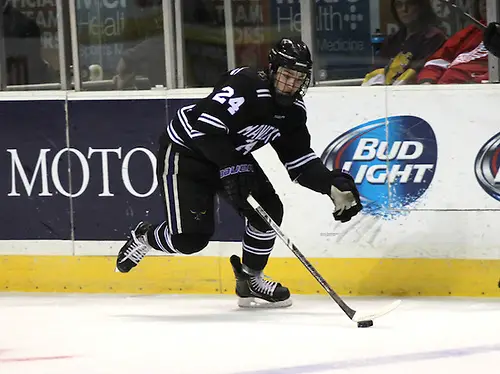 GRAND RAPIDS, Mich. — Matt Leitner, Jean-Paul LaFontaine, Zach Lehrke and Johnny McInnis have been regulars all season long for Minnesota State on the score sheet.
None of the four found the back of the net, however, at Van Andel Arena on Saturday against Ferris State.
WCHA playoffs
See the tournament bracket and get links to schedules and stories at WCHA Playoff Central.
Instead, the WCHA heard the names Matt Huntebrinker, Brett Stern, Brett Knowles and Teddy Blueger called out after each blow of the horn in a 4-1 Final Five victory that gave the Mavericks their first Broadmoor Trophy in school history.
"It's crazy, this game of hockey. It's amazing," Mavericks coach Mike Hastings said. "When you put in what you should put in, more often than not the hockey gods pay you back. I'm very proud of those guys and their contributions and being able to be in the limelight a little bit. They've been doing a lot of the heavy lifting for a while."
The goals by junior defenseman Stern and sophomore fourth-line forward Knowles were the first of the season for both players.
Stern, who before Saturday had just two career goals in 95 games, gave the Mavericks a 2-0 lead 13:50 into the first period with assists from Blueger and freshman defenseman Casey Nelson.
Stern took a pass from Blueger and threaded his shot through a Bulldogs block and all-WCHA first-team goaltender CJ Motte.
"It's a play we've worked on," Stern said. "It's a great play by Teddy. I gave him a little holler and he found me."
Knowles, who had five goals in 76 games before Saturday and just four assists this season, finished off a wraparound attempt by Blueger, who forced a turnover in the Bulldogs' zone.
The goal came at 8:38 of the third period to put Minnesota State up 3-1 after Ferris State had pulled within a goal in the final minute of the second period.
McInnis, who has 21 goals for the Mavericks this year, was the first to congratulate Knowles on the goal.
"It's obviously frustrating when you don't score sometimes," McInnis said. "As a hockey player, that's what you want to do.
"For Knowles to get one and me to be the first guy to get over to him, the emotion on his face, he told me he could have started crying. That just goes to show the emotion that he plays with and how much it means to him and our family for him to score a goal."
Huntebrinker, a freshman fourth-line forward, gave Minnesota State a 1-0 lead 9:13 into the first period with assists from Lehrke and LaFontaine as part of a three-man rush.
The Mavericks rookie had appeared in only 18 games before Saturday with just a goal and an assist to his name.
"It's always nice to contribute to the guys," Huntebrinker said. "Jean-Paul was able to make a great play along the wall. Lehrke was able to make a great pass so I really didn't have to do too much. It's nice to have guys around you that stay positive and lift you up when things aren't going the best."
Blueger, a sophomore forward who was joined on the all-tournament team by teammates Bryce Gervais, Stern and goaltender Cole Huggins, put the final goal of the night into an empty net with 3.7 seconds on the clock.
Including the two assists he was credited with Saturday, Blueger is up to 22 assists for the season, but the empty-netter was just his fourth goal of 2013-14 and 10th of his collegiate career.
"Sometimes it isn't about who tucks it around the goalie, but who allows us to be in a situation like we were tonight," Hastings said. "Those guys have done a tremendous amount of work.
"They've made an impression as you can tell on our leadership group and made an impression on our guys Monday through Thursday. We've drawn energy from these guys."