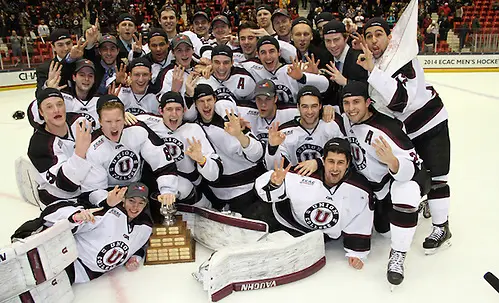 LAKE PLACID, N.Y. — There are lots of things that the Union Dutchmen do well. One coach said they didn't have any glaring weaknesses or deficiencies; even their size worked for them insofar as they are a deceptively quick and fast team.
Two things Union did exceptionally well this weekend were rebound — the Dutchmen scored key momentum-swinging goals to bury Cornell and Colgate — and play lights-out special teams. Union went 2-for-3 on the power play this weekend and held the Big Red and Raiders scoreless through seven penalty kills.
ECAC Hockey playoffs
See the tournament bracket and get links to schedules and stories at ECAC Hockey Playoff Central.
"They close quickly," Colgate coach Don Vaughan said of Union's penalty kill, which shut his team out four times Saturday. "They skate so well on the back end. They were prepared, obviously. I thought we had great puck-possession time. We had some really good looks but then when you get those good looks, you have to put it past one of the best goalies [junior Colin Stevens] in the country. They were prepared. They don't give you a lot of time and space."
In their last 10 games (9-0-1), the Dutchmen went 8-for-32 (.250) on the advantage, while allowing just two goals in 33 short-handed situations (93.9 percent success).
Offensively, Union found a way to smother any hint of opposing momentum this weekend. On Friday, a 1:14 burst saw Union, then Cornell, then Union score in quick succession. The last goal — a Mike Vecchione shot — essentially ended Cornell's chances of coming back against the league's top team.
On Saturday, Colgate managed to pot consecutive goals late in the third period, but Max Novak's no-doubt empty-netter sealed the victory and iced Union's third straight championship.
"I think quick strikes are something we did really well this weekend. It seems like it's a mental thing, our ability to rebound after being scored on. It was outstanding all weekend," said the primary beneficiary of all this offense, goaltender Colin Stevens.
Bennett was unable to identify a specific skill or quality to explain Union's lethal resilience, but said: "I think it's just what you go through through the course of a year. Certain situations you're put in, those guys — through those battles — learn from that, especially early in the season when we were 1-2-2 through the month of October. I thought the guys really stuck with it, and throughout the year, going through hardship, really prepared us for those battles.
"We don't get too high or too low. Past teams that have won Cups here have been really low-key throughout the whole weekend, which is great. But by the same token, I know they're really fired up now. They should be. They earned it, and we beat the No. 2 team [in the league]. That's an excellent hockey team over there in Colgate, and I think we did it the hard way."