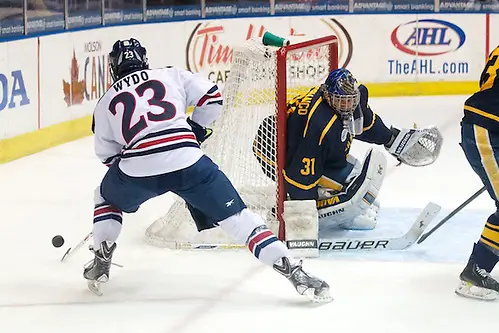 ROCHESTER, N.Y. — Cody Wydo may just be the best college hockey player you've never heard of.
That's despite the fact that Wydo started the season as the second-leading active goal scorer in the nation behind only one player: Boston College's Johnny Gaudreau.
Atlantic Hockey playoffs
See the tournament bracket and get links to schedules and stories at Atlantic Hockey Playoff Central.
Wydo wasn't named to an all-league team in his sophomore year, despite a 21-goal season. Wydo wasn't named to the conference rookie team as a freshman, despite 13 goals.
That drought ended this season, when he was named to Atlantic Hockey's first team.
"I don't think Cody was given the recognition he deserved until this year," coach Derek Schooley said as a guest on USCHO Live! last Tuesday.
If Cody Wydo was underappreciated as a major offensive threat in college hockey until just recently, that came to an emphatic end this weekend. Wydo scored four goals and added an assist en route to being named the Atlantic Hockey tournament's most valuable player.
In the championship game Saturday, Wydo gave his team 1-0 and 2-1 leads early and cemented the victory with Robert Morris' final goal.
"The thing about Cody is he scores in bunches and he had three today and he probably could have had six," said Schooley. "And he usually capitalizes on 50 percent of [his chances]."
Saturday's hat trick and one-assist performance increased Wydo's season totals to 30 goals and 22 assists.
He owns his school's single-season record for goals, he tied a Robert Morris career record of 64 goals Saturday, and he is just the fourth Colonials player and only junior to reach the 100-point mark.
He's fifth in the nation in points and trails only Gaudreau in goals.
And Wydo still has at least one game — and another season — to go.
"It's just unbelievable. I didn't even realize it was 30 goals when I scored that one," said Wydo. "Any time you get to the 30-goal mark like that in a season, it's unbelievable."
Wydo's linemates, center Scott Jacklin and right wing Zac Lynch, are given a lot of credit by Wydo for his success. The trio has a combined 63 goals and 133 points for the Colonials this season.
Their chemistry jelled as the team's success grew, helping Robert Morris recover from a terrible 2-12-2 start.
"At the beginning of the year, we actually didn't have that chemistry and [Schooley] actually broke us apart for a while," said Wydo. "When he put us back together is when we started clicking. You've just got to get that chemistry and once you get it, it's just hard for other teams to stop."
Jacklin agreed when he spoke about Wydo after Friday's 5-4 overtime win against Niagara.
"We're just so fast and can find each other all over the ice. I don't think any team has been able to contain us," Jacklin said.
While Wydo may have been overlooked by AHA coaches in previous postseason accolades, his play this weekend was not missed by Canisius coach Dave Smith.
"I can tell you as the coach on Canisius' bench that Cody Wydo was the best player in this tournament. He was the most dangerous when he had the puck, not only tonight but in last night's game," Smith said. "He's an electric player with dynamic skills."
Robert Morris will look to be the latest Atlantic Hockey giant killer in the NCAA tournament.
"Any time you can represent your school, it's great," said Wydo. "Getting our name out there is really huge for the program."
Getting Cody Wydo's name out there should no longer be an issue.