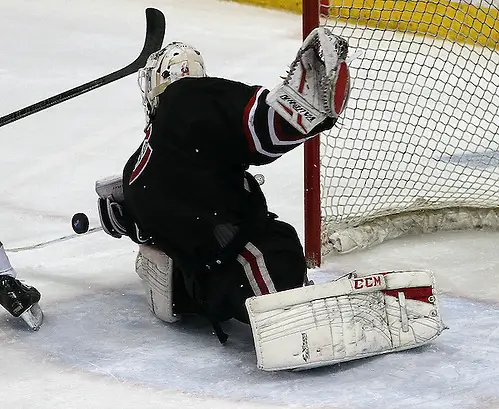 ST. PAUL, Minn. — Shots are a usually good barometer to which was the stronger team in a hockey game. The key word is "usually."
Shots on goal were 42-28 in favor of Notre Dame in Saturday's NCAA West Regional semifinal game between the Irish and St. Cloud State. The Huskies won 4-3 in overtime.
2014 NCAA West Regional
See all of our coverage of the West Regional on our regionals page.
The Huskies' offense was consistent and converted their golden opportunities. Their goaltender, Ryan Faragher, was phenomenal.
"All of us are going to have to tip our hats to Ryan, because he saw a lot of shots out there," St. Cloud State coach Bob Motzko said. "He just looked very strong in there and didn't seem to wear down at all. He stayed strong mentally. Third year with us, we've seen many games out of Ryan like that. There's a whole lot of confidence in that locker room for him."
Faragher finished the game with 39 saves, 17 of them in the second period when the Huskies were outshot 18-4. Despite that, St. Cloud State carried a 3-2 lead in the game's third period.
Though he was being asked to put in a lot of work, the junior goaltender only had compliments for his defense after the game.
"We did have great defense. The shot total is a little different than what you think," Faragher said. "The guys did a great job of wearing on their D and obviously we didn't have as many shots as we would have liked, but ultimately grinding down low is what enabled us to win."
His teammates returned their own compliments during the postgame news conference.
"He's been a rock all year," overtime goal-scorer Nic Dowd said. "I can't speak — there's a lack of words for what I feel about [Ryan] at this point."
Notre Dame kept its foot on the gas in the third when it outshot the Huskies 9-2. Halfway through the period the Irish got the game-tying goal, and the Huskies hadn't even gotten a shot on frame in the period yet.
Faragher's strong play continued in overtime when he made an amazing pad save on a Notre Dame breakaway. The save allowed St. Cloud's offense, which had more shots in overtime than the previous three periods combined, to come alive and for Dowd to snipe in the game winner.
"Obviously, that breakaway save in overtime — it doesn't get any better than that," Dowd said. "It gives us new life, and a couple minutes later, we're able to tuck one in."
Faragher said he knew the game was over when he saw the play develop.
"It was just a matter of time; I could see it coming," Faragher said of the game-winning goal. "After the two power plays we got some momentum going and as soon as I saw Dowd pull it in to shoot I knew it was going in."
Faragher said that he doesn't have a preference between seeing a lot of shots or only seeing a few.
"It's neither here nor there, I guess," he said. "It all depends on the type of game. Whatever moment you're in, you want to make the next save. That's basically what I focus on."
St. Cloud's win means a matchup with in-state rival Minnesota for a chance to go to the Frozen Four. Faragher said that the latter part of that sentence is a lot more important that the former.
"I would have taken anyone, whether it was Robert Morris or the Colorado Avalanche," he said. "I want to make it back to the Frozen Four and regardless of who we're playing I'm really excited for the opportunity."