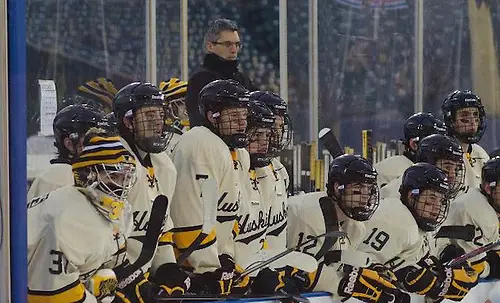 Over 20 years ago, Damon Whitten sat in Lake Superior State's Taffy Abel Arena awaiting an offer from then-head coach Jeff Jackson to play for the Lakers.
The offer never came, until this week.
"Over 20 years ago, I sat up in Taffy Abel in his office waiting for an offer from Jeff Jackson to be a Laker, and had he offered me at that time, I would have been a part of this family back then," Whitten said. "It's 20 years later and I'm finally joining the Laker family and I'm very excited to do that."
Whitten was introduced Saturday as the 10th head coach at Lake Superior State. He replaces Jim Roque, who was fired in March after 11 seasons as head coach.
Whitten, a 37-year-old native of Brighton, Mich., has been an assistant coach at Michigan Tech since 2010, with previous stops as an assistant coach at Michigan State, Alaska-Anchorage and Wayne State.
He may have never got the chance to play for the Lakers — he ended up walking on at Michigan State — but Whitten's ties to the school run deep, having played for the program's founder in Ron Mason and having coached under Lake Superior State hall of famer Rick Comley.
"What struck me is looking up and seeing Ron Mason, the founder of this program, up on the walls," Whitten said. "He handed this program off to Rick Comley, who was his first captain, and Rick took over as the second coach in Laker hockey history. Jeff Jackson built this into a powerhouse program.
"It's a huge honor to come in and walk the bench that those guys walked."
Whitten was originally hired at Michigan Tech in 2010 by then-head coach Jamie Russell. For the past three seasons under current head coach Mel Pearson, Whitten has focused on the Huskies' recruiting and penalty kill.
Prior to arriving in Houghton, Whitten was Comley's director of hockey operations at Michigan State from 2008 to 2010; the assistant coach and recruiting coordinator for Dave Shyiak at Alaska-Anchorage from 2006 to 2008; an assistant coach for Bill Wilkinson at Wayne State from 2004 to 2006; and a volunteer assistant for Comley at MSU in 2003-04.
"He has surrounded himself with some of the best that college hockey has to offer with who he has coached with, coached for and coached under," Lake Superior State athletic director Kris Dunbar said. "I'm really excited for his time now to be a head coach here."
Whitten said the last four years at Michigan Tech were the culmination of his training and dream to be an NCAA head coach. His two stints under Comley — a member of Lake Superior State's search committee — taught him how to be a good husband and leader in the community.
[youtube_sc url=https://www.youtube.com/watch?v=Z6UGn_ROkeE&feature=share&t=47m30s]
"Every person you're with, you take the good, you throw some things out and it helps mold your core values and beliefs as a hockey coach and teacher," Whitten said.
Whitten was a member of the all-time winningest senior class in Spartans hockey history. From 1997 to 2001, Michigan State won three regular season and playoff CCHA titles, plus made two Frozen Four appearances.
Whitten, who was an alternate captain for Mason as a senior, also was a two-time Hockey Humanitarian Award nominee.
"That four years with Coach Mason was a huge influence on me as a player and as a coach in my development and my aspiration to get to this level," Whitten said.
Lake Superior State is coming off a 16-19-1 season in 2013-14 that left it tied for eighth place in the WCHA. The Lakers lost a tiebreaker with Bemidji State to miss the league playoffs.
The Lakers have just four winning seasons in the last 17 years, with three of those coming during Roque's 11-year tenure.