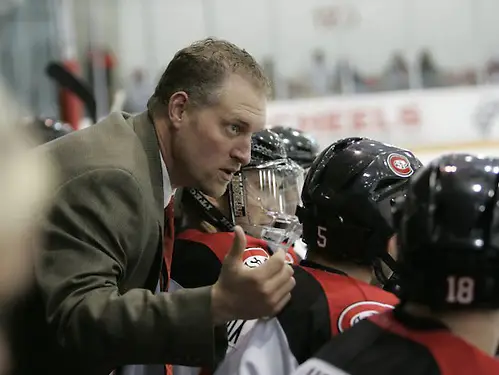 St. Cloud State announced Tuesday that Eric Rud has been named the new women's head coach, the fourth in school history.
A former assistant coach with the St. Cloud State men's team from 2005 to 2010, Rud has served as an assistant coach at Colorado College since 2011. Between his time at St. Cloud State and Colorado College, Rud worked for one season as the head coach and general manager of the USHL's Green Bay Gamblers in 2010-11.
"I am thrilled to be the next head coach for the St. Cloud State women's hockey program," said Rud in a statement. "To coach in the WCHA against some of the top programs and coaches in the country is an exciting opportunity. I look forward to meeting our current players and incoming recruits as we get ready for the start of the upcoming season. In addition, our family is very excited to be rejoining the St Cloud community and will enjoy reconnecting with some great people in the area."
A graduate of Colorado College, Rud was a two-time team captain and two-time WCHA Defensive Player of the Year for the Tigers during his collegiate playing career. He went on to play professional hockey from 1997 to 2002, serving as a player-assistant coach with the Florida Everblades in 1999-2000 and with the Idaho Steelheads from 2000 to 2002.
He joined the coaching ranks as an assistant with the USHL's Cedar Rapids RoughRiders from 2002 to 2004 and was an assistant coach at Colorado College in 2004-05.
In 2013-14, the Huskies were 4-27-5 overall and 3-21-4 in WCHA play.