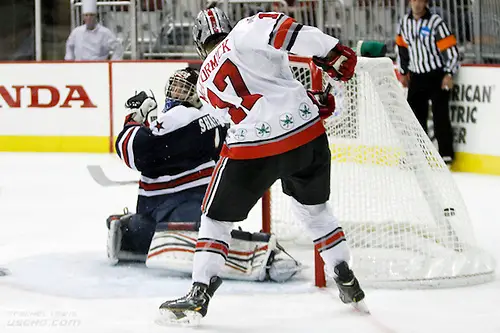 Ohio State junior forward Max McCormick has agreed to terms on a two-year, entry-level contract with the Ottawa Senators.
McCormick was originally drafted by the Senators in the sixth round (171st overall) of the 2011 NHL draft.
"I can't say thanks enough to Ohio State and especially my teammates for the best years of my life," McCormick said in a news release. "I'm excited about the opportunity that lies ahead. I'm ready to chase my dream."
McCormick played in all 37 games for the Buckeyes in 2013-14, ranking second on the squad with 35 points, including 11 goals and tying for the team lead with 24 assists.
"Max was an outstanding example of a successful student-athlete during his time at Ohio State," added Buckeyes' coach Steve Rohlik. "We are excited for his new opportunity and wish him all the best as he takes the next step in his hockey career."
Overall, McCormick played in 104 games at OSU, scoring 36 goals and adding 52 assists for 88 points.