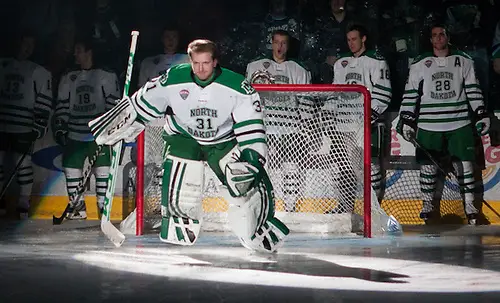 Once we get nearer to college hockey's postseason, more and more is made of what will get certain teams into the NCAA tournament and what will leave others out.
One of the biggest factors that gets placed under the microscope is how teams fare in their nonconference games. Doing well against league rivals is obviously important — and lest we forget that the six conference playoff champions get automatic bids into the NCAA tournament — but nonconference records can and often do either make or break teams on the at-large bubble.
Third-ranked North Dakota is well aware of this, and it's also cognizant of the fact that the national spotlight will be on Ralph Engelstad Arena this Friday and Saturday. No. 5 Providence is coming to Grand Forks, N.D., for a two-game set, and UND will be hoping to get the armchair NCAA selection committee on UND's side.
Going into the series, however, UND coach Dave Hakstol isn't taking a lot of stock in UND's and the Friars' places in the national polls.
"It's just two good teams, and I guess you can just throw rankings out the window," Hakstol said. "I know both teams are pretty good, and obviously we're going to be hungry as we get into a long stretch of nonconference games, and these are extremely important.
"Providence College is extremely well-coached [with] veteran players and top-end players [compared to other teams] throughout the nation. It should make for a great series."
Perhaps the biggest matchup within the UND-PC series will be in the teams' respective nets. UND's Zane McIntyre and the Friars' Jon Gillies are two of the top veteran goaltenders in Division I.
Hakstol is looking at the bigger picture with this series, however, and not just the goaltending aspect of the two-game set. He knows that neither his team nor Providence coach Nate Leaman's group is lacking in weapons anywhere on the ice.
"I don't really see it as a defensive matchup," Hakstol said. "I just see it as two teams that play well in all three zones.
"There's enough offensive ability on both teams to be very dangerous. I just think it's two teams that compete hard, pursue the puck very hard and try to take away [opponents'] time and space.
"There's a lot of similarities there, and both are pretty veteran teams," Hakstol said. "It should make for a heck of a matchup."
Another common bond these two teams have is that they both stumbled out of the gate this season. They both lost their season-opening games, but both are in the process of turning that around.
UND lost 5-1 at home to Bemidji State on Oct. 10 on the opening night of the season but has won three straight since then, including a sweep last weekend on the road at NCHC rival Colorado College.
Providence also lost its season opener on the road at Ohio State, but the Friars beat the Buckeyes the following night and had last weekend off to prepare for the's trip to Grand Forks after a Thursday exhibition against the U.S. Under-18 Team.
If either UND or the Friars picks up anything more than one win from this series at Ralph Engelstad Arena, this weekend's set could serve as a springboard for the rest of the season.
No matter how the results shake down, however, Hakstol is glad to have such a stern test for his team so early on. He also knows that good performances against the Friars would garner some looks from pollsters and everyone else trying to determine which teams are among college hockey's elite this season.
"It's the type of series that you want to play in," he said. "Early in the year, they test you, they make you better and they push you in a lot of areas, and it's always fun to compete in series like this where there's a lot at stake and there's some national exposure that comes with it."
With the exposure such a high-profile nonconference series provides comes a lot of pressure. Hakstol knows this, but he's also working to make sure his UND team is aware of the potential gravity of each of its 11 nonleague games this season.
"You've got to take them one game at a time, and every game is critical, and we know nonconference scheduling [and] wins and losses plays pretty heavily into your outcome at the end of the season," Hakstol said. "It's a cliche about one game at a time, but we know the emphasis we have to put on our nonconference schedule."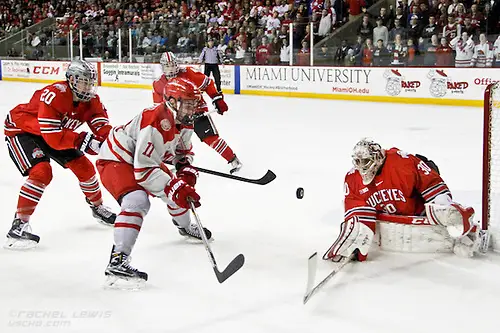 RedHawks having little trouble creating chances
Much has been made about Miami's largely disastrous 2013-14 regular season and how a team as loaded as the RedHawks surely can't experience that two years in a row.
So far, they aren't.
Tenth-ranked Miami opened its new campaign with two home-and-home series in as many weeks against intrastate rivals Bowling Green and Ohio State. Those were daunting tasks as the Falcons and Buckeyes are both tough outs, but Miami held up well in winning three of four games against its nearby former CCHA compatriots.
The RedHawks' two most recent wins came last weekend in a home-and-home against Ohio State. Miami's offense ran riot on Saturday during a 5-1 win in Columbus before the RedHawks scrapped to a 2-1 win in Saturday's rematch in Oxford.
Miami's victory on Friday in the Ohio state capital came about thanks to a superb offensive performance from the RedHawks. Their power-play units effectively won Miami the game by going 3-for-5, and Buckeyes goaltender Matt Tomkins was kept busy in facing 32 shots on net.
On Saturday night in Oxford, it was the visitors who took the upper hand early. A power-play goal from Ohio State's Anthony Greco 5:28 into the game put the visitors in front early, and they took a slim 1-0 lead into the second period.
Over the final 40 minutes, however, Miami peppered Buckeyes goaltender Christian Frey with shots galore. The RedHawks recorded 48 shots in the second and third periods — and had 62 in all on the night — and just enough found their way into OSU's nets.
Miami's game-tying goal from freshman forward Louie Belpedio and the game-winner from senior forward Alex Wideman came exactly 100 seconds apart in the second period. The RedHawks fired 25 shots on net in that period and another 23 in the third, but a 60-save performance from Frey kept Miami from lighting up its in-state Big Ten rival for the second night running.
Scoring so few goals on so many scoring opportunities on Saturday doesn't bother Miami coach Enrico Blasi. That his team is creating so many chances, he suggested, beats the alternative.
"I'm not so much concerned about scoring goals as about getting chances," Blasi said ahead of his team's two-game home set this weekend against St. Lawrence. "That's not to say we don't want to score goals because we do, but if you're getting the scoring chances, I think we've got some guys that can score goals.
"If you're not getting the scoring chances, then obviously you would be concerned, but I felt like our process was fairly good all night on Saturday in terms of getting to those areas where you're going to get scoring opportunities, making plays in the offensive zone, making plays in the defensive zone to lead to chances on the rush and things like that.
"We've always been a program and a staff that's focused on process," Blasi continued, "and we feel that our process is pretty good right now."
Players of the week
Offensive player of the week — Mark MacMillan, North Dakota: The senior forward had a career series against Colorado College. He posted five goals and seven points in the two wins over the Tigers and scored the first goal of the game both nights.
Defensive player of the week — Paul LaDue, North Dakota: LaDue is only a sophomore, but he led UND from the blue line last weekend in the team's pair of wins at CC. He posted five points on the weekend, including a career-high four last Saturday. In that second game against the Tigers, LaDue picked up two goals and as many assists en route to his team's 7-2 win.
Rookie of the week — Danton Heinen, Denver: The forward picked up three assists last weekend in a home sweep of Rensselaer, and those helpers marked Heinen's first three points in a Pioneers sweater. He finished a plus-1 in each win over the Engineers and blocked two shots in the two games.
Goaltender of the week — Ryan Massa, Omaha: Goaltending has been one of the Mavericks' biggest question marks in recent seasons, but it certainly wasn't last weekend in a series at Western Michigan. Massa, a senior, made 37 saves last Friday in a 5-2 win before posting a 17-save shutout the following night during the Mavericks' 3-0 triumph.