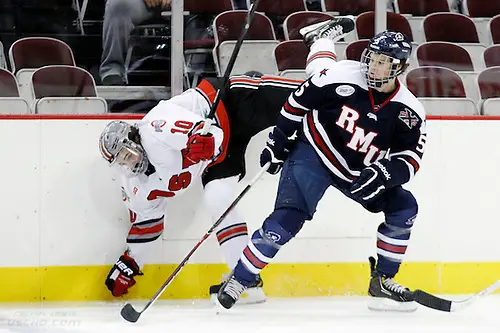 Last week, Chris Lerch discussed the Robert Morris Colonials as the defending Atlantic Hockey playoff champion got off to a fast start with a couple of nonconference wins.
He spoke with coach Derek Schooley about the team's start, about how the team was always going to score, and how the defense and goaltenders were playing well off of one another.
By sweeping former College Hockey America rival Niagara with a pair of three-goal victories, the Colonials remain atop the league for another week, both literally and figuratively.
Last week, the story centered on how the team could play good, solid team defense. Schooley stressed the recognition of his team's offense but recognized the need to continue improving the back side. Against the Purple Eagles, he got exactly what he asked for.
Outshot 34-17 on Saturday and with his top scorer in the locker room, Schooley's squad earned a 4-1 victory to run its season-opening record to 4-0.
It also proved that his team, defensively at least, could rise to the occasion as they gained their first victory at Niagara since Jan. 28, 2011.
"I've always felt that shot totals can sometimes be a little overrated because you really have to focus on prime scoring chances," said Schooley. "Niagara likes to funnel their offense toward the net, so we really had to make sure that [goalie Dalton Izyk] had good looks at the shots coming at him.
"We had a lot of zone time, but we did a good job of keeping shots outside and preventing second chances. That said, our offense had 30-plus shots per game to that point, and we had to overcome adversity [to get the victory]."
Saturday's game was the type that coaches want to see their teams win. Up 1-0 in the second period, the Colonials absorbed both an injury to Jeff Jones and a game misconduct to Cody Wydo. Wydo's penalty also brought a five-minute major, extending into a five-on-three power play for Niagara when Evan Moore was called for holding 10 seconds later.
Robert Morris killed the entire two-man advantage that extended into the third period, then got a bang-bang short-handed breakaway resulting in a goal by Matt Cope.
Although Niagara cut the lead to 2-1 on that same major power play, the Colonials had enough energy buoyed from their run to bury their former rival with two goals in five minutes.
"When you kill off a five-on-three like that and score, it creates a huge lift [for the team]," said Schooley. "Our work ethic this season has been really high, and it helps make up for a lot of the mistakes that teams will make early on."
Robert Morris plays Army this weekend in its first trip out East this season.
Rink of honor
Last weekend's series between American International and Holy Cross would've made Lady Byng proud.
The teams notched 18 penalty minutes combined in two games, two minutes fewer than the next-closest individual game.
On Friday night, referees assessed two penalties, one for each team, before the halfway mark of the second period. Each goal came in a full-strength situation, and a 2-2 tie (of course it was) took just over two hours to play.
The next night, the Yellow Jackets and Crusaders played to the tune of 14 penalty minutes, and each team scored a power-play goal. But after Chris Porter scored his man-up, game-tying goal at the 1:13 mark of the third period, penalty box operators found themselves equally useless. Holy Cross won 3-2 on a goal scored in the period's third minute.
Compare that to the rest of the weekend. The next-lowest total in penalty minutes was the 20 amassed by Boston College and Rochester Institute of Technology, but that came in a single game. Likewise, Air Force and Alaska absorbed 22 minutes in their contest, and Army and Canisius were called for 26 and 23 minutes in their games, skewed slightly since the Golden Griffins took a game misconduct on Saturday.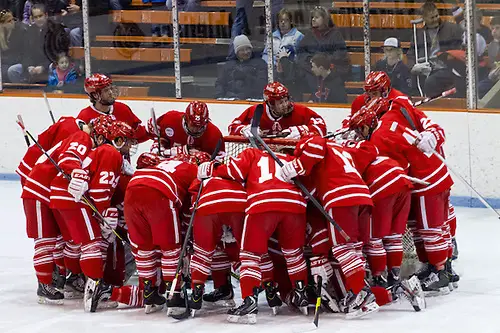 The itch you just can't scratch
Including the start of this year, Sacred Heart has 16 wins dating to the start of the 2012-13 season. Five have come against the Bentley Falcons, a team that won nearly double that amount for that same period (including 19 wins and a second-place finish last year).
The Pioneers are 5-2-1 against the Falcons since the start of that season. Taking away their 7-1 loss to start the 2012-13 season, Sacred Heart has lost only once to Bentley — a 4-1 Falcons victory recorded this past Friday. For teams playing on opposite ends of the spectrum, that's both amazing and shocking.
It's not just that Sacred Heart won games; it's how the Pioneers have won games. Bentley's starting goalie failed to finish the game in four games, including last Saturday. Last season, they won 5-4 at Bentley despite trailing by one in the game's last four minutes. The lone tie, a 6-6 result, saw the Pioneers squander a 5-1 third-period lead, trail 6-5, then tie it up in the game's last minutes.
Last Saturday, a wild affair in Watertown watched the Pioneers jump out to a 5-0 lead in the second period. Even though Bentley was able to put three goals on the board, it also gave up a sixth. Neither team scored in the third period but the Falcons amassed over 40 minutes of penalties in the final two-plus minutes. The frustration more than boiled over, and the Pioneers skated out of Massachusetts with yet another win.
Depending on which team you're rooting for, you're either thrilled or relieved at the teams' scheduling — they don't play each other again for a full weekend slate this season. They'll play a one-off game on Feb. 13 and again on the final day of the regular season.
Road warriors no more
Last season, Atlantic Hockey programs not named Air Force traveled just under 3,300 miles for nonconference play in the season's first weekend alone.
It was highlighted by Bentley's 1,500-mile trip to Nebraska-Omaha, Mercyhurst's 850-mile trek to Minnesota and Robert Morris's 600-mile trip up to Lake Superior State in Michigan's Upper Peninsula.
Sacred Heart and Army had relatively easy trips of under 200 miles going to Massachusetts-Lowell and Penn State, respectively. Holy Cross' trip to Boston University (46 miles) seems like a walk up the street in comparison, eh?
This season, programs not named Air Force traveled all of 105 miles in the season's first two weekends for nonconference play. American International went to Union last week. Everybody else played at home, including RIT, which hosted the Brick City Classic against Boston College.
Why did we exclude Air Force? The Falcons played the same opponents on the road in the study for both years — Alaska and Alaska-Anchorage. That means each season Air Force went 3,173 miles, almost as much as everyone else last year combined, then did it again this year.
Weekly awards
Player of the week — Ralph Cuddemi, Canisius: It would be one thing if Cuddemi just scored a hat trick; that probably would've earned him honors in my eyes anyway. But he scored his three goals in dramatic fashion with his team trailing Army 4-1 on Friday night. Cuddemi scored two goals in three minutes to pull the Griffins within one before the end of the second period, then iced the game with an empty-net goal in the last minute. Maybe some people don't like a guy getting a hat trick on an ENG, but without his outburst, the Black Knights would've had a four-point weekend.
Goalie of the week — Parker Gahagen, Army: After touted freshman Cole Bruns picked up the loss on Friday, coach Brian Riley went back to Gahagen on Saturday. He responded with a shutout. I've never liked seeing a goalie coming off the bench for the back end of a weekend; I feel the rest of their team is warmed up to start the second game and they've had 60 minutes of sitting. But Gahagen shook it all off and registered a goose egg to rebound after a rough loss on Oct. 12.
Rookie of the week — Conor Andrle, Army: Andrle registered three assists in Army's split against the two-time defending league finalist Golden Griffins.