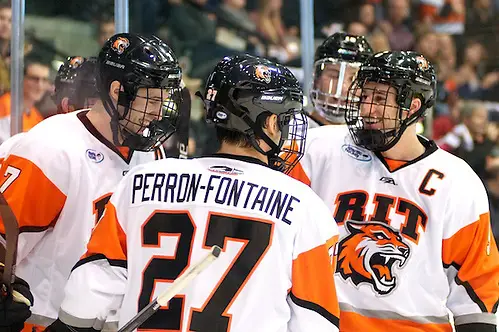 Atlantic Hockey teams opened the season 4-8 in nonconference games, which at first glance isn't very impressive.
But when you look at history, however, a .333 winning percentage is far above average for the league, which has an aggregate nonconference winning percentage of only .246 over the past 11 seasons (154-548-74).
One of the factors the league's coaches have pointed to over the years when addressing the AHA's dismal record out of conference is that few of the games are played in Atlantic Hockey buildings. There's been an effort to change that, and we're starting to see the effects.
Last weekend saw the majority of nonconference games played in the home rinks of AHA teams — nine of 12 in all, which, after perusing schedules over the past 11 seasons, appears to be unprecedented.
Atlantic Hockey teams won four of those nine games, highlighted by Robert Morris' sweep of Lake Superior State and home wins by Canisius over Western Michigan and Rochester Institute of Technology against St. Lawrence.
"It's a credit to our coaches who are pushing for more home games and not settling for a guarantee," said Robert Morris coach Derek Schooley. "And it's a credit to college hockey in general where teams are willing to come and play in our buildings to help out smaller programs."
There's still a long way to go. After getting those nine home games last weekend, AHA teams will host only 15 more nonconference games the rest of the season.
Picking up where they left off
Robert Morris opened its defense of its Atlantic Hockey title with a 3-1, 3-0 sweep of Lake Superior State last weekend. It was the start Schooley was looking for and was in stark contrast to last year, when the Colonials had just two wins at Christmas.
"We returned a lot of players that know what it takes to be successful," said Schooley. "I thought our compete level was very high and that the guys were prepared. That kind of focus and energy will get you past any rough spots you can have early in the season."
Team defense was an emphasis for the Colonials going into their opening weekend, and it showed.
"We are a team that can score goals, but in our final three games last season we allowed four goals, four goals and seven goals," said Schooley. "Our goal was to be focused defensively, and I think the results show that."
It helps to have two proven goaltenders, as the Colonials do in junior Terry Shafer (one goal allowed on 29 shots on Friday) and sophomore Dalton Izyk (zero goals allowed on 28 shots on Saturday).
"Both goalies played extremely well," said Schooley. "Both earned playing time and for now that's what we'll do. Eventually, one will falter and the other will pick him up, and then that guy will falter and the other guy will pick him up. It's a good problem to have."
Robert Morris opens league play this weekend against Niagara in a rematch of last year's semifinals at Blue Cross Arena that saw the Colonials prevail in overtime.
Already having two wins in the bank gives Schooley's team some early-season confidence.
"[The slow start last season] has been asked about a lot," he said. "I think we've had good preparation to return the team we had at the end of [last] year."
Where have we seen this before?
Niagara had a tough opening weekend, losing to Clarkson 3-1 and then seeing a 3-2 second-period deficit to St. Lawrence balloon into a 10-2 drubbing on Saturday.
Already hit by the injury bug, it doesn't get any easier for the Purple Eagles, who have a home-and-home series with Robert Morris this weekend and then travel to Notre Dame for a pair.
Niagara can take some solace by looking back to 2013, when it also lost to an ECAC Hockey team 10-2 in its second game of the season, that one coming at Colgate. The Purple Eagles went on to a 23-10-5 record that season and became the first Atlantic Hockey team to earn an at-large bid to the NCAA tournament.
Calling it home
RIT officially christened the Gene Polisseni Center with a 5-2 win over St. Lawrence last Friday. Coach Wayne Wilson said it was good to get that first win at the new $38 million facility out of the way.
"We've said that it's not really home until you win there and establish your own history," he said. "It's not home ice until you make it home ice. Then it becomes our building."
The Tigers' next game is at their home away from home, Rochester's Blue Cross Arena. RIT will take on Boston College on Saturday. Another sellout (10,600) is expected for the Tigers and Eagles, who have met just once before: a 6-0 BC win in the championship game of the Mariucci Classic in 2007.
Milestones
It's usually late in the college hockey season that you see career records broken, but Holy Cross goaltender Matt Ginn got one out of the way in his first game of the 2014-15 season.
His second of 32 stops in Friday's 3-2 loss to Merrimack was No. 2,701, setting a Division I school record for career saves previously held by Tony Quesada (2002-06).
Ginn made 32 more saves in a 2-1 loss to Merrimack on Saturday, increasing his total to 2,763.
Century club
Speaking of milestones, here's a look at the Atlantic Hockey players that have a good chance of hitting the 100-point mark this season:
• Bentley's Alex Grieve (112 points), Robert Morris' Cody Wydo (110) and Air Force's Cole Gunner (105) and are already there.
• Matthew Zay of Mercyhurst is at 99 points.
• Zay's teammates Ryan Misiak (95) and Daniel Bahntge (91) are knocking on the door, while the Lakers' Chris Bodo (75) is on a pace to get to 100 points as well.
• At Bentley, besides Grieve, defenseman Steve Weinstein (83) and forward Brett Switzer (84) are looking good. Junior forward Andrew Gladiuk has 67 career points is and within striking distance already, especially if he can have another year like his sophomore campaign that saw him score 37 points.
• Air Force forward Chad Demers (91) looks to join teammate Gunner in the century club.
• Robert Morris senior forward Scott Jacklin has 76 points, also within striking distance.
Catching up with coaches
Last but not least, some coaches are also looking to set milestones this season:
• Air Force's Frank Serratore needs six more victories to reach the 300-win mark at the school. He's 294-278-62 at the Academy. His career coaching mark is 343-370-71.
• RIT's Wilson (280 career wins) and Mercyhurst's Rick Gotkin (475 victories) are coming up on major milestones but need their teams to have outstanding seasons to reach them in 2014-15.
You win some, you lose … one
Something unprecedented happened in Air Force's 5-1 opening-night victory over visiting Mercyhurst: Lakers goaltender Jimmy Sarjeant lost a regular season conference game. The senior and reigning Atlantic Hockey player of the year was 15-0-5 in league play coming into the game.
Sarjeant does have five other career losses, all coming last season. Four came in nonconference play and the other in the Atlantic Hockey semifinals.
Weekly awards
I'm choosing the same honorees as the league, with the exception of adding a goaltender.
Player of the week — Cole Gunner, Air Force: The senior forward picked up where he left off last season, with a pair of goals and a pair of assists in a split with Mercyhurst.
Goalies of the week — Dalton Izyk, Robert Morris, and Alex Vazzano, Sacred Heart: Izyk was perfect in his season debut, stopping all 28 shots in a 3-0 win over Lake Superior State. Vazzano stopped 70 of 73 shots he faced in a split with Army.
Rookies of the week — Johno May, American International, and Jonathan Charbonneau, Mercyhurst: May figured in two of AIC's three goals with a goal and an assist in a 7-3 loss at Union. Charbonneau also had a goal and an assist, both coming in Saturday's 4-2 win over Air Force.