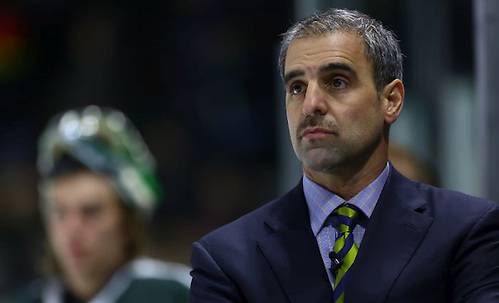 Third in a three-part series.
There is a tug-of-war in college hockey between coaches desiring nonconference home games and those who demand reciprocity. A team's schedule is also a reflection of its brand — the type of opponents it likes to face, and fellow coaches who have built rapport among one another.
Since the 2013 conference realignment, some traditional rivals are no longer league opponents. This includes the sad pause in perhaps the greatest rivalry of them all: Minnesota vs. North Dakota (NCAA tournament meetings notwithstanding).
Securing new agreements
Many coaches are trying to rekindle old relationships both to meet the needs of filling dates but also to lock in reciprocal series over the long term.
"Playing Lake Superior is close to my heart, so we've created an opportunity to play with them," said Notre Dame coach Jeff Jackson, who led the Lakers to the 1992 and 1994 national championships.
"We've been able to partner with some ECAC schools," Northeastern coach Jim Madigan said, "renewing the old ECAC relationships that I used to play in before Hockey East started."
Bus trips to old rivals have helped. Northeastern plays five different ECAC Hockey programs this year, a considerable spike compared to years past when no space was available on the schedule due to a larger Hockey East schedule.
Most of the Huskies' opponents this year fulfilled the criteria of locking teams in for long-term agreements: having bus trips, reciprocal agreements and opponents on a reasonably similar competitive plane.
And if there's truly an appetite for a throwback, what about interlocking league schedules? In 1984, when Hockey East schools were still emerging from a bitter divorce with the ECAC, the league used a unique interlocking schedule agreement with the WCHA to fill up its teams' sudden need for nonconference games.
What's to stop a similar agreement from being formed 30 years later? The reality of modern college athletics. Tight standards for keeping students in the classroom, inflexible home dates in multi-purpose arenas.
In short, there's a lot more to it than just concocting a dream scenario.
"I think there are opportunities to be more creative," Blasi said. "But it's about finding those dates that everyone can be happy with and work with. Those are the difficulties."
"There's a reason that nonconference schedules are up to the individual institutions," Appert said of the idea of an interlocking schedule. "I don't want it, and I don't think it's realistic. Those [Big Ten] teams are going to have more home games than road games, and we just try to do the math to take that into account."
Executing the philosophy
So, with all of these factors in mind, can a team still have a single, guiding philosophy for building a schedule? And more importantly, have coaches been able to execute it?
Michigan State's Tom Anastos may have summed up the consensus of his coaching brethren well.
"Teams come and go over time," Anastos said. "But in the end, when we're recruiting kids to come, we make the commitment to them that they're not just going to play a highly competitive conference schedule, but the most demanding schedule that we can put together, and one with the best opportunity to develop us into a championship-caliber team.
"But you've got to balance other things — your home and road schedule. Your fans want to be able to see the best schedule possible. Your travel needs to be able to fit within your budget."
One of the most important elements to crafting a championship-caliber team involves scheduling the right competition.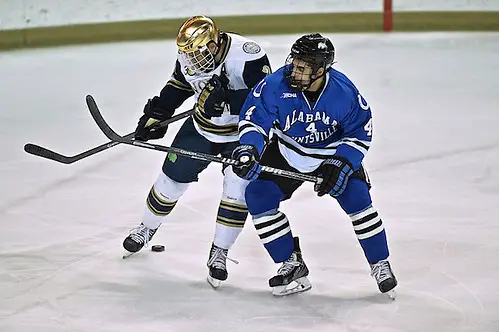 Almost every coach mentioned competition among the top priorities in scheduling philosophy: not necessarily facing the toughest opposition possible, but getting exposure to solid competition and a diversity of teams.
That sounds like a lot to manage. But the college hockey community is fairly small. Relationships get built, sometimes simply through an email reaching out during the summer meetings.
A cynic might take the view that realignment has hurt college hockey. That may indeed be the case, but it's impossible to know for now.
If anything, realignment forced the normally insular world of college hockey to take a look around and be creative.
Coaches need to buy into the process as well. One look at this year's schedules shows that the stereotypes are still prevalent.
Four of the five most imbalanced schedules this year are from Atlantic Hockey. Only one Hockey East team is among the top 10 in anticipated strength of schedule. On average, Big Ten teams still schedule the least difficult opponents compared to their abilities.
And yes, three out of eight NCHC teams will play a majority of their games at home, the highest proportion of any league.
The NCAA has taken the initiative to incentivize teams against stacking their schedules with home games. While it'll take a few years to evaluate whether the move was successful, the new Ratings Percentage Index formula has reignited a discussion among coaches to find ways to grow college hockey through new scheduling agreements.
Why can't American International host Michigan State one time? Why can't Alabama-Huntsville welcome Boston College? Perhaps those examples are extreme, but it would be a neat step to help grow the game.
This new glut of open games and tweaking the RPI could nudge us in that direction.