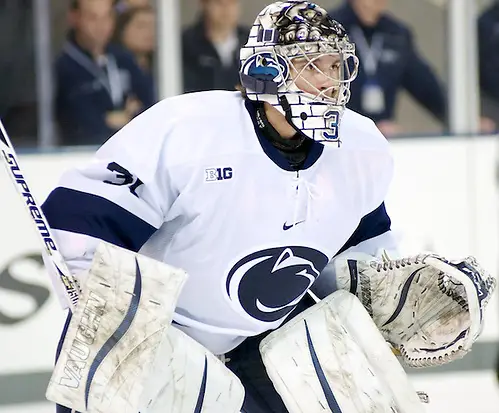 Halloween is this Friday. What do you think is scarier: an 0-4 Wisconsin or a 3-1-2 Penn State?
"Wisconsin is very young and they've played all veteran teams right now," said Penn State coach Guy Gadowsky. "It won't be long before they come around."
Through four games, the Badgers have registered three goals by players belonging to three different classes: senior Brad Navin — who had four goals in 36 games last season — sophomore Tim Davison and freshman Matt Ustaski.
With eight rookies and four sophomores seeing time those four games to start the season, Wisconsin is going to look for underclassmen to fill some offensive voids when they return to the ice Nov. 7 against North Dakota.
But other teams have gotten production out of their freshmen in the early going. Four newcomers in the Big Ten are averaging at least a point per game: Michigan's Dylan Larkin and Zach Werenski are averaging 1.20 points per game, tied for third among rookies nationally; Ohio State's Matthew Weis and Penn State's Scott Conway are averaging a point per game, tied for sixth nationally among freshmen. Incidentally, Werenski is tied for seventh among defensemen in points per game.
With the help of a 10-goal weekend, the Nittany Lions are tied for third nationally in scoring offense, averaging 4.17 goals per game — the same as Notre Dame and Union, at least in the early going.
And while a 7-1 victory over Holy Cross on Sunday may artificially inflate the Nittany Lions' numbers, PSU had another seven-goal output against Connecticut on Oct. 11 and has netted fewer than three goals in a game this season just once, in a 2-2 tie against Connecticut to open the season Oct. 10.
Against Holy Cross, said Gadowsky, "I thought we played well." He hastened to add, "I still think we have a long way to go. Still, we're much, much further ahead than we were at the start of last season."
No longer a rookie team in many ways, the Nittany Lions can turn to a few veterans to help propel them this season, especially junior goaltender Matthew Skoff (1.96 GAA, .931 save percentage).
"His value is more than his numbers," said Gadowsky. "He's such a great teammate and he's got such a high level of work ethic. He's also very calm in the net. The guys want to play for him."
With a few weeks to digest the difference between this year and last, Gadowsky said that his team is no longer distracted by so many firsts.
"It was very easy to get distracted last year, but in ways in which you were honored," he said. "There were a whole bunch of firsts, like the first game in Pegula [Arena], moving into Pegula, the first Big Ten game, the first Big Ten win — all of it. It was easy to let your focus wander a bit."
Another difference between this season and last is something that Gadowsky is beginning to appreciate more as the current campaign progresses: the opportunity to play quality opponents with a schedule of all Division I play in 2013-14.
The Nittany Lions were a much different team at the end of last season than they were at the start of it, and not every team gets to continue that kind of momentum from one season to the next, but Gadowsky said it was kind of inevitable.
"Being in the Big Ten, you're playing against some of the top programs in the country night in and night out, and it's hard not to improve," he said.
The Nittany Lions may be one of the stories to watch in the early part of this season, but Gadowsky said that he can't exaggerate how far the program has to go. PSU has a short week this week, having played Holy Cross on Sunday with a game scheduled against visiting Bentley on Thursday.
"And don't forget," said Gadowsky, "Bentley's a team that just swept RPI on the road."
Thursday's game between the Falcons and the Nittany Lions is the first of a two-game set that concludes Friday night in Pegula Arena.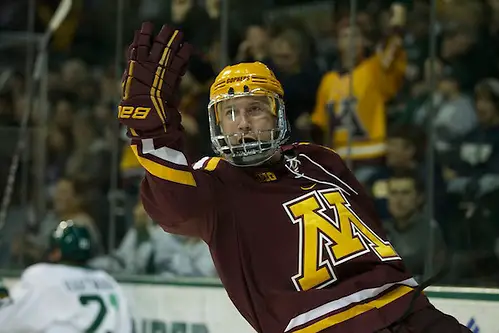 Fast starts
No one is surprised by Minnesota's fast start. The 4-0 Gophers were the unanimous No. 1 team in this week's USCHO.com Division I Men's Poll, partly because Minnesota's offense looks so convincing, netting 4.25 goals per game on average and sporting the best power play in the nation so far, converting at 35.3 percent.
Gophers players out to fast starts include senior Travis Boyd and sophomore Connor Reilly. Boyd has three goals in four games, including two on the power play and two game-winning goals; in 41 games last season, Boyd had nine total goals, with five on the power play and no game winners. Reilly has two goals in four games this year, two on the power play; last year in 37 games, he netted six goals with one on the man advantage.
The special teams were a big factor in Minnesota's sweep of Bemidji State last weekend. The Gophers beat the Beavers 5-2 and 5-3, with Boyd's game-winning goal Friday coming short-handed and his game-winner Saturday on the power play. He also followed up Friday's second-period short-hander with a power-play tally four minutes later.
"We are clicking right now on the power play and that is good to see because so much of the game depends on special teams," said Boyd. "Our penalty kill was good this weekend, too. We talk about winning the special teams battle every game and every weekend and that is a big reason why we came out with two wins this weekend."
Other players around the league who have opened the season well include Ohio State junior Anthony Greco and Buckeyes senior Tanner Fritz; Michigan State senior Matt Berry — who was hampered by injury during his junior season — and Michigan's Alex Kile and Zach Hyman. Kile, a sophomore, has three goals in five games, including two on the power play; in 2013-14, Kile had four goals in 28 games.
Hyman's three goals this season all came against Massachusetts-Lowell last Friday night, his first collegiate hat trick and only his second multi-goal game. Last season, Hyman netted seven goals in 35 games, and Hyman's three-year career total before this season was 13 goals in 114 games.
All three of Hyman's goals came in the second period of that 8-4 win, and he credited the Wolverines' aggressive forecheck for his success. Michigan's coach Red Berenson said that in the eight-goal game, the Wolverines got some "puck luck" that they hadn't yet experienced so far this season.
Michigan's offense is tied for 20th in the nation so far, averaging 3.20 goals per game. Michigan finished last season 19th nationally in offense, averaging 3.06 goals per game.
The Big Ten/Hockey East Challenge … and some grumbling
Let me make it clear from the start that the grumbling isn't mine. It's too early in the season for me to complain. Much. Yet.
We are approaching the midway point of the Big Ten/Hockey East Challenge. Five of the Big Ten's schools are playing nine of Hockey East's schools between Oct. 10 and Nov. 29. There are 20 games total scheduled for the challenge, 10 in Big Ten venues, 10 in Hockey East arenas.
There is a cup at stake, and it will be presented to the conference that records the most points from the 20 games. Teams earn two points for a win, one point for a tie, and a bonus point is awarded to a team with a road win. So far through Oct. 25, Hockey East leads 16-12.
Last weekend, both Michigan State and Michigan went east to face Hockey East opponents, and the Big Ten did not fare well in terms of points. The Wolverines had the only win, that 8-4 game against Lowell that delivered to the River Hawks their first loss of the season. The other three contests were losses for the Spartans and Wolverines.
Michigan State, which had put up eight goals against visiting Massachusetts to open the season Oct. 17-18, scored a single goal in the weekend, losing to Boston University 1-0 and Lowell 2-1.
In the Friday loss to BU, Jake Hildebrand made 39 saves for the Spartans. Saturday against Lowell, the Spartans scored to tie the game 1-1 in the second, but Michael Kapla's short-handed goal within the first minute of the third period held up to be the game winner for the River Hawks.
After beating the River Hawks on Friday, the Wolverines led Boston University 2-1 going into the third period but gave up goals at 2:29 and 16:50 to let that one slip away — and Berenson was pretty vocal about all the goals in that contest.
"It's disappointing when the outcome of the game comes down to the referees sitting in the penalty box looking at a monitor to decide whether the goals were in," said Berenson, who was especially upset about a goal that was waved off near the midway point in the third, when the score was tied 2-2. A shot by freshman Sam Piazza would have given the Wolverines a 3-2 lead, but after some deliberation, the goal was disallowed.
"Of the five goals that were scored, I think all five of them were disputed goals or reviewed goals, and one that was called off on us," said Berenson. "So I don't know how we ever played hockey without the review, but the referees shouldn't be the goal judges."
Not surprisingly, Boston University coach David Quinn saw the calls a little differently, especially since the penalties in the game were lopsided: BU had six minors for 12 minutes to Michigan's three for six. Both of Michigan's goals came on the power play.
"They went to the review system and they were called goals, and that's why you have the review system in place," said Quinn. "I wish we had five power plays, but that's a whole other story."
The Big Ten and Hockey East tangle again when Michigan State travels to New Hampshire Nov. 7-8.
Players of the week
A newcomer, a familiar name and a name that may well become increasingly familiar.
First star — Minnesota senior forward Travis Boyd: Boyd scored both game-winning goals in Minnesota's sweep of Bemidji State, tallying three goals and an assist on the weekend. Boyd has three goals in four games this season; he had nine goals in 41 contests in 2013-14. This is his third career Big Ten weekly award.
Second star — Michigan freshman forward Dylan Larkin: Larkin registered one goal and five assists in Michigan's two games against Hockey East opponents. Larkin netted the game-winning goal in the Wolverines' 8-4 win over Lowell on Friday and assisted on both Michigan goals in Michigan's 3-2 loss to Boston University on Saturday. It's his first career Big Ten weekly award.
Third star — Penn State junior goaltender Matthew Skoff: Skoff earned the third star for the second consecutive week, stopping 57 of 59 shots he faced in the Nittany Lions' sweep of Holy Cross, for a weekend save percentage of .966 and GAA of 1.00 in the two contests. This is his third career Big Ten weekly award.
My ballot
1. Minnesota
2. Union
3. Boston College
4. North Dakota
5. Colgate
6. Providence
7. Notre Dame
8. Massachusetts-Lowell
9. St. Cloud State
10. Ferris State
11. New Hampshire
12. Michigan
13. Miami
14. Minnesota State
15. Quinnipiac
16. Denver
17. Minnesota-Duluth
18. Robert Morris
19. Alaska
20. Alaska-Anchorage