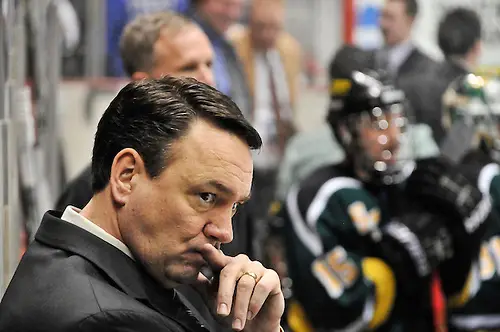 St. Norbert won the national championship last year, its fourth in program history, but Green Knights' coach Dan Coghlin doesn't see his team as the defending champs.
"We don't look at it as defending a title," Coghlin said. "It's a brand new season and every team wants to be a champion. We want another shot at the title, too."
But before the Green Knights can dream about a national championship, they need to focus on surviving the NCHA. That is much easier said than done.
"It's one of the best conferences in the country, and I expect that to be the case again this year," Coghlin said. "I think the teams near the bottom are going to be much better this year, and the fact that it is competitive makes everyone better."
The Green Knights are led by Cullen Bradshaw, who led the team in points (42) and was tied for third in goals on a team that put the puck in the net 150 times. The return of David Jacobson in goal should also help St. Norbert's cause to repeat as league champs and contend for the national title.
"We lost some very good players from last year's team, core guys who killed penalties and core guys who scored goals, but we do have experience back, too," Coghlin said. "This spot isn't new to us. We've been here before. But we have a different team and have to find some other guys to step up and fill the voids."
Adrian will also contend for the league title after playing in the NCAA tourney. The Bulldogs fell to St. Norbert in the opening round. Josh Ranalli and Duston Hebebrand will lead the way, scoring 21 and 18 goals, respectively last year.
Lake Forest and St. Scholastica will be contenders as well. Both teams played in the league tournament last year, with St. Scholastica finishing as the league tourney runner-up. The Saints will lean heavily on Dylan Nowkowski and Dave Williams. Nowkowski was second on the team in poitns (25) and Williams was the team's second-leading goal scorer (10).
The Foresters are coming off one of their best seasons in program history, winning 15 games, and they are ready to ride that momentum into this year. Bobby Barrett will pave the way as he tallied 18 goals and 12 assists last season.
Marian just missed out on a spot in the conference tourney, finishing fifth in the standings, but have a shot at getting there this season as they are expecting big things from Brian Berger, who racked up six goals and nine assists last year.
The Milwaukee School of Engineering, which battled injuries, will be looking for a bounce-back year after losing several close games. One of the keys to its success will be goalie Austin Campbell, one of the most talented freshmen in the league. He made 337 saves last year.
Finlandia, Lawrence and Northland are expected to be improved teams and could very well pull off an upset win on any given night. Finlandia and Northland are two of the four teams in the league with new coaches. Lake Forest and Adrian are the other two schools.
Seamus Gregory, the head coach of Northland, shared his thoughts on trying to get a program back on track. His team has 17 newcomers.
"In our first year of this rebuilding process, we are looking to compete every night," Gregory said. "There will be growing pains, but we are excited about what the future holds."
Adrian
Nickname: Bulldogs
2013-14 Record: 22-3-4 overall, 14-1-3 NCHA
2013-14 Postseason: Lost 7-2 to St. Norbert in opening round of NCAA tournament
Head Coach: Adam Krug (1st season)
Key Returning Players: F Josh Ranalli (21-13–34); F Duston Hebebrand (18-16-34); D Ryan Gieseler (3-15–18); G Scott Shackell (2.40 GAA)
Key Departures: F Josh Cousineau (8-22–30); F Shelby Gray (9-8–17); F Zach Wilson (5-2–7)
Thoughts: The cupboard certainly won't be bare for first-year head coach Adam Krug, who played two seasons for the Bulldogs and ranks seventh all-time in points (129). Among the key players back for the Bulldogs are high-scoring forwards Josh Ranalli and Duston Hebebrand. The seniors combined to score 39 goals last year, including 21 by Ranalli as the Bulldogs finished second in the league standings. Adrian racked up 119 goals as a team, averaging 35.2 shots per game, and should be just as productive again this season. The Bulldogs will also be able to count on an experienced goalie in Scott Shackell, who played in 15 games while fashioning an 11-1-1 record. Adrian closed the year with two consecutive losses, but shouldn't have any problem starting strong and putting itself in the mix for the NCHA championship.
Concordia (Wis.)
Nickname: Falcons
2013-14 Record: 10-13-4 overall, 7-9-2 NCHA
2013-14 Postseason: Did not qualify
Head Coach: Jasen Wise (17-31-4, 3rd season)
Key Returning Players: F Devin Stuermer (12-13–25); F Brett Penner (12-12–24); F Chris Hughes (11-12–23); F Buster Hebda (5-7–12); D Brandt Weldon (3-8–11) G Domingo Torrenueva (3.62 GAA); G Jake Hebda (3.54 GAA)
Key Departures: D Brandon Bayer (2-10–12); F Dan Shilts (3-7–10); F Riley Storzuk (6-14–20)
Thoughts: The Falcons will have an opportunity for a winning season as they return a good chunk of their offensive talent, including forward Devin Stuermer, who scored 12 goals and dished out 13 assists. Brett Penner came through with 12 goals and 12 assists and Chris Hughes also finished in double figures in goals, tallying 11. The Falcons will also look for leadership from Buster Hebda, who will a team captain this season. Hebda scored five goals and dished out seven assists last year. Goaltending shouldn't be an issue either as the Falcons return two goalies with experience. Domingo Torrenueva played in 19 games last year and tallied 507 saves. He fashioned a record of 7-7-2. Jake Hebda was injured after playing in only five games last year, but is healthy again and ready to compete for time in goal after a 2-1-2 season a year ago.
Finlandia
Nickname: Lions
2013-14 Record: 3-20-1 overall, 2-16 NCHA
2013-14 Postseason: Did not qualify
Head Coach: Dan Litke (1st season)
Key Returning Players: D Travis Armstrong (7-13–20); F Ryan Daavetilla (7-3–10); F Scott Vargas (4-5–9); G Andrew Brownlee (.909 save percentage)
Key Departures: F Shigenobu Kakudate (7-17-24); D Mike Montrose (3-10–13); F Cody Essel (2-8–10)
Thoughts: It was a tough year for the Lions, who finished last in the conference. They struggled offensively, scoring only 50 goals, and struggled on defense as well, giving up 107 goals. Finlandia lost its top scorer in Shigenobu Kakudate and will look to players such as Travis Armstrong, Ryan Daavetilla and Scott Vargas. But others will have to step up as well if Finlandia is going to take a step forward under a new head coach. The Lions have added several newcomers with scoring ability, including Cody Wickstrom, Tim Santapoalo and Lane King. They will likely get an opportunity to make an immediate impact. First-year head coach Dane Litke has his work cut out for him, but in time, he should be able to turn things around. He was a successful coach in the NAHL and won a national title as a player at North Dakota.
Lake Forest
Nickname: Foresters
2013-14 Record: 15-12-1 overall, 11-7 NCHA
2013-14 Postseason: Lost 6-0 to St. Norbert in semifinals of NCHA tournament
Head Coach: Pat Kelliher (1st season)
Key Returning Players: F Bobby Barrett (18-12–30); F Jack Lewis (10-8–18); F Jason McAloon (9-9–18); F Luke Swardenski (6-12–18); D Ben Certo (3-15–18); D Andrew Stein (7-10–17); D Charlie Stein (1-13–14); G Leo Podolsky (2.60 GAA)
Key Departures: F Mike Violette (8-18–26)
Thoughts: The Foresters are coming off one of their best seasons in a decade, including their best conference record in 27 years. And while Lake Forest will be under the direction of a new coach, he is a coach familiar with the program. Pat Kelliher was promoted to the top job after serving as an assistant since 2010. The Foresters have plenty of talent back, including Bobby Barrett, who scored 18 goals and dished out 12 assists last season to lead the team in points (30). Jack Lewis, Jason McAloon, Luke Swardenski, Ben Certo, Andrew Stein and Charlie Stein will all be key contributors as well for an offense that tallied 92 goals last season. The defense should be improved as Leo Podolsky is back in goal. Lake Forest will look to improve on the road this year as well. A year ago, it went 6-8-1 while going 9-4 at home.
Lawrence
Nickname: Vikings
2013-14 Record: 6-19-2 overall, 5-12-1 NCHA
2013-14 Postseason: Did not qualify
Head Coach: Mike Szkodzinkski (90-114-18, 9th season)
Key Returning Players: F Blake Roubos (10-15–25); F Logan Lemirande (5-10–35); F Rudi Pino (5-4–9); D Brandon Boelter (1-14–15); D Steve Hughes (1-7–8); D Erik Soderlund (0-1–1); G Mattias Soderqvist (3.64 GAA)
Key Departures: F Huck Sanders (13-9–22); D Will Thoren (4-8–12)
Thoughts: The Vikings are coming off their worst season under head coach Mike Szkodzinski, but are hoping to bounce back on the strength of several key returning players. That group includes Blake Roubos, who led the Vikings in points and was second on the team in assists with 15. He also scored 10 goals and was named one of the top newcomers in the conference. Logan Lemirande and Rudi Pino are also back to provide help offensively for a team that managed only 58 goals last season. Like Roubos, Lemirande also earned a spot on the All-NCHA Freshman Team. Defenseman Brandon Boelter will provide a lift to the offense after dishing out 14 assists last year. The Vikings will also have experience in goal as Mattias Soderqvist returns. He tallied 482 saves last season and should help the Vikings improve defensively after they allowed 111 goals as a team.
Marian
Nickname: Sabres
2013-14 Record: 12-13-2 overall, 10-7-1 NCHA
2013-14 Postseason: Did not qualify
Head Coach: AJ Aitken (25-25-3, 3rd season)
Key Returning Players: Brian Berger (6-9–15); D Tom Nosella (0-5–5); F Matt Williams (10-11–21)
Key Departures: F Tyler Klein (14-18–32); Josh Baker (2.29 GAA)
Thoughts: Marian finished on the outside looking in for the conference tournament, finishing fifth but is poised to contend for a spot this season. The Sabres have one of their best offensive threats back in Brian Berger, who tallied six goals and nine assists. He is a threat to score every time he has the puck. Tom Nosella and Matt Williams will both provide leadership as well in their fourth seasons. Williams will look to build on the offensive success he enjoyed a year ago. One of the biggest keys for the Sabres will be replacing goalie Josh Baker, a three year starter between the pipes. Baker started 22 games last year. Marian has brough on several key newcomers, including Hunter Stewart, a standout in the BCHL who should make an immediate impact on offense. Curtis Lewington and Mark Whitley will also have a chance to play right away while Mike Gudmandson could compete for time in goal. Marian will be challenged often, facing five opponents who finished in the top 10 of the national rankings last year.
Milwaukee School of Engineering
Nickname: Raiders
2013-14 Record: 7-19-1 overall, 6-12 NCHA
2013-14 Postseason: Did not qualify
Head Coach: Mark Ostapina (196-149-15, 14th season)
Key Returning Players: F Gage Christianson (6-14–20); D Logan Bauman (2-4–6); F Evan Wilson 5-1–6); G Austin Campbell (2.04 GAA)
Key Departures: F West Bauman (2-12–14); F Steven Shaffroth (6-7–13); D Michael Thompson (3-7–10); D Devin Schmitt (1-3–4)
Thoughts: Injuries and a tough schedule made life tough last season, but the Raiders still managed to be competitive despite everything and should be poised for a bounce-back season. Having Gage Christianson back will help a great deal as he finished with 20 points last season. The return of Logan Bauman and Evan Wilson will also be key as the Raiders look to improve on an offensive effort that produced only 45 goals. Defensively, MSOE should be in good shape with Austin Campbell back in goal. Campbell made 337 saves a year ago and was named one of the league's top freshmen. Fourteen newcomers have also been added to the roster and several will have a chance to make an impact. Among the key newcomers are Jerad Tafoya, James Ring and Clint Garris. All three played for the Topeka Roadrunners of the NAHL and led the team to a South Divsion playoff title last year. Patrick Dwyer could also step up right away after leading the Salt Lake City Moose of the WSHL in scoring each of the last two seasons. As long as the Raiders are healthy, they should be in a position to be much more successful this year.
Northland
Nickname: Lumberjacks
2013-14 Record: 4-21 overall, 4-14 NCHA
2013-14 Postseason: Did not qualify
Head Coach: Seamus Gregory (1st season)
Key Returning Players: F Anthony Stempin (5-7–12); F Matt Lennon (3-5–8); D Matthew Valley (0-5–5)
Key Departures: F Michael Lennon (9-12–21); F Louis Labbe (7-11–18)
Thoughts: Northland will be under the direction of a new head coach and there is no question that the Lumberjacks will be in rebuilding mode after winning only four games last season. Anthony Stempin will be counted on to help lead the way offensively, while Matt Lennon and Matthew Valley will need to step up as well if Northland is going to improve offensively after scoring just 54 goals last season. The Lumberjacks aren't expected to win a lot of games but they will be expected to be compete hard night in and night out. The hope is that the competitiveness of the team will translate into success in the long run.
St. Norbert
Nickname: Green Knights
2013-14 Record: 28-3-1 overall, 16-2 NCHA
2013-14 Postseason: Won national championship with 3-1 win over Wisconsin-Stevens Point
Head Coach: Tim Coughlin (462-122-47, 22nd season)
Key Returning Players: F Cullen Bradshaw (15-27–42); F Mason Baptista (11-26–37); F Erik Cooper (15-21–36); F Michael Hill (20-13–33); D Marian Fiala (5-20–25); D Blake Thompson (4-18–22); F Tyler Zepeda (9-12–21); F Chris Rial (7-8–15); F Pijus Rulevicius (7-8–15); F Ross Pavek (5-6–11); D Sam Higgins (2-11–13); D George Maliaras (2-11–13); F Noah Nelson (1-10–11); F Sam Dougherty (1-1–2); D T.J. Wees (0-1–1); G David Jacobson (1.27 GAA); G Tony Kujava (2.38 GAA)
Key Departures: F Joe Perry (23-13–36); F Brandon Hoogenboom (12-7–19); D Reid Campbell (3-9–12); D Zach McDonald (1-9–10)
Thoughts: It's hard not to look at St. Norbert's roster and think they won't contend for a national championship again this season. The Green Knights, who finished No. 1 in the country, won their fourth title a year ago, winning 18 of their final 20 games en route to the title. Cullen Bradshaw led the team in points last season and was tied for third on the team in goals. Mason Baptista, Erik Cooper and Michael Hill also scored 10 or more goals last season while Marian Fiala and Blake Thompson are back after combining for 38 assists, including 20 by Fiala. Fiala and Thompson are also among six other players who scored at least four goals last season. The Green Knights racked up 150 goals on the season and only gave up 45 thanks in large part to the play of David Jacobson, who started 25 games and allowed only 32 goals. St. Norbert was the first team to lead the country in scoring offense and scoring defense since the NCAA began tracking those statistics in 1996. Repeating as a conference or national champion isn't easy, but if there is a team capable of doing it, it's an experienced Green Knights team.
St. Scholastica
Nickname: Saints
2013-14 Record: 16-9-4 overall, 10-5-3 in the NCHA
2013-14 Postseason: Lost 5-1 to St. Norbert in NCHA tournament championship game
Head Coach: Mark Wick (135-112-33, 11th season)
Key Returning Players: F Dylan Nowakowski (9-16–25); F Dave Williams (10-13–23); D Matt Malenstyn (2-15–17); G Tyler Bruggeman (2.16 GAA, .919 save percentage)
Key Departures: F Brandon Nowakowski (16-13–29); F Alex Valenti (9-14–23); F Paul Marcoux (9-11–20); G Colin Rundell (2.76 GAA)
Thoughts: St. Scholastica played for the NCHA tournament title a year ago after winning its first postseason semifinal game since 2007 when it knocked off Adrian 4-3. The Saints finished third in the overall standings and have the potential to be one of the top teams in the league again this year. It helps that Dylan Nowakowski is back. He was second on the team in points while Dave Williams was the second-leading goal scorer last year. Tyler Bruggeman started 23 games in goal and brings experience to the defense. The Saints will have depth at goal as well as Corey Koop transferred from Wisconsin-Stout. Koop played in 24 games for the Blue Devils last season. The Saints have also added defenseman Rich Coyne from Alaska. The added talent combined with a strong group of returning players should put the Saints in a position to contend for a title.