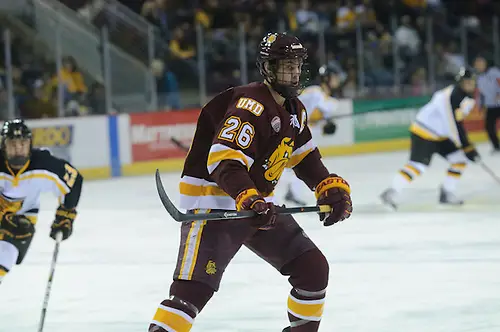 According to the Duluth News Tribune, Minnesota-Duluth senior captain Adam Krause will be out all of November with a broken wrist.
Krause told the paper he broke the radius bone "in a few spots" during the first period of last Saturday's home win over Denver and that doctors have told him his wrist is "in a pretty fragile state." He's hoping for an early December return.
"I don't want it to be a long-term thing," Krause said in the report. "I want it to heal correctly, even though it's going to be tough to stay out. Hopefully, they can get me a cast that can form to my stick so at least I can push some pucks around.
"It was kind of a fluky thing. I've been lucky not to have many injuries. Obviously, the timing isn't great, it's never great. I'll battle back. It's tough watching the guys practice and not be out there."
Krause has a goal, two assists and a plus-4 rating on the season.