There have been nine two-game series so far in Atlantic Hockey, and only two have resulted in a team taking all four available points: a Robert Morris sweep of Niagara on Oct. 17 and 18, and Canisius' pair of victories at American International last weekend.
There have been two series that saw one team manage three points, but the other five two-game sets decided nothing, with each team recording a win and a loss.
Ah, parity. All leagues talk about it, but they prove it in the AHA every weekend.
Two on the road
There was another sweep in Atlantic Hockey last weekend, but it was of the nonconference variety. Bentley scored a pair of convincing wins at Rensselaer, defeating the Engineers 5-2 on Friday and 4-0 on Saturday.
For the Falcons, it was a chance to get back on track after a 6-3 loss to Sacred Heart in their home opener the previous Saturday. Bentley lost its cool as well as the game, taking 48 minutes in penalties in the final 2:08 of the contest, including a game disqualification and another added later by the league.
"It was addressed," said Bentley coach Ryan Soderquist. "It wasn't the way we wanted to play and represent our school. We took care of business behind closed doors and were able to put it behind us."
Soderquist's team indeed put the incident in the rear-view mirror with 120 minutes of the kind of hockey he says Bentley wants to play every night.
"We were able to do the things we worked on and talked about," he said. "It started with a team commitment to defense first. It means blocking shots and backchecking.
"We got great secondary scoring. Our second power-play unit was great. Our PK was phenomenal."
The Falcons got goals from eight different players (including three power-play goals and a short-handed tally) and after allowing Sacred Heart to score six times the previous Saturday, held RPI to just two goals on the weekend, killing off all eight Engineers power plays.
Junior Gabe Antoni made 18 saves to pick up the win on Friday, and senior Blake Dougherty, who had played sparingly in three seasons behind former starter Branden Komm, posted a shutout in just his second career start.
"[Both goalies] had a good week of practice," said Soderquist. "We decided that both would get a start and both played well.
"I'm happy for Blake. He made the most of his opportunity."
The Falcons hope to replicate the success of last weekend as they travel to Penn State this weekend for another two-game series in front of another large, partisan crowd.
"We have the same game plan," said Soderquist. "At this point in the season for us it's about establishing what we want to do to be successful as a team, running our systems and playing our game."
When asked what has surprised him so far this season (besides the play of Dougherty), Soderquist pointed to the depth that has emerged at forward so far.
"We really have four solid lines that can score," he said. "And we're going to need another team effort this weekend. With the parity in college hockey, the margin of error is small."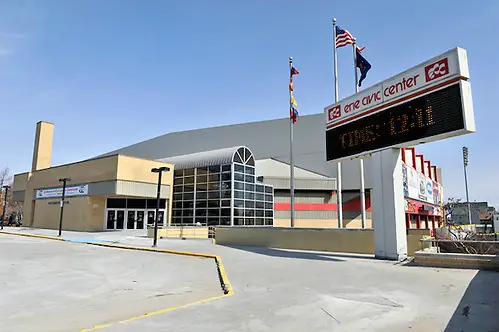 A home away from home
When Mercyhurst announced that it was hosting something called the "Snowtown Throwdown," I thought to myself, "Not another outdoor game!"
But I was pleasantly surprised to see that the Lakers will remain indoors, but for two games this season, and hopefully annually, Mercyhurst will play in the more spacious Erie Insurance Arena.
Mercyhurst will move its series with Ohio State on Jan. 2-3 from the Mercyhurst Ice Center (capacity 1,300) to the larger arena downtown (capacity 6,000).
Proceeds from the games will benefit The Warming Center hosted at the Mental Health Association of Northwest Pennsylvania.
"We are extremely excited to be hosting this event," Mercyhurst coach Rick Gotkin said in a statement. "To not only have a nationally recognizable school like Ohio State come to Erie to play, but to be able to do so at the beautiful Erie Insurance Arena is unbelievable."
Points taken
Army is off to a good start, in third place in the standings after three weekends of conference play. A key for the young Black Knights is consistency: Army has taken points each of those weekends, the latest coming in a 3-3 tie with Robert Morris, the first blemish on the Colonials record (5-0-1) and ruining their bid to set a record for the longest winning streak in school history.
Nine different players have scored for the Black Knights this season, and three of their top four scorers so far are freshmen. Sophomore Parker Gahagen sports a .929 save percentage.
Army steps out of conference play for the first time this season on Friday, hosting Brown.
Welcome to the club
Last Friday, Mercyhurst senior Matt Zay became the 17th player in school history to record 100 career points with a goal with 32 seconds left in regulation to force overtime against Merrimack. The Lakers lost the game 5-4.
Zay has 34 goals and 66 assists in 116 games. Two teammates are right behind him: Ryan Misiak has 96 career points and Daniel Bahntge has 91.
Finishing strong
Teams that finish strong are usually successful, and a look at the top of the standings finds Robert Morris and Canisius in first and second place, respectively.
Both have capitalized on strong third periods. The Colonials have scored almost half of their goals in the final frame: ten out of 21. Canisius' scoring is even more lopsided with 11 of its 18 goals coming in the last 20 minutes of play.
Weekly awards
I'm going with the same honorees as the league, especially because it couldn't decide on forwards or goalies either.
Players of the week — Cody Freeman, Canisius, and Cody Wydo, Robert Morris: Freeman had three goals and an assist to lead the Golden Griffins to a sweep at American International, while Wydo matched that to help the Colonials take three points from Army. Wydo leads the conference in scoring so far with seven points, while Freeman is tied for second with six.
Goalies of the week — Dalton Izyk, Robert Morris, and Blake Dougherty, Bentley: Izyk wins the award for the second time in this young season, posting his second shutout in three starts last Saturday with a 36-save performance at Army. Dougherty, making just his second career start for the Falcons, made 19 saves in a shutout of RPI.
Rookie of the week — Nolan Sheeran, Canisius: Like Bentley's Dougherty, a native of East Amherst, N.Y., Sheeran had three assists to help the Griffs to their sweep at AIC.