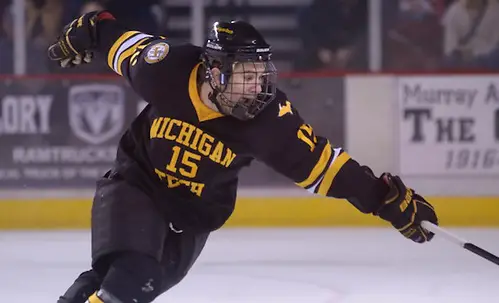 Each week during the season we look at the big events and big games around Division I men's college hockey in Tuesday Morning Quarterback.
Jim: Last weekend was a tough one for the top 20 in the USCHO.com Division I Men's Poll. Just two teams ended the weekend with two wins (Massachusetts-Lowell over New Hampshire and Michigan Tech over Michigan) while North Dakota posted a single win over Air Force in the U.S. Hockey Hall of Fame Game.
Granted, many top 20 teams were facing one another, but is there an explanation for the lack of sweeps among the nationally ranked?
Todd: I can think of two, the first being that some of those teams won't be nationally ranked for long. It's hard to justify a 2-5 Michigan team being considered among the top 20 teams right now. Maybe the Wolverines will end up being a good team, but I like to think the rankings as a combination of performance and potential, especially this early in the year.
The other is that early in the year it seems teams are a lot closer to each other in terms of competitive level. At some point we see the best teams break apart, but now those teams are right in the pack with everyone else as they continue putting the pieces together.
Jim: There are a number of teams that have had starts that are above expectations. Robert Morris (7-0-1), Penn State (5-1-2), Lowell (5-1-1), Vermont (4-1-1), Merrimack (5-1-1), Northern Michigan (5-0-1) and Michigan Tech (6-0). In your estimation, which of these teams will we still be talking about in March and April?
Todd: I look to teams that have at least some experience with the pressure that comes in the second half of the season, and for that I look at Lowell. It's hard to overlook how young a team that is, but there are enough players that went through the stretch run last season to be a bit of a guide for the newcomers. You see the River Hawks a lot; how are they handling that youth?
Jim: I think that they youth of Lowell is being counteracted by the solid play of the team's sophomores. Joe Gambardella, Evan Campbell and Chris Maniccia are both scoring at solid clips, while the improvement of blueliner Dylan Zink has meant a lot to the team on both sides of the puck.
There has also been unprecedented balance in scoring, with 16 different players scoring goals through seven games. All of that combined has Lowell playing well from the get-go.
I am surprised that you left Michigan Tech from the equation. True, the team doesn't have a lot of late-season experience but coach Mel Pearson certainly does, being a former assistant at Michigan. At 6-0, does Tech have what it takes to be championship caliber in your opinion?
Todd: I'm trying to hold judgment on Michigan Tech. I don't think there's any question that the program has started to turn a corner with Pearson, but I'm not sure how far around that corner the Huskies are.
Don't get me wrong: sweeping Michigan in front of two sellout crowds in Houghton last weekend was worthy of all of the attention. The Huskies are deservedly in the top 10. I just think that midseason may be a better time to get a sense of how much mojo this Huskies team has.
Jim: There is another Huskies team that right now is living at the other end of the spectrum. I, personally, am concerned about Northeastern, which dropped to 0-6 with two losses to Quinnipiac last weekend. While it is never too early to panic about a team with high expectations, when does a season become a lost season due to a slow start?
Todd: I think back to the 2008-09 Wisconsin team that started 0-6-1 and managed to finish four games above .500 for a little bit of context here. Maybe Northeastern can rally around getting some goals against Quinnipiac last weekend, even if it wasn't able to hold a 2-0 lead on Sunday. And maybe the Huskies can look at the Hockey East standings and see that 0-2 isn't too terrible a hole from which to climb. But that has to happen soon.
Jim: One other team whose start surprises me is Niagara. Just two years removed from an NCAA at-large bid, the Purple Eagles are 0-8 out of the gate. Worse, the team has scored three goals just once and is averaging just over a goal a game. Any other team stand out for its difficult start?
Todd: Lake Superior State was 0-9 under first-year coach Damon Whitten going into last Saturday's game at Alaska-Anchorage, but the Lakers got in the win column with an overtime victory on Bryce Schmitt's team-high third goal of the season. Something to build on with a trip to Alabama-Huntsville up next.
Thumbs up
To North Dakota's comeback effort in last Saturday's 3-2 overtime win over Air Force. UND trailed 2-0 entering the third period before tying the game with 29 seconds left, setting up this winner from Bryn Chyzyk:
[youtube_sc url=https://www.youtube.com/watch?v=bkpQJxsY1QA]
Thumbs down
To some teams' power plays. Not counting teams that haven't yet posted a power-play goal, there are five schools that are net zero for goals on the power play, factoring in short-handed goals allowed: Connecticut, Providence, Michigan State, Colorado College and Alabama-Huntsville. New Hampshire goes one further with one power-play goal scored and two short-handed goals allowed. Then again, the Wildcats also have an equal number of short-handed goals scored and power-play goals allowed, two each.
Coming up
The first meeting of the season between Boston College and Boston University brings together a pair of top-five teams. The third-ranked Eagles host the fifth-ranked Terriers on Friday.
Minnesota, still No. 1 in the USCHO.com Division I Men's Poll despite its first loss of the season last Friday, hosts No. 15 Notre Dame on Friday and Sunday.
No. 7 St. Cloud State hosts No. 17 Minnesota-Duluth in an NCHC series, and No. 20 Northern Michigan puts its 5-0-1 record on the line against No. 16 Ferris State.