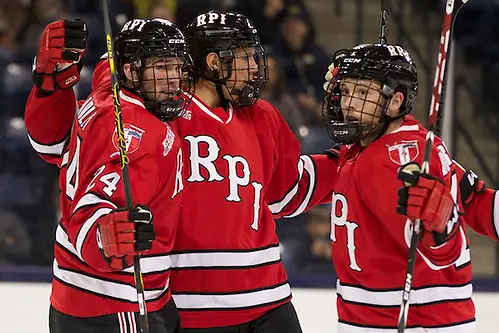 Breaking a five-game losing streak with a sweep of the defending national champions is a big deal for any school — never mind when that team is your fiercest rival.
That's what transpired last weekend, as Rensselaer opened conference play with a 6-1 win over Union on Friday, followed by a 2-1 overtime win Saturday. The Engineers had scored only six goals on the season entering Friday's game.
"I don't know if I expected wins, but I expected them to respond with this type of effort," RPI coach Seth Appert said following Saturday's game. "I didn't know if that would win this weekend, but long term that [effort] wins."
It's the first time since the 2003-04 season that the Engineers swept Union in conference play. It was also the third win in a row for RPI against the Dutchmen, a stretch preceded by a 10-game losing streak dating to 2011.
On Friday, the Engineers offense was led by sophomore Riley Bourbonnais, who scored his first three career goals after appearing in only nine games last season. He's the first RPI player to record a hat trick against the Dutchmen since Matt Murley did it on Jan. 16, 2002.
The six-goal outburst came on RPI's annual Black Friday game, a tradition in place since 2003 that marks the school's first conference game of the year. The Engineers wore custom black jerseys with the names of every player who has played at Rensselaer.
MH | By popular demand, the #RPIHockey Black Friday jersey to be worn by Engineers tonight #historyandtradition pic.twitter.com/PuonwCFihI

— RPI Athletics (@RPIAthletics) October 31, 2014
"Wearing a jersey with every player's name on it in the history of our program means a lot," Appert said. "Our guys went out and played like it meant a lot."
While the offensive production was improved — something Appert credited to RPI's ability to not overcomplicate things — it was also a solid weekend for goalie Jason Kasdorf, who finished with 58 saves and has a .924 save percentage this year after missing much of last season due to an injury.
"It seems that when we're scrambling Jason does a really good job of feeling that and finding a way to get a whistle so that we can get a line change and get tired guys off the ice," Appert said.
Last week, Appert said he wasn't panicking despite RPI's five-game losing streak. Last weekend might not have solved everything, but it did show the Engineers' ability to rebound following a rough stretch.
"You learn what you have in your leadership," Appert said about the weekend. "Early in the season, it's important not to be overbearing as a coach and let your seniors take some ownership and handle things. I did that and I just couldn't be happier with the job that [captain] Curtis Leonard and his classmates did in making sure our response was what it needed to be."
Rivalry, part II
RPI and Union weren't the only rivals to play last weekend. Clarkson and St. Lawrence met in a pair of nonconference games, with the teams tying Friday in Canton and the Saints blanking the Golden Knights 4-0 the next night in Potsdam.
The series-opening 2-2 tie Friday had no penalties called, the first time that's happened in a game between the Golden Knights and Saints since the 1963 ECAC consolation game. Clarkson won that game 7-5.
"The refs decided not to call any penalties and that was just fine with me," St. Lawrence coach Greg Carvel told SaintsAthletics.com. "They let the guys play and the players on both sides responded with a nice, clean game."
Saturday's win was the second shutout of the season for St. Lawrence freshman Kyle Hayton, who has started every game for the Saints and leads the nation in minutes played and is tied for second behind Colgate's Charlie Finn with two shutouts.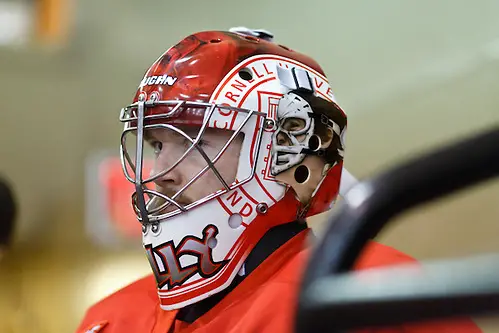 New goalies, same Big Red
Former Cornell goalie Andy Iles might have not been the biggest or flashiest goalie in the league, but the Ithaca native was steady during his four seasons with the Big Red.
That consistency is something Mike Schafer is hoping carries over into this year, be it with freshman Hayden Stewart or sophomore Mitch Gillam.
"The biggest challenge for those two guys is to find out who is going to be the most consistent," Schafer said. "If it's two guys, it's two guys. If it's one guy, it's one guy."
Each goalie got a chance last weekend against high-scoring Omaha. Gillam made 38 saves in a 1-1 tie in the Big Red's season opener Friday, while Stewart stopped 21 shots in a 2-1 loss Saturday.
While Cornell has typically had one player carry the load (Iles started all but one game the last three years), Schafer has platooned his goalies before.
As a freshman, Iles split time with Mike Garman in 2010-11 after the graduation of Ben Scrivens, who split time with Troy Davenport during the 2006-07 season.
Around the league
• Yale opened its season by winning the Liberty Hockey Invitational held in Newark, N.J. The Bulldogs beat in-state rivals Connecticut 2-1 in the championship Sunday, moving their record to 11-0 all-time against the Huskies. Yale tied Princeton and new coach Ron Fogarty 2-2 Friday before advancing on freshman Ryan Hitchcock's shootout goal. Bulldogs sophomore Alex Lyon stopped 67 of 70 shots on the weekend and was named tournament MVP.
• Union has received 20 points from its freshman class, tied for second-most in the country. Quinnipiac's freshman class has accounted for 17 points thus far, which is tied for fourth.
• Harvard defenseman Patrick McNally had two goals in the Crimson's 3-3 season-opening tie against Dartmouth. The senior had one goal each of the last two seasons after scoring six as a freshman. However, he missed much of his sophomore year after reportedly being dismissed as part of a school-wide academic scandal.
• The ECAC announced its monthly and weekly award winners. Union forward Mike Vecchione was named the player of the month, while Colgate's Charlie Finn was the goalie of the month and St. Lawrence goalie Kyle Hayton was the rookie of the month. RPI's Riley Bourbonnais (player) and Jason Kasdorf (goalie) each earned weekly honors from the league. Quinnipiac's Landon Smith was named the rookie of the week.
• Former Union forward Josh Jooris scored twice Calgary's 6-2 win over Montreal on Sunday. The rookie has three goals in six NHL games.