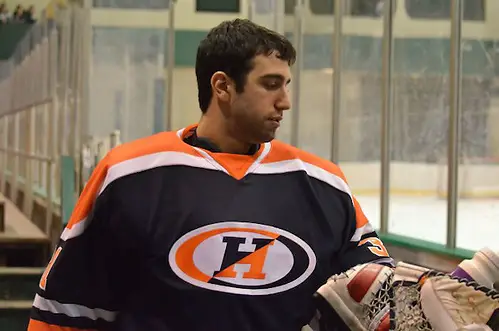 Our East columnist, Dan Hickling, and our West columnist, Brian Lester, are back at it this week with their picks for the weekend's top games.
BRIAN LESTER
Another weekend of college hockey is about to begin.
For some teams, conference play continues this week while other teams are set to battle in pivotal nonconference games that will prove beneficial in the long run.
One of the big matchups of the weekend is St. Thomas' showdown with Wisconsin-Stevens Point. The two teams met in the NCAA tournament a year ago, with the Pointers winning and going on to finish as the national runner-up.
The Tommies come in at 1-1-2 on the season and will face a huge challenge on the road against the Pointers.
St. Thomas is led by Willie Faust, who has tallied three of the team's seven goals. He no doubt needs to have a big game for St. Thomas to thrive.
Drew Fielding is allowing 1.69 goals per game and has tallied 82 saves. His play between the pipes will go a long way in determining how the Tommies fare against the sixth-ranked Pointers.
Stevens Point comes in stinging from a 3-2 loss to St. Olaf and is eager to get back on track.
Lawrence Cornellier leads a balanced attack, having tallied three goals. Four others have scored at least two goals. The Pointers have been particularly tough on defense, allowing only four goals. Brandon Jaeger has shined in goal, making 73 saves.
This one will be close, but with the Pointers being at home, they get get the edge. Stevens Point, 3-2.
Other predictions for the weekend:
Gustavus Adolphus (2-2) vs. Concordia (Minn.) (2-2): The Gusties enter their first league series of the season averaging nearly four goals per game. They have scored 13 on the season. Jake Bushey has fueled the attack with our goals. Gavin Tufte has scored twice. Gustavus has yet to give up a power play goal and Erik Johnson has stepped up between the pipes. He has racked up 107 saves in four games.
The Cobbers have shown a lot of potential on offense as well, scoring 12 goals so far. Jon Grebosky has been the top scoring threat, having tallied four goals and an assist. Andrew Deters has also played well. He has scored once and dished out three assists.
Concordia has the luxury of playing both of these games at home and should at least be able to to steal one of them in a battle of two teams that made the MIAC playoffs a year ago. Concordia 4-3, Gustavus 5-3.
St. John's (2-0-2) vs. St. Olaf (1-3): Another matchup of two MIAC playoff teams from a year ago. The Johnnies have yet to lose and have shown they have the potential to be a very good team after playing Wisconsin-Eau Claire to a 3-3 tie last week.
The Johnnies have scored 11 goals, with Neal Smith paving the way with four. Saxton Soley is one of the top goalies in D-III hockey and his play will be key in the series. He owns a goals-against average of 1.88 and has made 88 saves in three starts.
St. Olaf dropped three of its first four, but did knock off Stevens Point last week for its first win. The Oles are led by Brian Hickey, who has scored two of the team's eight goals. Steve Papciak has made 96 saves. If St. Olaf can duplicate its effort against the Pointers, they will at least get a split in this home-and-home series. St. Olaf 3-2, St. John's 5-3.
Augsburg (3-1) vs. Wisconsin-River Falls (2-0): The Auggies are riding high after winning their last two, scoring 10 goals in two games against Bethel. Mark Ohnstead has paced the offense with four goals. Dylan Meier and Rory Vesel have tallied two goals apiece. The Auggies play well as a team. They have dished out 24 assists, including five from Ben McClellan and four from Zach Dick. A total of 14 players have registered at least one assist.
The Falcons have already beaten two MIAC teams and have scored nine goals in their first two games. Alex Murphy is off to a great start, scoring four goals, while goalie Tanner Milliron has come up with 52 saves.
River Falls has been particularly efficient on the power play, having tallied five goals already, but I think Augsburg goes on the road and gets the win. Augsburg, 4-3.
St. Norbert (4-0, 4-0 NCHA) vs. Lake Forest (2-1, 1-1): The defending national champions have been an offensive machine through four games, racking up 28 goals. Ten players have scored at least two goals apiece. The Green Knights have also been sensational on the defensive end of the ice, allowing just four goals on 59 shots. David Jacobson has been solid between the pipes, making 47 saves in three starts. Tony Kulava has started once and has made eight saves.
For Lake Forest, this series is a chance to make a statement against the No. 1 team in the country. The Foresters have shown off their potential to be solid on offense and have tallied 15 goals. But if Lake Forest is going to have a chance at success in this series, it needs to play well on defense. Goalie Leo Podolsky has started twice and has made 58 saves. St. Norbert is just too good offensively to lose in this home-and-home series. St. Norbert 6-2, 5-1.
Marian (2-2, 2-2 NCHA) vs. Milwaukee School of Engineering (0-4, 0-4): Marian has won its last two games and will look to keep the momentum rolling this weekend. The Sabres have been led by Derek Thorogood and Brodie Jamieson. Both players have tallied two goals apiece. Marian will look to improve a bit on defense this weekend. The Sabres have given up 12 goals, including four on the power play. The good thing is Marian can turn to either Mike Baldwin or Mike Gudmandson in goal. The two have combined to make 115 saves.
The Engineers have struggled, allowing four or more goals in each of their games, and that trend needs to change if they want to get back on track. Of course, all four losses have come against nationally ranked opponents, and that experience could pay off this weekend. Generating offense hasn't been a huge issue. MSOE has tallied 11 goals, with Omar Mullen scoring three times. The Engineers have been competitive and my guess is they find a way to get at least one in the series. MSOE 4-2, Marian 5-3.
DAN HICKLING
Friday
ECAC East – New England College (0-2-1, 0-2-0) at Skidmore (2-1-0, 1-1-0) – NEC 3 Skidmore 2.
Nothing so dangerous as a team hungry for its first win. That description fits the Pilgrims to a tee.
ECAC West – Nazareth (2-0-1, 1-0-1) at Hobart (2-2-0, 1-1-0) – Hobart 4, Nazareth 3.
The upstart Golden Flyers opened some eyes last weekend by taking three out of four points from Utica. Grabbing two more, with Hobart goalie Lino Chimienti standing in the way, might be asking too much.
SUNYAC – Cortland (0-2-1, 0-2-1) at Morrisville (0-2-2, 0-2-2) – Morrisville 5 Cortland 2.
Someone's gotta win their first game, unless of course they tie, which the Mustangs have done twice already. Then they would get to do it all over again on Saturday, when they meet again.
Saturday
ECAC Northeast – Nichols (4-0-0, 2-0-0) at Wentworth (3-0-0, 1-0-0) – Nichols 4, Wentworth 1.
Wentworth is off to a soaring start under new coach Jay Pecora. However, the defending conference champion Bison will beckon their hosts back to Earth.
MASCAC – Fitchburg State (0-2-3, 0-1-1) at Worcester State (1-1-2, 0-0-1) – Fitchburg 1 Worcester 0.
Tired of tying – they have three deadlocks already this season – the Falcons are due to break into the win column. A battle of under rated goaltenders – Fitchburg's Ryan Wysocki and Salvatore Tecci of Worcester – could be in the offing.
NESCAC – Middlebury (0-0-0, 0-0-0) at No. 13 Bowdoin (0-0-0, 0-0-0) – Bowdoin 3 Middlebury 2.
It was a win over Middlebury to open the NESCAC tourney that sent then fifth-seeded Bowdoin on its improbable run to the NCAAs. Now nationally ranked, the Polar Bears will be looking to start another run, this one on opening night.