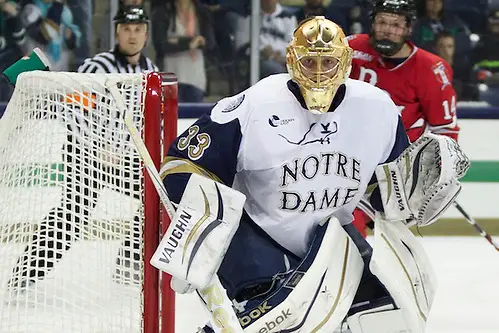 Last week was notable for how every Hockey East team playing a series could manage only a split. As noted in Monday's blog, this held true regardless of home ice or rankings.
It seems that getting the upper hand has become tougher and tougher.
"I thought that was true last year, too," Notre Dame coach Jeff Jackson says. "[It was] our first year in Hockey East, and I felt like it was certainly much more balanced competitively than any other years prior when we were in the CCHA.
"We finished in eighth place and we were [five] points out of second. I think we were seventh or eighth in the country at that time."
That balance throughout the league has accelerated.
"A lot of teams are elevating right now," Jackson says. "Vermont and the team we just played, Merrimack, are better teams than they were a year ago. Obviously, BU is improved.
"Some of the other teams, like ourselves and BC, are younger, and we're kind of feeling our way through it, although it's not that BU isn't young, too."
The combination of last year's powers taking perhaps a step backward while last year's middle-of-the pack (or lower) teams have advanced has added up to a razor-thin margin between winning and losing.
"Certainly from top to bottom," Jackson says, "I don't know if there are any easy outs in this league."
Notre Dame: Good and bad streaks
Notre Dame has without question opened the season in streaky fashion. The Irish lost their first two games at the Ice Breaker Tournament, then won five straight and tied another before losing three of four.
"Consistency has been an issue for us," Jackson says. "That may be hand and hand with having a young group, but I've told our guys that it can't be an excuse. The important thing is they have to learn how to play not just game to game, but period to period."
That inconsistency has extended to the crease, where freshman Cal Petersen and sophomore Chad Katunar have vied to see who will replace Steven Summerhays, who recorded all but three of the decisions last year.
"It's a competition right now," Jackson says. "Katunar has been good at times. Petersen had a real good stretch, but then he hasn't been quite as good lately.
"It's going to be a competition until somebody shows me that they can play with consistency at a high level. I'm OK with two guys rotating if I have to until somebody steps forward.
"At this point, they both have had their real positive moments, and they've had some borderline moments, which is what you'd expect from two goalies who basically haven't played college hockey before."
At the other end of the experience spectrum, senior defenseman Robbie Russo is leading the team in points with five goals and seven assists.
"Robbie's probably been one of the more consistent two-way defensemen we've had," Jackson says. "He has offensive ability and he can defend.
"He did miss the second half of last year because of academic reasons, and if anything it might have put a little fire under his rear. I told him last year that he needed to prepare himself to have an All-American type of year because he had All-American capabilities. Right now he's playing up to those capabilities."
Junior Mario Lucia is also elevating his game, scoring eight goals in 12 games.
"Mario's a kid that always had scoring ability," Jackson says. "I just think this year he's competing a little harder and being stronger over the puck, [which are] some of the things we know he has to get better at so he has the puck more.
"I think he's winning more of those battles on the walls for possession and maybe battles in front of the net. When he has the puck, [he's] being stronger over the puck, not getting stripped.
"I think he's making a conscious effort to improve in those areas, and I think it's put him in more situations where he can score."
Nonetheless, the Irish have lost three of four and will need to improve significantly with their next two games against fifth-ranked Massachusetts-Lowell, followed by another against defending national champions, Union, a team that was ranked second a few weeks ago.
"Obviously, both teams are high-quality teams," Jackson says. "Lowell brings different elements to their game that make them challenging to play. They're always good defensively, but they're also real offensive on transition from their defensive style.
"You have to be real smart with the puck. That's probably where we've been the most inconsistent. We're going to have to play with discipline in how we approach these guys.
"They're No. 5 for a reason. I haven't seen a lot of them yet but I know how they play. [Lowell coach] Norm [Bazin] has done a great job there. He recruits to the style in which they play, so it's not hard for them to replace guys with similar players.
"They're very balanced up front and in the back end, and obviously they haven't missed a beat in goal. They're going to be a big challenge for us, without question."
Boston College: A memorable win
Boston College's 3-2 win last Friday at Michigan State was notable on multiple fronts.
For starters, BC coach Jerry York tied a legend, John "Snooks" Kelley, as the winningest coach in program history with 501 wins. Kelley stood behind the bench from 1932 to 1942 and 1946 to 1972, compiling a 501-244-15 record (.670). York, who played for Kelley, is 501-247-68 (.656) at BC and 968-582-102 overall.
No doubt, York dismissed all talk of his record after the game to focus on the team's win. Which in a sense, is understandable.
The Eagles had gone into the contest having lost an eye-opening four straight. The last time that happened? Way back in the 2003-04 season.
It should be noted that BC advanced to the Frozen Four that year, so a four-game losing streak hardly sounds a death knell for the Eagles. Even so, the win was a welcome turnaround.
"We've been in a little funk as far as how we've been playing recently and we've talked about how we have to be more cohesive in all of it — defensively, offensively — and raise our grit meter, which has been very lukewarm, as far as I've seen," York said after the win.
"I thought our grit was better, I thought our cohesiveness was better. We needed everything, because State gave us all we could handle tonight. It's a significant victory for us."
Northeastern: Off the schneid
Who would have thought it would take until Nov. 15 for Northeastern to earn its first victory? The Huskies defeated New Hampshire 2-1, holding off the UNH power play in the closing minutes.
"We needed a win in this building," Northeastern coach Jim Madigan said after the win. "We haven't played very well in this building."
The Huskies take on Merrimack this weekend in a home-and-home series.
"I have faith in the group in this locker room because they're good kids and they're good hockey players," Madigan said. "We dug ourselves a hole and now it's gonna be one game at a time."
Coining a phrase
Maybe I'm nuts — maybe? — but I got an absolute kick out of coining a phrase in Boston University's win over BC two weeks ago. I'm usually a pretty humble guy, but I think it should earn a regular place in the hockey lexicon.
You all, of course, are well read and know that a pièce de résistance is some sort of prized feature, such as the mouth-watering specialty of a French chef.
Well, in the BU-BC game, the Terriers scored a succession of "greasy" goals to power their comeback win, so I wrote the following to lead off the game story:
No. 5 Boston University rallied with four goals in the third period to defeat third-ranked Boston College 5-3. BC held a 2-1 lead, but the Terriers scored a succession of "greasy" goals to topple their archrivals in front of a capacity crowd. Evan Rodrigues scored twice, including the game-winner, the grease de résistance.
Am I the only one who thinks that grease de résistance is brilliant?
I guess so. Hey, I laugh at my own jokes, too.
Well, if I have any say in it, that's going on my tombstone.