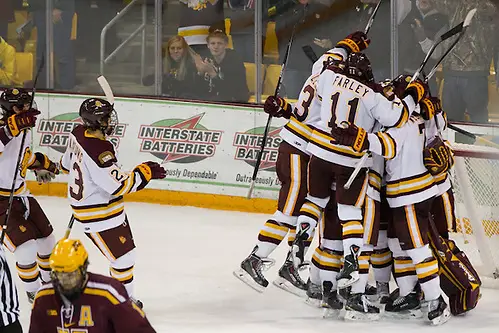 Minnesota-Duluth had a down-and-up start to this season.
And then down again, and then up again, and then down again, and … well, you get the picture.
In their first eight games, the Bulldogs were having difficulty finding the right kind of consistency. They were 4-0 in series finales — if you include the Oct. 12 Ice Breaker Tournament consolation game, two days after the semifinals took place — but they were 0-4 in series openers.
Since the start of November, however, it seems the Bulldogs have finally figured things out.
Starting with a 4-3 win over No. 10 Miami on Nov. 1, UMD has jumped out to a perfect 5-0 record so far this month. The good times kept rolling last weekend when the Bulldogs defeated archrival Minnesota 3-0 in Minneapolis on Friday before besting the Golden Gophers again 2-1 on Saturday in Duluth.
The wins over the hated Gophers came on the backs of two wins at then-No. 7 St. Cloud State on Nov. 7-8.
In UMD's defense, most teams would struggle with the early-season slate the Bulldogs have. From the start of the season through to the middle of January, Colorado College (at home on Dec. 5-6) is UMD's only unranked opponent.
Duluth coach Scott Sandelin said he is glad for the stern competition, however, something he said is expediting his team's development.
"Just playing the teams we've played has helped us identify some things about ourselves, and I'm talking about both good and bad things," Sandelin said. "I'd like to think it's made us a better team, and when you play good teams, you have to be forced to get better, and I think that's helped. It is what it is, though, and there aren't a lot of bad teams, but there's none at all on our schedule, and in our league everybody is good.
"Our schedule in general is challenging, but it's fun, our guys like it, and the idea behind having a schedule as tough as ours is it makes you better."
That certainly seems to be the case, and Minnesota found that out the hard way last weekend. UMD played its most complete game of the season to date on Friday in Minneapolis, as a power-play goal from Andy Welinski 2:07 into the game set the pace in what ended up as a 3-0 blanking.
The victory kept up Duluth's emerging trend of solid performances on Fridays, as UMD had also defeated St. Cloud State 3-2 on the road in overtime on Nov. 7. Getting out to a good start in series openers, Sandelin said, has led to other good things happening for his Bulldogs, too.
Three of their last four games have been on the road, as well, and taking hostile crowds out of the game has helped matters.
"I think the key over the last two weekends is that we've had really good first periods and have just been able to get out to good starts and get a lead," Sandelin said. "Especially when you're on the road in the buildings we were playing in like in St. Cloud and at Minnesota, if you can start fast and take the crowd out of it, that's a big help."
On Saturday, UMD welcomed the Gophers to Duluth for the first time in three years, and the Bulldogs used the big occasion to their advantage. In defeating Minnesota 2-1, UMD picked up its first sweep of the Gophers since 2009.
Sandelin knew that Saturday was a big night for his program, but he said that wasn't something he played up to his team before the game began.
"I don't think anything really needed to be said," he said. "We knew we were going to have a good crowd and, coming off of Friday, it was more about making sure our guys were prepared for another battle and I think they were.
"We just went out and competed hard, and I think for our fans it was great because it's nothing better than when your building's full and you're playing an in-state rival."
Going into the series, however, it was tough to tell what Sandelin's team would look like against the Gophers. He had wondered how his Bulldogs, who travel to No. 13 Omaha this week, would handle such big occasions with the Gophers right after sweeping SCSU.
"I'd been kind of curious how we were going to respond after playing St. Cloud, because turning right back around to play Minnesota was a big deal," Sandelin said. "Our guys are always excited to play them and it's a rivalry game, and I thought Friday was our best game of the year from start to finish, and in their building.
"We knew it would be a lot tougher on Saturday, which it was, but we got a good start and got a good push at the end in the third period and held on a little bit, and that's what I expected. Getting a one-goal win over them then wasn't unexpected, but results like that against a team like that is what you want."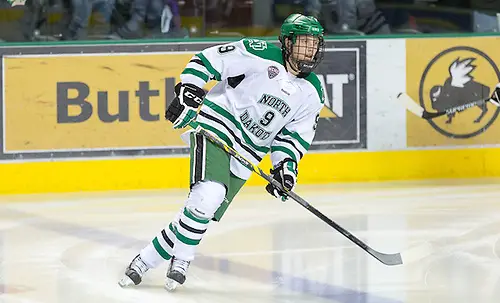 Big Caggiula goals propel North Dakota
Another big series last weekend was going on in Grand Forks, N.D., where second-ranked North Dakota faced No. 7 Miami in a battle between the NCHC's two big preseason favorites.
Miami was a slight underdog in the series but took care of business on Friday night in a 3-2 win. The RedHawks flew out of the blocks and scored two goals in the first 4:15 of the game before fending UND off just enough the rest of the way.
It took a little longer the following night, but Miami eventually gained the upper hand in the rematch, as well. A backhanded Anthony Louis shot beat UND goaltender Zane McIntyre 67 seconds into the second period to give the RedHawks a 1-0 lead.
From there, however, UND took over. Michael Parks created a turnover in UND's offensive zone before Mark MacMillan beat Miami goaltender Ryan McKay from close range at 3:47 of that same period.
Less than three minutes later, UND went ahead for good on an early goal-of-the-year candidate from Drake Caggiula.
Just over six minutes into the second period, Caggiula poked the puck away from a Miami forechecker in the neutral zone. UND's Bryn Chyzyk then fed the puck to Caggiula, who worked the puck between Miami defenseman Ben Paulides' legs before beating McKay five-hole from close range.
"Any time a D-man turns his feet, as an offensive player, you like to cross and make him try to open up his feet," Caggiula said of his nifty move to navigate past Paulides. "Luckily for me, he turned his feet and, as soon as I cut the other way, there was a huge gap between his legs and I was lucky enough to split it through his legs and go in on net."
He also gave plenty of credit to Chyzyk, who was leveled on a big hit at center ice after recording the eventual assist to Caggiula.
"Without Chyzyk taking that hit and making that play, that goal didn't happen," Caggiula said. "It was a great play by him and a great sacrifice to get the puck to me, and you can't ask for any more."
UND coach Dave Hakstol also took a big-picture view of the play and credited Chyzyk for getting the proverbial ball rolling.
"First of all, I was looking at Bryn Chyzyk at center ice hoping he'd be able to get up, because he took a huge hit to make that play," Hakstol said. "That's what started the play, and then Drake just caught a defenseman flat-footed.
"We've seen him do those things before, and it was nice to see him finish on it. He made no mistake once he was in all alone on the goaltender. It was quite a play."
The goal was named NCAA.com's men's ice hockey play of the week.
[youtube_sc url=https://www.youtube.com/watch?v=VdEuvucu2Ic]
Players of the week
Offensive player of the week — Drake Caggiula, North Dakota: The junior UND forward was a big reason why his team was able to pick up a split last weekend against Miami. Caggiula recorded five points and three goals in the two-game set, including two goals on Saturday in a winning effort.
Defensive player of the week — Joey LaLeggia, Denver: The senior defenseman was expected to be an anchor again this year for DU at the blue line, and he hasn't disappointed. He certainly didn't last Friday, either, in picking up a goal and two assists in an 8-1 pounding of in-state rival Colorado College.
Rookie of the week — Patrick Russell, St. Cloud State: The Danish forward has been an early bright spot for the Huskies, and he kept up his good run of form last weekend against Western Michigan. In two games against the Broncos, Russell recorded a goal, two assists and a plus-2 rating.
Goaltender of the week — Kasimir Kaskisuo, Minnesota-Duluth: Kaskisuo has been an excellent plug-and-play netminder early in his time in Duluth. Sandelin has seen the Finn flourish early and he did so again last weekend against top-ranked Minnesota, blanking the Gophers 3-0 on their own ice on Friday before defeating them again 2-1 on Saturday up in Duluth.