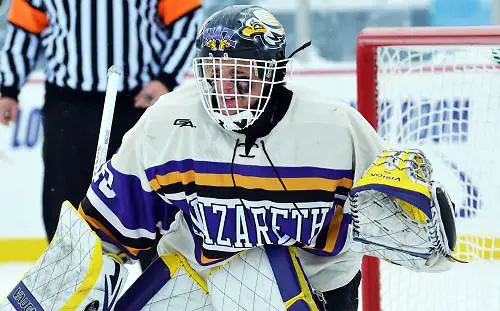 Taking a quick glance back on the goings on in the world of Division III hockey last weekend.
ECAC EAST
– When the first puck dropped at the start of the weekend, three ECACE powerhouses – Babson, Norwich and Massachusetts-Boston – all sported unblemished records. The weekend changed nothing. All three powerhouses came through the weekend unscathed, Babson (5-0-0, 4-0-0) in a breeze with strong wins over Skidmore (6-1) and Castleton (3-0). … Norwich (6-0-0, 5-0-0) walked over St. Anselm 5-1, then eked out a 4-3 win over New England college, with Dean Niezgoda third period goal holding up as the game-winner. … Idle the weekend before, Mass-Boston (6-0-0, 4-0-0) returned with wins over Castleton (2-0) and Skidmore (6-1).
ECAC NORTHEAST
– Weekend action was light – just four tilts on Saturday – but provoked some eyebrow arching. Upstart Suffolk (5-0-1, 4-0-1) slipped into sole possession of first place with a strong 7-2 rout of Becker. Stanton Turner fired in three goals for the Rams … Meanwhile Nichols (5-1-1, 3-1-1) suffered its first loss, 3-2 to Salve Regina. Alan Boozer netted the game-winner at 8:44 of the third, his second goal of the game.
ECAC WEST
– The weekend was a mixed bag for everybody in the West, everybody except for Nazareth. The Golden Flyers took wins over Manhattanville (5-0) and Neumann (3-2). Junior goalie Ed Zdolshek stopped 31 shots for the shutout on Friday, then garnered an assist on James Redman's go-ahead goal Saturday … Elmira and Hobart split their two-game set in Geneva, both by twin 4-2 counts. … Then there was last-place Utica (1-4-2, 0-4-1), who was thumped at home by Neumann, 4-1. The Pioneers, an early season disappointment, followed by battling No. 2 ranked Oswego to a 4-4 tie before a D-III record crowd of 7,047 at the Carrier Dome in Syracuse. Louie Educate's power play goal at 12:34 of the third – his second of the game – served as the game-tying tally.
MASCAC
– A trio of tilts on Saturday, including first-place Plymouth's (3-2-1, 3-0-1) 5-1 waxing of Worcester. Dan Dupell netted a pair of goals. … Massachusetts-Darmouth and Fitchburg State both racked up their first wins of the season. Five different marksmen connected to give UMD a 5-4 win over Westfield, while Fitchburg goalie Ryan Wysocki stopped all 38 Framingham shots to lift the Falcons to a 4-0 triumph.
MIAC
– Concordia (Minn.) completed a sweep of Bethel with a 4-1 win over the Royals on Saturday. The Cobbers continue a streak where they have lost only once in their last five games. Garrett Hendrickson scored a goal and dished out two assists in the win, pushing his point total to 12. Goalie Alex Reichie stepped up as he stopped 30 shots for his third win. He stopped 59 of 62 shots overall on the weekend as CU improved to 4-3-1 overall and 2-1-1 in the MIAC. The Cobbers won 5-2 on opening night….Hamline proved once again that it has made significant strides since last season, playing Gustavus Adolphus to a tie on both nights of their weekend series. The Pipers skated to a 3-3 tie on Friday and to a 2-2 tie the following night. Charlie Adams scored twice for Hamline on Friday. Tyler Lapic struck for a pair of goals for the Gusties in Saturday's win. Hamline was outshot 37-31 on Friday and by a 45-20 count on Saturday. Hamline goalie John Sellie-Hanson racked up 77 saves for Hamline in the two games. Hamline is now 3-3-2 overall and 0-0-2 in the MIAC. Gustavus is 3-2-3 overall and 1-0-3 in the league.
NCHA
– Adrian went on the road over the weekend and picked up a pair of pivotal nonconference wins over nationally-ranked opponents. The No. 6 Bulldogs (8-0) topped No. 9 Wisconsin-Eau Claire 5-2 and finished off the weekend with a 6-4 win over No. 6 Wisconsin-Stevens Point. The win over the Blugolds was the first ever for the Bulldogs in three meetings. Scott Shackell earned the win in goal against Eau Claire, racking up 27 saves. He made 11 of those stops in the third period. Adrian scored the final two goals in the battle with the Pointers, notching their fourth road win of the season in the process. Adrian converted on its first three power-play attempts of the game en route to the victory. Josh Ranalli scored twice to pace the Bulldogs. Taylor McCloy came through with three assists. Stevens Point held a 37-21 edge in shots on goal, but Shackell stepped up and tallied 33 saves…Lake Forest has been battled tested this season, and Saturday night marked the fourth consecutive game where it played a nationally-ranked opponent. The Foresters were coming off a 5-1 loss to Stevens Point on Friday but gave Eau Claire all it could handle in a 1-1 tie. Goalie Leo Podolsky helped secure the tie as he racked up a career-high 43 saves. Podolsky's old career high was 42 in a game against St. Norbert last weekend. He owns a 1.99 goals against average on the year. Jordan Bruce scored the lone goal for Lake Forest (2-3-2), which is still looking for its first win since Nov. 7.
NESCAC
– Bowdoin, Trinity and Williams all emerged from the weekend with 3-0-1 conference records and a share of first place. Bowdoin took both ends of its home-and-home set with rivals Colby, 5-3 and 6-3. Senior John McGinnis racked up five points, two goals and three assists, to up his league-leading scoring total (11 points), while linemate Connor Quinn netted a three-goal hat trick. … Williams took twin wins, a 2-1 squeaker over Connecticut College followed by a 9-0 blasting of Tufts. David Jarrett's third period tally was the game-winner against CC, while Luke Stickel's big night – three goals and an assist – fueled the rout of the Jumbos. … Behind Ryan Cole's hat-trick, Trinity began the weekend with a 7-2 hammering of Amherst – its third consecutive win by that hefty score, then had to settle for a 1-1 tie with visiting Hamilton the next night. John Hawkrigg's second period goal allowed the Bantams to salvage the point, and was the only one of Trinity's 46 shots to elude Hamiton goalie Buitenhuis.
SUNYAC
– What was the big story of the weekend? Perhaps it was the twin wins put up by Cortland – 4-2 over No. 13 Geneseo and 5-4 over Brockport. The Red Dragons upended Genny with four unanswered goals to give rookie head coach Joe Cardarelli his first-ever win. Dan Broderick (7), and Nick Zappia (6) both scored three times during the weekend and sit atop the SUNYAC's goal-scoring ladder. … Meanwhile, Oswego, which began the week ranked second in the nation, were held to a pair of 4-4 deadlocks by unranked Brockport and Utica (see ECAC West). The Brockport tilt featured late third-period goals by Golden Eagles' James Ryan and Jake Taylor wrapped around one by Oswego's Krystian Yorke, all in a white-knuckling span of just 26 seconds. … Then there is first-place Plattsburgh, which ran its mark to 7-0-0 with a pair of wins over Morrisville, 5-3 and 5-2.
WIAC
– Wisconsin-River Falls is still unbeaten after a weekend sweep of non-conference opponents. The Falcons stopped Lawrence 4-1 and blanked Northland 3-0 to improve to 6-0 on the season. In the series opener, the No. 10 Falcons were outshot 29-28, but Mike Fazio helped propel River Falls to the win as he scored twice. Tanner Milliron made 28 saves in the win. On Saturday, Milliron came through with his first shutout of the season, making 19 saves. River Falls held a 28-19 edge in shots, with Ryan Doner, Terry Leabo and Jeff Bergh all scoring goals … Wisconsin-Superior capped a perfect weekend on Saturday with a 4-1 win over Finlandia. The Yellow Jackets defeated Northland 4-3 on Friday night to snap a four-game losing streak. In Saturday's win, Superior (4-4) scored four times in the second period for the third time this season. Of the 24 goals it has scored this season, 19 have have come in the second period. Anton Svensson, Jake Johnson, Tanner Dion and Jordan Shockey all scored goals in period. The Yellow Jackets held a 47-28 edge in shots. Against Northland, Superior got itself back on track, scoring three times in the second and then hanging on for a close win. Four different players scored in the victory and Corey Simons earned his first collegiate victory, racking up 31 saves. He made 27 of those saves in the final two periods.