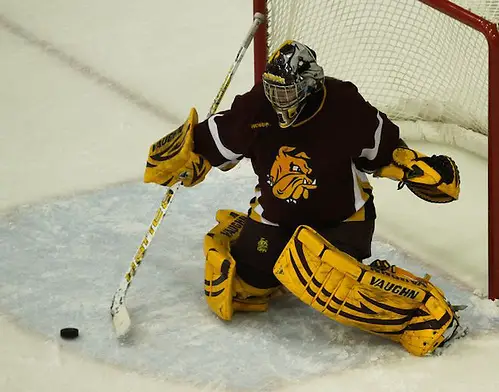 Arlan: Many of the noteworthy events of the week involved ECAC teams. Among those, the impressive version of St. Lawrence remained in evidence, Harvard is still trying to get its rhythm, and the hole for Cornell got a little deeper. I thought the most significant game of the weekend was Quinnipiac's 1-0 win over Clarkson. I don't think that game necessarily demonstrated that the Bobcats were measurably superior. They held the Golden Knights to 15 shots on net and Chelsea Laden pushed her shutout total for the season to seven, but Quinnipiac only had 19 shots itself. The difference is that Emma Woods scored on a nice snipe while the visitors couldn't get anything by Laden. The big key was it got the two points, and it is starting to look like every point will be crucial in the league race. The Bobcats did give a point back the next day when they had to come from behind in the third period to tie St. Lawrence, 2-2. That was the first time Quinnipiac has trailed this year and the first time it has allowed multiple goals.
When you've asked, I've always said that I thought Harvard was the team to beat in the ECAC, if not the country. As the weeks tick by, that is looking less and less accurate. If not the Crimson, then who? Should we be looking to Quinnipiac, or defending champ Clarkson, or some dark horse team?
Candace: I wasn't completely sold on Quinnipiac, but this weekend has changed my mind. Holding Clarkson to only 15 shots is pretty impressive. The Bobcats play a stifling defensive game, and they have a proven netminder in Laden. Coach Rick Seeley has his squad playing well in the defensive zone, knowing that the Bobcats don't have explosive offensive players who can break a game wide open. Since many teams actually lack that, it's a very good strategy, and plays to the current team's strengths.
If we are looking at the ECAC, aside from Cornell, which has Jillian Saulnier and Brianne Jenner, Clarkson is really the only squad that has players who can break a game wide open. Of the top 10 scorers nationally, only one is from an ECAC team, Clarkson's Shannon MacAulay. Holding her, Cayley Mercer, and Geneviéve Bannon in check like the Bobcats did is pretty impressive. I think Quinnipiac is well-positioned to possibly win the regular season title. Playing a defensive-minded game will also be helpful in the one-and-done format of the semis and finals in the ECAC playoffs.
They say there are lies, damn lies, and statistics, and I think an examination of offensive production bears that out. While the ECAC has six of the top 12 teams in scoring offense, I think those numbers are a little skewed. Yale, for instance, is third, but their average is boosted by the 10-2 and 13-0 beatdowns of D-I independent Sacred Heart and 6-2 and 5-2 wins over Providence, which has also struggled defensively. Dartmouth's only real impressive offensive outing was the 5-1 win over St. Lawrence, as New Hampshire and Rensselaer aren't strong defensively. Harvard too is boosted by scoring a lot against Rensselaer and also Union. Providence has also boosted the offensive numbers of Clarkson, which also gets a boost from the 9-0 win over Syracuse.
However, when you look at the games between the top teams, most are of the low-scoring, one-goal win variety, so I think Quinnipiac is possibly the favorite at this point. I look to five teams as contenders in Quinnipiac, Clarkson, Harvard, St. Lawrence, and Cornell, in that order.
Speaking of the Big Red, they were just swept in Duluth, including losing 7-2 in the first game. The Bulldogs have quietly put together a nine-game win streak after a terrible start. That streak also includes a shootout win over Minnesota. Do you think the Bulldogs can challenge Minnesota and Wisconsin for the WCHA crown?
Arlan: Looking first at the math of that question, Wisconsin has already completed its first pass through the league and gained 34 points, eight short of the maximum. The Gophers sit at 29 and still have their St. Cloud State series remaining in the first half, so they could possibly get to 35. UMD has four WCHA games left in its first half of the season with Bemidji State and Ohio State coming up. If the Bulldogs can sweep those games, they could increase their point total to 29 and be within range of the two leaders. However, both series are on the road, and as we've seen when facing Bemidji State in particular, those games in hand don't automatically convert into points in the standings. The other hurdle for UMD is that it has to go on the road to face both of the leaders. The Bulldogs haven't won in Madison since November of 2010, and their last win in Ridder Arena was the 2010 NCAA Championship over Cornell.
Maybe defeating the Big Red again over the weekend made Shannon Miller a bit nostalgic, but she told me her current Bulldogs can win a national championship. The team is on a nine-game winning streak as you said with wins over North Dakota, Lindenwood, Minnesota State, St. Cloud State, and now Cornell, but UND has the best record of that bunch and it is two games under .500. The Bulldogs only other win of the season was over Connecticut. A number of teams have the potential to be factors in the national tournament, but until they start posting wins over the type of teams that they'll meet in the postseason, it is premature to look too far down the road.
When I watched UMD against Cornell on Saturday, the Bulldogs were missing a couple of their key Europeans in senior defenseman Tea Villila and freshman forward Michelle Lowenhielm, but they still had enough to subdue the Big Red. Kayla Black was very strong in net, stopping both Brianne Jenner and Jillian Saulnier on early breakaways to keep the game scoreless. Sophomore forward Ashleigh Brykaliuk is developing into someone who is not only the team's leading scorer, but can be depended on to make plays all over the ice. Senior forward Jenna McParland played the most complete game I've ever seen from her. There are a number of other key pieces in place, including Zoe Hickel, Lara Stalder, and Brigette Lacquette. The talent and depth of UMD are definitely a few steps up from the last couple of years. If the Bulldogs put it all together, it is possible, but both the league and the NCAA picture are stronger than when they won their last titles in 2008 and 2010, so there is a ton of work left to do.
As for Cornell, I spoke with Jenner and coach Doug Derraugh and they'll be the subject of this week's column, so I'll reserve further comment until then, but I think it is safe to say that they are one of a number of teams that has had to feel its way defensively in the early going. We've seen wild fluctuations from St. Lawrence when Carmen MacDonald didn't play, inconsistent goaltending has contributed to the underachieving start for Robert Morris, and Vermont definitely had issues over the weekend versus Northeastern. What are you observing on that front, and what team or teams do you think have the best chance to improve in goaltending and overall defense?
Candace: Well, exhibit A would be Harvard. Emerance Maschmeyer is highly touted in net, but her stats are not that great so far, as she has a 2.51 goals-against and only a .904 save percentage. Harvard itself is giving up over two goals a game on average, hardly Crimson-like numbers. Maschmeyer will face a stern test this weekend when the Crimson travel across town to face Boston College, which has the top two scorers in the country in Alex Carpenter and Haley Skarupa, and the top offense in the country, which averages over five goals a game. If ever the Crimson needed Maschmeyer to be sharp, it would be this Friday.
We've talked about MacDonald a lot, but her numbers are hardly stellar, with a 2.34 GAA and .922 save percentage. If MacDonald starts putting in consistent outings, St. Lawrence will be a troublesome out.
Over in Hockey East, Northeastern's Chloe Desjardins also has room for improvement, with only a 2.21 GAA; her squad is 13th nationally in team defense, giving up 2.33 goals on average. If Victoria Hanson at Boston University continues to show improvement, the Terriers will be a more difficult team to play as well; she currently has a 1.90 GAA.
It may sound strange to say, but I also think to a certain extent Wisconsin's Ann-Renée Desbiens hasn't been as solid as she could be. She's currently ninth overall in goaltending with a 1.52 GAA and .922 save percentage, and Wisconsin is 13-2-1 overall on the year. However, in the two losses to Minnesota and the tie with North Dakota, the team let up four goals, two goals, and three goals, respectively. Wisconsin also escaped Bemidji after giving up three goals in the second game. I think Desbiens has been outstanding against lesser competition, but she and Wisconsin failed to step it up when playing the elite.
When it comes to offense, Northeastern finally looked like it got it going this weekend in convincingly sweeping Vermont, something I wasn't expecting after the Huskies had lost to Providence the week before. Kendall Coyne is currently fourth in the country in scoring; are you expecting more consistent performances from the Huskies in the future?
Arlan: This is Hockey East, where the Huskies can beat BU by three goals and then lose to Providence by the same margin four days later, so I'm reluctant to use the word consistent. But overall, yes, I think that Northeastern will show improvement going forward. Its current three-game winning streak has it back to .500 for the season. Next the Huskies play Harvard and Union, then they go on their Christmas break. They're back on the ice to close out 2014 with Dartmouth on New Year's Eve, and a week into 2015, they start a critical BC-BC-BU stretch that will go a long way to determining their fate in Hockey East.
Northeastern was already up on Vermont by the time I started watching both of their games over the weekend, so I'm likely missing a key piece of how those games unfolded. Despite posting two one-sided victories, the Huskies weren't exactly a finely-tuned machine. There's a lot of youth on the roster; of the 22 skaters to see game action this year, 13 are freshmen or sophomores, including the next five top scorers after Coyne. A number of times, a forward would get the puck near the top of the circles with the defense set, and rather than moving it back to an open point or starting a cycle in the corner, she would attempt to carry it to the net through two defenders. That resulted in a number of unnecessary turnovers. I imagine that eventually, they will start to make more veteran decisions, but until then, there may be some ragged games. Also, these younger players weren't on the roster during Coyne's sophomore season, so she's still trying to develop chemistry with them. I'm told that Paige Savage will sit out the remainder of the season for personal reasons, so that means Northeastern will be without a veteran scoring threat up front.
There is some nice talent there. Sophomore Hayley Scamurra had a hat trick in the first win over the Catamounts. Rookie Denisa Krížová had five points in the series and demonstrated skill and good synergy with Czech countrywoman Lucie Povová. McKenna Brand also had five points, including three goals, and looked very confident with the puck. So I think that the Huskies can be a very dangerous team beyond Coyne, but they have to limit the mistakes that will cost them against better teams.
A few weeks back, it looked like the winner of the CHA's automatic bid would be the league's one representative to the NCAA tournament. Now, Mercyhurst looks like a fairly safe bet to make the field as an at-large entry, even should it get tripped up in the conference playoffs. I just don't see many losses in its remaining schedule, even though it has to travel to Cornell for one and a pair at St. Lawrence, and the Lakers are up to sixth in the PairWise Rankings. In most years, I look at its schedule and Mercyhurst has such games that are must-wins; this year, doesn't it look more like those are more vital for the ECAC squads if they want to appear in the PairWise picture?
Candace: Yes, but also for Hockey East and the WCHA. First, look at the ECAC. If the season ended right now, Quinnipiac and Clarkson would qualify via the PairWise, while Dartmouth, St. Lawrence, and Harvard, ranked 10a, 10b, and 12, would be out. Traditional power Cornell isn't even in the PairWise top 16, and it looks like the Big Red might actually need to win the ECAC tournament to qualify. They have some places they can make up ground, with single games against Mercyhurst and Boston University and two each against Clarkson, St. Lawrence, Dartmouth, and Harvard, but it's by no means a certainty. Even Yale and Princeton are above Cornell right now. I think Cornell has to run the table to have any chance of an at-large bid.
Harvard has a couple of games that I think it must at least split with in Boston College this Friday and Quinnipiac the following Saturday; if the Crimson lose both, I don't see any opportunity for an at-large bid. In the second half, the Crimson have Quinnipiac again and Boston University again, and possibly Boston College if they beat BU, and end the season against Clarkson, but even should they win all four, it might not boost their PairWise high enough.
Quinnipiac is looking pretty good, as long as the Bobcats keep winning. They play BU and BC in January, but even if they lose both, I don't think they'd drop too far. To fall out of at-large contention, I think the Bobcats would have to go into a major swoon.
For Hockey East, Boston University is currently an at-large bubble team. I think the Terriers need to either win Hockey East, or steal a win from Boston College and win their next game with Harvard or alternately beat Quinnipiac to feel a little more secure, especially with Bemidji State nipping at their heels. BSU has more places where it can improve its position, with two more each against Minnesota and Wisconsin and four against Minnesota-Duluth.
You are right that Mercyhurst looks to be fine for an at-large, but given the fairly inconsistent play from the rest of the CHA, I think it's hard to see anybody but the Lakers winning the CHA tournament and first league autobid. I certainly expected more from RIT than a pair of 4-1 losses against the Lakers. Syracuse could only muster two ties against Robert Morris this week. In fact, the Orange haven't won a game since beating Mercyhurst for the first time in team history a few weeks ago. Penn State also continued its up and down record by splitting with Lindenwood. It's kind of crazy to look at the CHA, because aside from Mercyhurst, only Penn State has a winning record this year.
What's going on there?
Arlan: Back to teams and possible NCAA tournament positioning for a second. It is important to remember that Harvard, disappointing as it may have been to date, currently has but one loss. Along with two ties, that is effectively two losses. Teams catch fire in the second half on a fairly regular basis, with the most prominent case being UMD in 2009-10. That team was 13-7-2 heading into the break and wound up as the No. 2 seed in the tournament. I think I counted Mercyhurst out about a dozen times last year; come March, the Lakers were not only in the field, but back at the Frozen Four. So Harvard could lose to both BC and Quinnipiac and still wind up hosting an NCAA quarterfinal.
As for the CHA, I did a fairly comprehensive rundown of the league in our discussion last week, and I don't think that this week's results changed my opinions much. With RIT not having Ali Binnington in either game, it wasn't surprising that the Tigers were swept. It's hard enough to visit the top team and get points under any circumstance, and minus their best player, that was a big ask. Penn State has had trouble putting together two strong games on a weekend, and Lindenwood is scrappy if not overly talented, so a split there wasn't surprising. It was noteworthy that the Lions held PSU to just 11 shots in their 2-1 win.
Syracuse looked to be finding its offensive game in spite of getting swept when it scored nine goals in a series with Vermont a week ago, but in light of UVM's leaky effort with Northeastern, that production is likely not indicative of what we can expect from the Orange moving forward. As for RMU, the two-tie series with Syracuse was its second-best weekend of the season, topped only by taking three of four points from Northeastern. When we consider that Rebecca Vint and Brittany Howard each hit 41 points last year and have combined for only six so far with Howard appearing in just two games, there was bound to be a slump. They were the only returning players who bettered 15 points last year. Katherine Murphy is having a solid rookie season with eight points, tying her with Ashley Vesci and Katie Fergus for the team lead, but nobody is taking the game by storm like Vint and Howard did in their first years. It's starting to look more and more that by the time some other club gets everyone pulling in the same direction, Mercyhurst will already have wrapped up the season and have the inside track for the playoffs.
You mentioned BU being in the vicinity of the NCAA bubble, and in that respect, the tie with Harvard was pretty much a wash. The tie didn't surprise me as much as the score. I thought BU was better offensively than defensively when I saw it play, and nothing since has changed that opinion, so the 1-1 draw was puzzling. Marie-Philip Poulin missed a few games as well as the Four Nations Cup due to injury, so perhaps that has taken a toll on the offense. I was shocked that she had only one assist entering Sunday's win over New Hampshire, where she added three more. Playing with a proven scorer like Sarah Lefort, I'd have expected the points to come regularly, so maybe the injury has continued to hamper her. How should those in the Terriers' camp feel about the tie with Harvard? Outshooting the Crimson by more than a two-to-one margin is nice, including 11 to two in the third period, but it would have been nice to pull out a win on home ice.
Candace: Yes, I think the Terriers have to be a little disappointed in that result, especially after convincingly sweeping Clarkson last month and how Clarkson tied Harvard. Poulin's production has been a little puzzling, especially since it has seemed that as she goes, so go the Terriers. Poulin is currently fifth on the team in scoring, though she has admittedly played five less games than the people above her. Poulin's scoring average per game is a little below Sarah Lefort, who really has keyed the Terriers' offense. Perhaps, like Coyne, Poulin has had trouble adjusting to people she's never skated with before this season. Whatever the reason, Poulin is still the player whose leadership will make or break BU this season. The Terriers only have one game this weekend, against Dartmouth, a game I think will tell us more about the Big Green than BU.
I think another team that has be disappointed in its weekend output is North Dakota, which tied and lost a shootout to Ohio State on Friday before finally breaking its winless streak with a 4-3 win on Saturday. I said last week that I thought UND was likely out of the NCAA picture unless it wins the WCHA tournament. I'm starting to think that this year's North Dakota team might not even get home ice for the WCHA tournament, which was unthinkable to me at the start of the year. In fact, UND might finish as low as six. What is your opinion of this year's North Dakota team?
Arlan: Like many teams, there is a gap between UND playing well and UND going through the motions. Five of its six games versus Minnesota, Wisconsin, and UMD were very tight games. It lost three of those and only managed one overtime win, but if it could play at that level every time out, it would be okay. Maybe not at the top of the league, but solidly in the top four. The problem is that it mixes in games where it doesn't seem quite as interested, as in the loss to Vermont, the second game in Minneapolis, and the first game in Bemidji. It doesn't give itself much of a chance in those contests.
North Dakota has lost a lot of leadership in the last couple years with the graduation of Jocelyne and Monique Lamoureux and Michelle Karvinen, on top of their point production. The burden has fallen on younger players to lead, and they are growing into the role. The team had to deal with a very turbulent week with the serious accident involving sophomore Lisa Marvin. That her sister Layla is a junior on the squad just multiplies the impact. In an emotional media conference after Friday's game, Brian Idalski said that there have been other things going on as well. I'm sure every team has to deal with a lot of things over the course of the season — 25 or more lives intersect a lot of events. Some seasons stand out. Three years ago, Minnesota went through a Murphy's Law type of year including death and serious medical issues involving family of several team members, and it just seemed like one thing after another. Adversity can either break a team down or make it stronger, and by the time that year ended in the program's first NCAA title in several years, the players reacted as though they'd learned how to cope with any obstacle.
I expect that these events will strengthen the North Dakota team. It doesn't mean that it will result in championships, but the bonds will have been formed by all of the turbulent times that they have weathered together. No matter what happens in the WCHA quarters, North Dakota will be hosting the league semis and final, so that can serve as a carrot on the stick later in the year. If as you say, it needs to win to advance, UND won't lack for motivation, but there will be some tough opponents standing in the way.
Monday night, I saw St. Cloud State play for the first time since its opening weekend versus BU and Penn State when the Huskies faced Minnesota in the Hockey Hall of Fame game. After the game that Minnesota won, 5-0, first-year coach Eric Rud was encouraged that his team was making more plays.
"That's really what we're trying to teach our kids; you can't win hanging on," Rud said. "You got to come out and play and compete. I thought we made plays tonight from start to finish. Coming up the ice, we'd connect one, two, three, four passes. Now our next challenge is we kept fizzling out on our offensive blue line or in zone."
We've seen opponents of the two undefeated teams, BC and Quinnipiac, exhibit both of those problems. Both won again on Tuesday night. BC opponents often find themselves just trying to hang on, while the Bobcats cause many opponents' offensive thrusts to fizzle. What will it take for someone to hang a first loss on either before the two collide in January?
Candace: For Quinnipiac, I think it will take a team that can generate sustained rushes into the offensive zone and fire more shots. Princeton actually got 22 shots on net against Chelsea Laden, but most teams have had trouble getting more than 20. In their last few games, Quinnipiac faced 19 shots from St. Lawrence, 15 from Clarkson, eight from Union, 13 from Rensselaer, and only 14 from Cornell. Quinnipiac is a stifling defensive team, so you have to figure out a way to get through the neutral zone with speed. I was curious, so I just looked at the box scores, and Princeton is the first team all season to break the 20-shot barrier against Quinnipiac. Several teams have been held to under 10.
I think it would help if the team can match the Bobcats defensively as well. Quinnipiac plays Yale this weekend in the Nutmeg Classic, and the Bulldogs may have lost starting goaltender Jaimie Leonoff to an injury; she left during the game against the Eagles Tuesday and didn't return. That won't help the Bulldogs when they face Quinnipiac, but Yale exhibited an ability to skate at times with the high-flying Eagles.
What will it take to beat BC? Maybe replacing the skate blades with wheels before the Eagles take the ice. BC is just ridiculously fast on almost every line, and the top line with Alex Carpenter and Haley Skarupa may end up with two players leading the country in scoring. It's really hard to keep them in check in for 60 minutes. BC hasn't been held to under four goals since St. Lawrence did it back in early October, and looking at the schedule, I don't know if that will happen before the Eagles face Quinnipiac, a game that at the moment looks like a classic case of the unstoppable force meets the immovable object. I'm not sure how that one will play out.
Before that game, the Eagles will face a Harvard team that has the potential to shut down an offense, and Boston University has played tight defensively as well, and the game on Jan. 7 could be very interesting that way. However, it has to be demoralizing for a team to know that you may have to score five or more goals to win. I've heard that BC has looked bored at times in the last weeks, so the game against Harvard is really important.
Getting back to Minnesota, the Gophers are in a funny position, sporting a 12-1-2 record but with some people considering it a down year so far. Do you think that maybe a little less pressure on the Gophers will help them come playoff time?
Arlan: Is there less pressure? Less attention, I'd say, but the pressure is a different kind of pressure. They've been able to open up sizable leads in the conference race the previous two years. This year, Wisconsin has been a week ahead in WCHA games played all season, so the Gophers have trailed in the standings in terms of points the whole way, despite having the better league winning percentage. I think that the focus of a tight conference race will help whatever team emerges from the WCHA wars, be it the Badgers, Gophers, Bulldogs, or some dark horse. Minnesota had a stronger team for the 2013 NCAA tournament than it put on the ice in 2012, but the 2012 unit had been pushed hard during the season so many times that it rose to its potential and had a slightly easier time of it in the national tournament, not needing to face the perils of sudden death in overtime.
The Gophers are still trying to fine tune their lineup, finding the right mix of six on the blue line and deciding who will line up at center. Kelly Pannek had her first hat trick on Monday. She currently has the team's two senior forwards, Rachael Bona and Meghan Lorence, on her wings. That unit has shown signs of heating up, and if it can stay productive, that takes some burden off of Hannah Brandt's line with Dani Cameranesi and Maryanne Menefee. With all the key freshmen in the Wisconsin lineup, the Badgers will continue to grow. The effort that was good enough to sweep them a month ago won't be enough when the teams next meet in January. UMD, with so many new faces on the roster, continues to gel as well.
If I'm Katie King Crowley, I want somebody to give the Eagles a game over the next couple of months, no matter the outcome. Constant leads of two, three, or even more goals heading into the third period is not optimal for development. I am convinced that their speed and depth make them the best team in the country right now. I don't see BC as being on a totally different level, however. The team that will emerge in March is the one that makes the most improvement in the coming months, and that's a pressure that all of the contenders share.