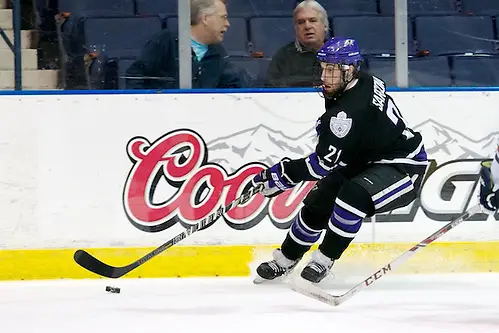 The Niagara Purple Eagles were picked to finish fourth in Atlantic Hockey this season, coming off an appearance in last year's semifinals that saw them fall to eventual champion Robert Morris in overtime.
There was a lot for coach Dave Burkholder to be optimistic about heading into the 2014-15 campaign. His team returned two of its top three scorers in Hugo Turcotte and Isaac Kohls, as well as TJ Sarcona, who turned heads as a rookie (11 goals and 11 assists).
Another freshman, defenseman Vince Muto, was named to the league's all-rookie team, while a pair of first-year goaltenders came into their own. After platooning Adrian Ignagni and Jackson Teichroeb for the first half of the season, Burkholder went with Teichroeb down the stretch as the Purple Eagles upset Air Force in Colorado Springs in the playoff quarterfinals to advance to Rochester.
So a top-four finished seemed not only possible, but probable.
But the injury bug hit hard, beginning with Sarcona, who broke his wrist in dryland training. Then Teichroeb injured his hamstring in an intrasquad scrimmage right before the season started. Senior defenseman Kevin Albers started the season on the sidelines (offseason shoulder surgery).
With player after player missing games due to injury, capped by Muto breaking his arm in Niagara's second game, the Purps were literally limping into the season, starting 0-9.
"It certainly was a factor," said Burkholder. "So many guys have missed time. When you lose the guys we did, like TJ Sarcona, who is one of our captains as a sophomore, it puts you back on your heels."
Only three Niagara players have appeared in all 12 games so far: Turcotte and fellow forward Matt Chartrain as well as senior defenseman Nick Cecere.
But things are looking up in Lewiston. Sarcona returned to action last weekend and just about everyone (with the exception of Muto, who isn't expected to return to the lineup until after Christmas) is back and reasonably healthy.
The result? Niagara won its first game of the season on Nov. 8 at Bentley, in overtime, and after a weekend off returned home to Dwyer Arena and swept Army in convincing fashion, 3-1 and 6-1.
"It's really just been since last weekend that we've had a healthy roster," said Burkholder. "And our goaltending was great."
Teichroeb was pressed into action on Oct. 31 after, you guessed it, Ignagni was hurt the weekend before at Notre Dame. It took Teichroeb a couple of games to shake off the rust (a pair of losses to American International and a loss to Bentley), but he was outstanding last weekend against Army, allowing just two goals on 51 shots.
"[Teichroeb] was medically ready [at Notre Dame] but he probably should have had a little more time," said Burkholder. "But that's the way it's been with injuries. It took him a while to get his timing and fitness to where it needed to be."
Sarcona provided an immediate boost with a goal and an assist last weekend. And rookie Stanislav Dzakhov made his debut with a pair of assists. Dzakhov, a Moscow native, came in highly touted after a career in juniors that saw him spend time with Fargo in the USHL and more recently Bismarck in the NAHL, where he led the Bobcats in scoring.
Dzakhov was certified by the NCAA "with conditions" requiring him to miss the first 10 games of the season.
"It's great to have [Dzakhov] as well," said Burkholder. "It's a real bonus on top of everything we've had to deal with so far to have him in the lineup now."
Burkholder credits his players and staff with sticking through the hard times, which he hopes will make his team stronger.
"On top of the injuries, we just weren't playing well," he said. "We've got a pretty positive group and they didn't get down on themselves. It starts with the belief that we know we're going to be a good hockey team. You can't put it all on injuries."
When a team is short-handed, a silver lining is having role players move into the spotlight and gain valuable experience. Burkholder said he's seen that with his squad.
"[Freshman] Rob Angiolella is a good example," he said. "If you asked the coaching staff in the summer that, starting at full strength, what his role would be, we were unsure. He could have been on the fourth line or maybe in and out of the lineup.
"But he's been outstanding for us. He's got seven points in nine games and is a complete 200-feet player. He's done it all."
Another surprise is Cecere, who transferred from Michigan Tech after the 2011-12 season. He had to sit out the 2012-13 campaign and then played only four games last season due to injury.
"He's been out of hockey for essentially two years and we were wondering if he'd still have the drive," said Burkholder. "But he's been a leader for us."
Niagara's schedule hasn't been kind — now getting healthy after a grueling start to the season, the Purple Eagles are in the midst of a 33-day stretch where they play just twice. Niagara was off the weekend of Nov. 14-15 and is also idle this weekend, with its next games at home against Holy Cross on Dec. 5-6.
"Yeah, we could have used those breaks earlier this season," said Burkholder. "And after getting our first win at Bentley (on Nov. 8) we wanted to play again right away. It kind of feels that way again now.
"But we still have some guys dinged up a bit, and with finals approaching we'll use the time to our advantage."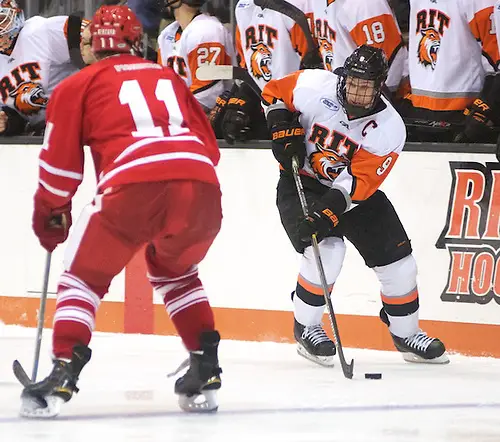 Top of the heap
We're about one-third of the way through the 2014-15 season, and players from Atlantic Hockey are near or at the top of many offensive categories:
• Rochester Institute of Technology's Matt Garbowsky leads the nation in goals with 11. Bentley forward Max French is tied for second with 10.
• Garbowsky is tied with Boston University's Jack Eichel for overall points with 19. Next in line is Robert Morris senior Cody Wydo, who has 18.
• Wydo is tied for fourth in the nation in points per game with 1.50.
• RIT's Josh Mitchell is tied for the lead nationally in assists with 13. Also with 13 assists is Penn State (and former Mercyhurst) defenseman Taylor Holstrom.
• French is second in the nation in power-play goals with five.
• Robert Morris freshman Brady Ferguson is tied for fourth in points by a rookie with 12.
• Robert Morris has the top-rated offense in Division I, averaging 3.83 goals scored per game.
• Bentley has the nation's top power play, converting at 34.7 percent (17-for-49).
Tying history
On Friday, American International lost three leads and had to settle for a 5-5 tie with then-No. 20 Robert Morris. It marked the second time the Yellow Jackets have tied at nationally ranked team.
It happened before on Nov. 23, 2007, in the first round of the Rensselaer Hockey Tournament, which saw the host Engineers advance via a shootout win.
AIC is still looking for that elusive victory over a ranked team.
Snowed out
Thanks to the snowpocalypse that hit Western New York last week, last Friday's game between host Mercyhurst and Canisius had to be postponed. The game will be played on Tuesday, Jan. 13.
The teams were able to meet last Saturday in Buffalo, skating to a 3-3 tie. Canisius is now 0-2-3 in its new home, the HarborCenter. The Golden Griffins will be looking for that first win in their new barn again this weekend when they host Air Force for a pair of games.
Father vs. son
Jack Riley, the son of Army coach Brian Riley, is a redshirt freshman forward at Mercyhurst. We've already seen the teams square off this season (Mercyhurst swept the Black Knights in Erie on Nov. 7-8) and they will play at least two more times this season and likely have many more meetings over Jack's career.
Saturday's RIT game at Yale is the first and most likely the only time Tigers coach Wayne Wilson will match up against his son Stu, a junior forward for the Bulldogs.
"It's for bragging rights," said Wilson. "Unless we meet in the NCAA tournament, this is the last time it's going to happen, and having that one-up on each other is going to last a long time."
Both Wilsons sport national championship rings: Wayne won the title in 1984 as a senior with Bowling Green and Stu's Bulldogs won it all in 2013, his freshman season.
Weekly awards
I'm going with the same honorees as the league, which has started a new award: defensive player of the week. Defensive prowess is often hard to quantify, so I'm not going to second-guess the league on that one.
Player of the week — David Friedmann, Robert Morris: The junior forward had three goals and an assist to lead the Colonials to a three-point weekend against AIC.
Goalie of the week — Terry Shafer, Robert Morris: Shafer recorded his fourth career shutout in a 6-0 win over AIC on Saturday.
Rookie of the week — Robert Angiolella, Niagara: The freshman scored three goals, including a game-winner, in a weekend sweep of Army.
Defensive player of the week — Rob Mann, Robert Morris: The sophomore blueliner had a goal and an assist and was plus-3 on the weekend.