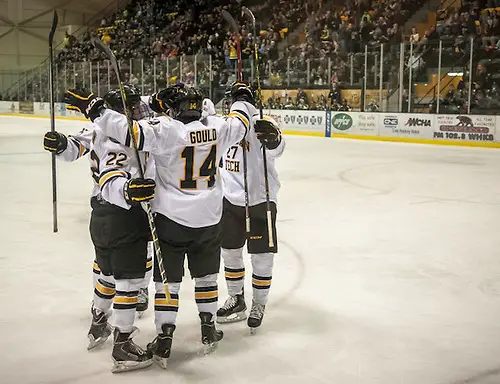 HOUGHTON, Mich. — While the nation's longest winning streak came to an end over the weekend, the Michigan Tech Huskies won something important in a series against Minnesota State: the attendance at both games.
On a weekend when students normally head home, the Huskies played before a combined total in excess of 7,000 fans.
"Overall, I think the community is ecstatic," Michigan Tech coach Mel Pearson. "They know we are going to have some hiccups here and there, but we have had a rich and proud history in the past here. Most people are just happy to see us back on the map in college hockey."
With the pair of one-goal losses to Minnesota State, the Huskies saw their season-opening winning streak end at 10 games and fell from No. 1 in the USCHO.com Division I Men's Poll — a program first — to sixth.
Still, they have already racked up 16 points in the WCHA, more than they amassed in the entire 28-game schedule in three of the previous six seasons.
When Pearson was brought in to replace Jamie Russell as head coach three seasons ago, there was a sense that maybe this was the right move, but maybe it was six years too late. There was no way to be sure.
In his first season at the helm, Pearson's Huskies came into their final regular season series against Colorado College with the potential to finish anywhere from fourth to eighth in the WCHA standings. They dropped both games but swept the Tigers in the playoffs the next weekend.
In his second season, the Huskies won the Great Lakes Invitational for the first time since 1981. In year three, they finished just a point out of a home playoff spot.
The winds of change are evident for the Huskies, who have gone from playing in front of crowds of 1,600 to those of 3,200 and up.
Crowd size is not the way to determine how things are changing in the local community. For the past four weeks, Pearson has been mentioning in postgame interviews that his staff and the team have been receiving emails and phone calls of support for the things they are doing.
"The big thing is keep it going," said Pearson. "Everyone says, 'Just keep it going.' Which is great and of course we want to do that. It's nice to see people feel good about their team and the team they support. We have had outstanding support since I've been coach."
With their 10-0 start, this iteration of the Huskies has done something no team in the history of the program has done: win nine or more straight games to start a season. After sweeping Bemidji State on Nov. 14 and 15, they became the only remaining team with no losses.
That slipped away last weekend, but that the honor belonged to the Huskies has not been lost on Pearson.
The players have been hearing from their friends and classmates both on campus and through social media.
"We did not sweep it under the rug because you can't," said Pearson. "Our players are getting emails and they can read papers and the Internet, but good for them. I told them it is good to be recognized for your hard work."
Pearson is quick to share the credit for this group's success with the players, who have learned to play the style that his staff has been working to instill for three years.
"We have a real educated hockey community," said Pearson. "They can see it. I think they have seen it in the last couple of years, the game and the style we are trying to incorporate. Now we are just learning how to win in that style."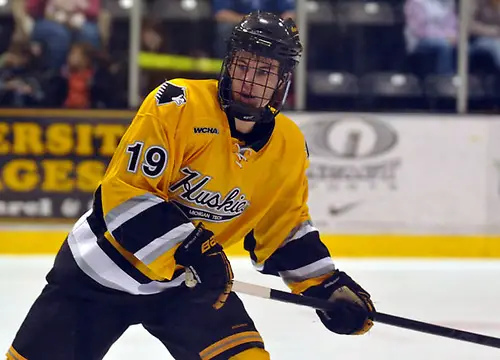 Several upperclassmen have had a major impact in the way this group plays. It all starts with junior goaltender Jamie Phillips, who Pearson believes has been a strong candidate for WCHA defensive player of the week every weekend he has played.
The numbers for Phillips bore that out. In 12 games played, he has a 1.42 GAA and his 10 wins more than double his career high of four.
Part of the reason for his success comes from having assistant coach Joe Shawhan on the staff this season. Phillips has learned much from working with the former goalie.
The resurgence of co-captain Blake Pietila has also helped the Huskies get off to a strong start. Last season, while battling a nagging injury that did not keep him out of the lineup but affected the way he played, Pietila scored just one goal before Dec. 26. This season, he already has four.
Local product Tanner Kero, who graduated from Hancock High School, located just across the canal from Houghton, is also off to a great start.
Through 12 games, Kero has 14 points. More impressive, however, is how he is doing it. He has had three multi-point games and two where he has not scored at all. However, even when he is not scoring, he has an effect on what happens night in and night out.
"I think if you are happy, you are in a better spot to have success," said Pearson. "I think our players enjoy coming to the rink. That has helped fuel them to have success. … You are trying to create that culture that they want to be here."
Regardless of what happens moving forward, the Huskies have done plenty both before and during this season to get the local community back on their side. Moving forward, it seems that the culture around the program is changing for the better as well.