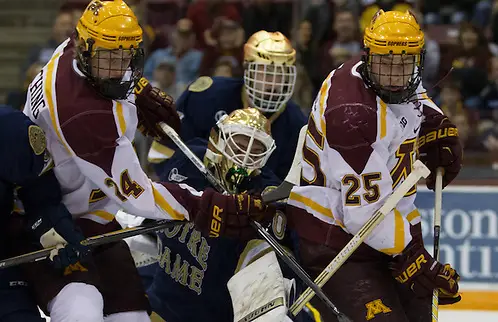 The Big Ten began league play last week and already there are hockey fans out there willing to pan the entire conference. One fan tweeted that the Big Ten looks "fairly awful," while another emailed to say that the conference is "so over."
Relax. It's the end of November. It's the second week of conference play. For the love of all that is Hobey, it's the second year of the league itself.
Yes, the Big Ten has a losing record (23-30-3) in its early play against nonconference opponents, and that doesn't include the league's 1-1 record against the U.S. Under-18 Team. Minnesota's 5-4 overtime loss to the visiting youngsters last Friday prompted the Twitter discussion that resulted in the "fairly awful" proclamation. After all, the Golden Gophers had been swept the week before by Minnesota-Duluth, swept and kept to one goal in the series after having begun 2014-15 with one loss in eight games and entering that weekend with Duluth second in the nation in scoring offense, averaging close to four goals per game.
An exhibition loss to a highly touted and well-coached team with a roster full of young players that nearly every NCAA Division I program would at least take a glance at while recruiting was surely the end of the world for Minnesota hockey and a harbinger of bad things to come for the Big Ten, right?
"We talked about the skilled team that they have," Minnesota coach Don Lucia said after the game, "and obviously we made some mistakes.
"I think any time you put on the gear you want to win the game. Obviously, we're all competitive. But did it have the same emotional stake? No. Let's be honest, but I don't want to take anything away from the other team."
After being swept by Duluth, the Gophers used the exhibition game to get some players time on the ice, including freshman goaltender Nick Lehr, who made 35 saves.
"We wanted to get some reps this weekend without having a weekend off," said Lucia. "We wanted to get Nick a game tonight. It's the first time he's had an opportunity to play. I thought he did a pretty good job in there tonight, so no issues with that, and just get some other guys game time that maybe haven't had as much this year."
So there's that.
Minnesota travels east for Thanksgiving weekend, playing Boston College on Friday and Northeastern on Saturday.
Then there are the Badgers
Further evidence that the sky is falling for the Big Ten is Wisconsin's 0-8 start. This is certainly not how the Badgers envisioned their season beginning, eight straight nonconference losses culminating in last weekend's 5-2 loss to Colorado College and 3-2 decision against Denver.
This, however, is less about the Big Ten than it is about Wisconsin, a team with 16 freshmen and sophomores on the roster and no one yet as able to produce consistent scoring. Averaging 1.38 goals per game — second-to-last nationally — the Badgers actually outpaced themselves during their trip to Colorado.
And coach Mike Eaves said he is hesitant to address the Badgers' start, hesitant to reinforce anything that may undermine the confidence of his young team.
"We may not be able to measure ourselves by our wins and losses yet, but certainly video and in our comments on the ice and off the ice and in extended meetings that we have had, we're able to point out and talk about areas of growth," he said.
"So that's kind of that bridge between not having success in wins and losses, but having sight that we're going in the right direction and seeing good indications of growth."
Eaves said that he saw positives in the loss to ranked Denver on Saturday. From video of the game, Eaves said the coaching staff saw the Badgers "out-chance our opponents, out-hit them, out-blocked them. The only stat that we didn't out-do them was goals for."
Many programs go through rebuilding periods, and even a perennial powerhouse like Wisconsin is not immune.
"It's an interesting journey we are on right now because we have not had a lot of puck luck, and we believe the harder you work the more you get and that's an old quote," said Eaves, who added that there are "some good things on the horizon" for the Badgers.
"They're going to be rewarded for the efforts they're giving each other," said Eaves. "They worked their fannies off and they're playing some pretty good hockey right now."
Wisconsin hosts Ferris State on Friday and Saturday.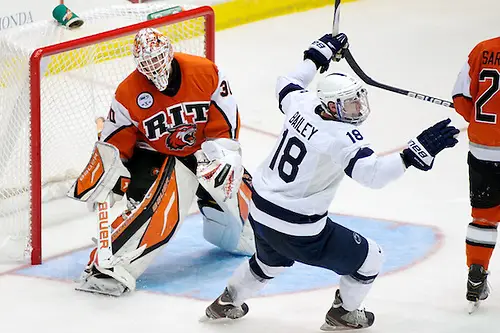 And when Penn State beats Michigan …
… bad things, man. Bad. Things.
That was another gripe that I heard from fans, that the Nittany Lions' split with the Wolverines last weekend in Ann Arbor was further evidence that the Big Ten is weak.
Several things here. Penn State beat Michigan twice last season, so why would a split now be such a surprise? And if the Nittany Lions put together a good season, does that necessarily mean that the rest of the Big Ten is down? Can't it just mean that Penn State has improved? After all, PSU split with Massachusetts-Lowell on the road the week before, beating the River Hawks 4-1 on Nov. 15.
The Nittany Lions are scoring 3.5 goals per game, the eighth-best offense in the nation. And that offense has blossomed this year: Senior Taylor Holstrom (4-13–17) and juniors Casey Bailey (9-6–15) and Eric Scheid (7-1–8) are formidable and playing the kind of up-tempo offense that coach Guy Gadowsky likes.
The 3-2 Penn State win Friday was an interesting contest and fortunately was televised. Michigan maybe would have won that one, too, had it not been for three minutes in the first period in which the Nittany Lions scored all three of their goals.
Gadowsky said that Friday's contest was good for individual efforts but wasn't so much PSU's best effort.
After Michigan's 8-1 win Saturday, Gadowsky said: "I thought we were really lucky to win last night. Absolutely. We certainly didn't come with our best. Believe it or not, we played a better game tonight than we did yesterday. Tonight, it caught up to us."
Gadowsky wasn't exaggerating. After Andrew Copp put the Wolverines up 4-1 six minutes into the third period, the Nittany Lions took many risks to attempt to generate offense, risks that resulted in Michigan odd-man rushes and other opportunities for the Wolverines.
While Michigan coach Red Berenson acknowledged that the 8-1 win was probably his team's best effort from start to finish this season, he said, "This was not an 8-1 game." And Berenson wasn't exaggerating.
That eight-goal performance bumped the Wolverines' offense up to a tie with Denver for fourth in the nation, averaging 3.64 goals per game. "It was good to see the puck go in," said Berenson.
This weekend, Penn State meets Cornell in Madison Square Garden on Saturday in the game dubbed "The Frozen Apple." Michigan hosts Rensselaer on Friday and Saturday.
And what about those Spartans and Buckeyes?
They split. Big surprise. And further evidence of the erosion of western civilization as we know it. I got a message through Facebook — seriously — that both split series from the opening weekend of B1G hockey indicate a "certain mediocrity" in the league.
Sigh.
You know what the split between Michigan State and Ohio State indicates? A split.
The Spartans beat the Buckeyes 3-1 to open Big Ten play last Thursday, and Ohio State rebounded with a 3-0 win Saturday. After Thursday's loss, OSU coach Steve Rohlik said: "They scored on the power play, we didn't. At the end of the day, those things are the difference."
The game-winning goal Thursday was Matt Berry's second-period power-play marker, the senior's sixth goal of the season.
Rohlik proved to be prophetic, as Buckeyes sophomore Nick Schilkey's second goal of the season gave Ohio State a two-goal lead in its 3-0 win Friday.
Said Michigan State coach Tom Anastos after Friday's contest, "We did have some good looks throughout the game tonight for sure, but their goalie came up big."
Jake Hildebrand had 34 saves for the Spartans for the win Thursday; Matt Tomkins stopped 29 for Ohio State Friday.
The Spartans play at Princeton on Friday and Saturday, while the Buckeyes face former CCHA foe Western Michigan on Friday in the Shillelagh Tournament and will play either Union or host Notre Dame the following night.
Players of the week
Three players from two former CCHA teams are honored this week … and I think that very well may be a sign of the apocalypse. One of them is from Canada, too. Doom. I smell doom.
First star — Michigan sophomore forward Max Shuart: Shuart had a goal and three assists in Michigan's split with Penn State. His goal came 46 seconds into Friday's 3-2 loss. The Northville, Mich., native has three goals and four assists in his last five games; in 11 games last season, Shuart had no points. This is his first career Big Ten weekly award.
Second star — Ohio State sophomore goaltender Matt Tomkins: Tomkins had a .939 save percentage and 1.54 GAA in OSU's split with Michigan State, and he turned aside 29 shots Friday in his first career shutout. In eight games this season, the Sherwood Park, Alberta, native has a .917 save percentage and 2.11 GAA. This is his second career Big Ten weekly award; he earned his first on Nov. 4.
Third star — Michigan sophomore defenseman Michael Downing: Downing recorded two goals in Michigan's split with Penn State, one in each contest, and he leads all Big Ten defenseman this season with three total goals in 11 games. The Canton, Mich., native had two goals and 10 assists in his freshman season. This is his first career Big Ten weekly award.
My ballot
1. Boston University
2. North Dakota
3. Michigan Tech
4. Minnesota
5. Massachusetts-Lowell
6. Minnesota State
7. Colgate
8. Minnesota-Duluth
9. Miami
10. Boston College
11. St. Lawrence
12. Robert Morris
13. Omaha
14. Denver
15. Vermont
16. Quinnipiac
17. Union
18. St. Cloud State
19. Bowling Green
20. Providence