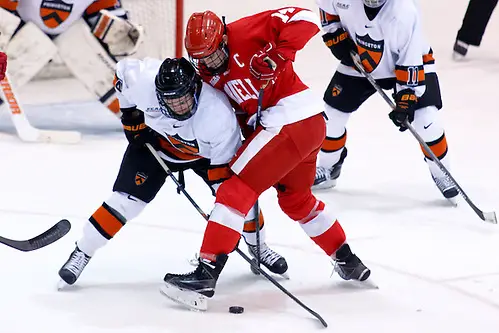 Let's be honest here, Lynah Faithful: Some of you entertained heretical thoughts through the Big Red's 0-3-1 start, a four-game stretch that saw the Ithacans outscored 6-3 and fail to achieve two goals in any single outing.
While a home split against the North Country tandem may have relieved some of the pressure, last weekend's seven-goal sweep of Yale and Brown was an exhale as Cornell set — then topped — its season-high offensive output.
"[This feels like] a little bit of a breakthrough," coach Mike Schafer said. "Once you start to score, you get some confidence. The biggest thing for us is to get that confidence, but also get some guys healthy. It's been a real struggle, with the amount of injuries we've had, especially back on the blue line, and I've always believed that the blue line kind of ignites your offense. With all the guys we've had banged up back there, it's been a tough start."
Only 12 players have made all eight appearances, while eight more have played between five and seven games. With three defensemen currently on the shelf with a variety of ailments, Schafer said that the quality of his team's defensive play has actually gone "beyond expectations," but what is missing is the defensive corps' offensive contributions.
"The biggest [loss] is obviously [senior defenseman and San Jose Sharks draft pick] Joakim Ryan. He's been out since the first game of the year, and having him out of the lineup has been difficult because he's on the ice all the time. He's a big part of our power play, and it was just this last weekend that we were been able to get our power play going a little bit."
Schafer hopes to get Ryan back "sometime after Christmas."
While the offense is getting on track, the defense has been steady since Day One. Opponents are scoring only 1.62 goals per game, the penalty kill is tickling 91 percent and the team save percentage is .946. Not bad for a group whose biggest question mark preseason regarded the graduation of Andy Iles.
"We're pretty happy with the defensive numbers, but the offensive numbers have suffered because of it," Schafer said. "So, yeah, it was nice to score a few goals and have some players regain some confidence in themselves."
The Big Red play only once this week, but it's at the World's Most Famous Arena, Madison Square Garden. It's Cornell's sixth trip to MSG, where the Red are 1-3-1.
While Schafer and the Big Red are beginning to feel more at home in the Big Apple, the experience is anything but another day on the job.
While previous MSG opponents Boston University and Michigan drew well, this week's foe — Penn State — hasn't generated perhaps as much demand as the former pair, but Schafer said, "the Cornell alumni have been picking up the slack."
"It's just an awesome feeling to play in front of that many Cornell alumni," he said. "To have a crowd of 14,000 alumni coming to the game is a phenomenal feeling."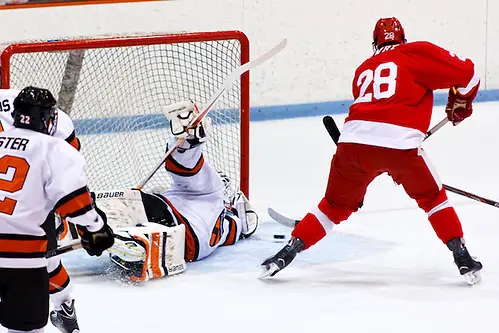 Princeton pounding away
It has not been a brilliant start for Ron Fogarty at Princeton.
Hired as the leader among active NCAA coaches in win percentage (167-23-10 — .860 — in seven years at Division III Adrian), Fogarty inherited another staff's players and a mediocre recent history. The Tigers are 1-6-1 overall and 1-5 in league play, having scored just eight goals while surrendering 30.
Fortunately, Fogarty is no novice, and he isn't about to throw in the towel just because of a rough month or two.
"We're struggling to score goals. We're getting opportunities to score, but we just haven't been able to put it behind some pretty good goaltenders here in the ECAC," Fogarty said. "We're still tweaking. We have some players coming back from injury this week that will play some impact minutes for us, so we're looking forward to that positive injection of potential goal-scorers up front in the next three weekends before the break."
A former ECACer himself, Fogarty played at Colgate (class of 1995) with assistant Brad Dexter ('96) for current Raiders coach Don Vaughan. He knows his way around this league and has played — and coached — through his fair share of adversity. The key, he said, is to take the long view and resist the urge to seek the quick fix.
"I think the building blocks are within the systems," he said. "We have to stay with them. We can't just scrap everything because the results haven't been there. We are playing well at times, we just haven't put it together for 60 minutes."
One bright spot for the Tigers has been the play of goaltender Colton Phinney, whose .914 league save percentage is unfortunately overshadowed by the poor record and 3.22 GAA.
"He's seeing a lot of shots … we're tracking the number of quality scoring chances the opposition is getting, and those numbers are decreasing, but we still have to eliminate a good chunk of them to give Colton better looks at shots," Fogarty said.
The biggest issue facing his team is its poor puck-possession skills, statistically exposed by the Tigers' minus-14 average shot differential per game.
"We have to take better care of the puck and watch our quantity and quality of shifts," Fogarty said. "Our shift times have to be lower than they were in the first six games, and we worked on that last weekend but it still needs to be improved moving forward.
"It's not a snowball effect. Some of the goals that we've given up have been the product of our error. We've had full control and haven't executed plays to break out, or to put the puck in safe areas, and we've continually addressed that. You have to work on it Monday through Thursday in skill drills, making plays in tight areas, and making decisions in pressure situations, so we've worked on that the past couple of days. That's the key to improve: You have to have the playmaking abilities to get the puck out of your end, and also the ability to score goals."
The Tigers know that while their record is not insignificant, it does not destine or doom them to anything at all. All that matters in the end, after all, is how you play down the stretch.
"Fortunately, every team makes the playoffs in the ECAC," Fogarty said, "and obviously we want to climb higher in the standings to have the opportunity to host playoff games here at Baker Rink. We just have to continue to tweak and find those right line combinations, defensive pairs, special team units, so they can be peaking come mid-February."