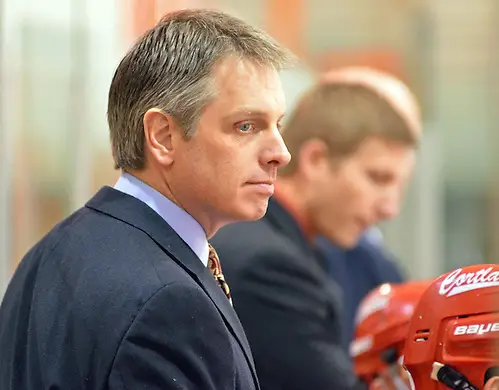 For a team trying to fight its way upward through a tough league (think SUNYAC), progress can often be measured thusly.
Two steps forward, one step back.
So it is with Cortland (2-5-1, 2-4-1) under first-year coach Joe Cardarelli.
Winless in their first five starts, the Red Dragons presented Cardarelli with his first two wins last weekend – including one versus nationally-ranked Geneseo – then stumbled Tuesday, 6-3 against independent Canton.
That's often the way as teams struggle to find their way while on the fly.
"We are a young team," said Cardarelli, a Cortland assistant last year who took over for interim head coach Tom Cranfield, "playing eight freshmen most games, with a new coach and new systems. It's been a process establishing a culture where we can overcome adversity and compete for 60 minutes."
Cardarelli said that the twin wins gave his squad some extra jam.
"This past weekend we were able to get some confidence," said Cardarelli, "as we became more consistent in our effort."
It may come as a surprise to some (maybe to everybody) to see three Cortlanders – senior Nick Zappia (6-6-12) and freshmen Dan Broderick (7-4-11) and Darren McCormick (1-10-11) – planted at the top of the SUNYAC scoring list.
Cardarelli said that there's a lot to like about this high-scoring trio.
"Nick Zappia is a very talented player," he said, "who, as a senior captain, has a vested interest in his and the team's success this season. He dedicated himself this past summer to getting in great shape and leads his teammates by his work ethic. Both of the freshmen had successful junior careers and both dealt with injuries during their last season that I believe pushed them to be more prepared than the average freshman player. That line really likes to push the pace and use their speed to create offensive opportunities, and are have fun doing it.
"It really is that simple they've developed good chemistry by having fun."
Nazareth trending upward in ECAC West
While on the subject of progress, consider the upward trajectory of Nazareth within the ECAC West.
The third-year program had recorded just five league wins during the first two seasons (just one in Year One), but have already record three against Western rivals so far this campaign.
The Golden Flyers are now 3-1-1 (4-2-1 overall) and are just one point off the league lead.
If you ask Nazareth head man George Roll, his club is simply building off last year's foundation.
"I think it started in the second semester last year," said Roll. "We started to understand what it took to win games and started to believe we could win every night or at least learn how to compete to win. It has been a learning process but we continue to grow as a program. We have great leadership and to man they have bought in to a team first philosophy."
Helping the cause has been the emergence of forward Dominick Gabaj (4-2-6), who coupled with fellow sophomore Ben Blasko (1-4-5) gives the Flyers a youthful one-two scoring punch.
Gabaj played locally at Monroe Community College and "we felt he would be a great compliment to Ben. We had a feeling there would be chemistry between the two and that has been the case along with Oliver Janzen – they have been very effective," said Roll.
As to what it should take to keep the puck bouncing their way, Roll said his club will have to keep following the plan.
"We have such a tough schedule this year," he said, "but if we can continue to build on what we have done to date it should be an exciting season."
Hamilton making strides
In the NESCAC, eyebrows were arched last week when middle-of-the-pack Hamilton held powerhouse Trinity, then ranked No. 8 in the nation, to a 1-1 overtime tie, on the road no less.
"Trinity was a great game," said Hamilton coach Rob Haberbusch. "I thought both teams played well and the crowd got their money's worth."
Hamilton received a yeoman's effort from freshman goalie Evan Buitenhuis, who pulled off 46 stops against Trinity, the NESCAC's most prolific scoring squad (at 5.5 gpg).
Buitenhuis, the NESCAC's reigning player of the week, is the backbone of the Continentals' outstanding (12 for 12) penalty killing performance.
"He's certainly capable of making the big save," said Haberbusch, "and he gives the team a lot of confidence. But the entire team is committed to a strong penalty kill. Scott Vazquez, Seamus O'Neill, Jon Carkeek and Bennett Hambrook are blocking shots like they enjoy it."